Economic Slowdown Reveals Structural Problems in Zhanaozen-style Towns
Publication: Eurasia Daily Monitor Volume: 10 Issue: 159
By: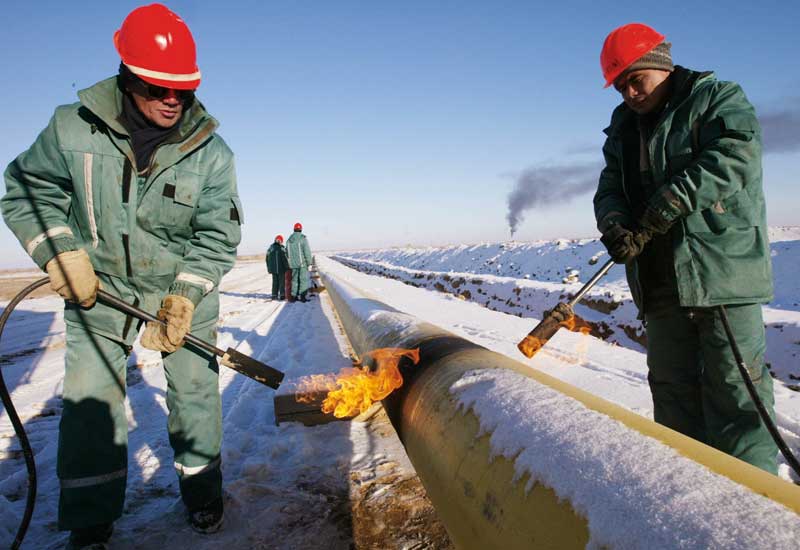 One and a half years after the tragic events in western Kazakhstan's Zhanaozen, where 16 striking oil workers died and over 110 were wounded in bloody clashes with riot police, the Kazakhstani government is once again reassessing the situation in this troubled town. On August 21, following his recent trip to Mangistau province, Nurlan Erimbetov, the acting director of the Center for Social Partnership under Samruk-Kazyna, Kazakhstan's sovereign welfare fund, noted that Zhanaozen is still exposed to the risk of social unrest against the backdrop of poor economic prospects and worsening demographics. Erimbetov also confessed that the absence of a coordinated migration policy only aggravated the local state of affairs, leading to the possibility of more tensions in the near future (Total.kz, August, 21).
While Zhanaozen shares many common traits with other single-industry urban centers scattered around present-day Kazakhstan, its demographic situation represents a truly unique case. As the National Statistics Agency reported this February, Zhanaozen's population grew by a whopping 78 percent between 2003 and 2013, increasing from 57,000 inhabitants ten years ago to almost 102,000 as of today. A similar dynamic was demonstrated only by two other towns—Turkestan in the South Kazakhstan province and Kaskelen in the neighboring Almaty province. However, the Mangistau region recently set an absolute record in terms of demographic growth, since its total population increased by 1.7 percent in January–June 2013, ahead of any other Kazakhstani region, including the most populous southern provinces. Overall, Kazakhstan's population grew by 0.7 percent during this six-month period. As to the causes of Zhanaozen's unrivaled demographic growth, it has been stimulated by both the massive arrival of workers from neighboring towns and the active repatriation of ethnic Kazakhs from Turkmenistan under a government-sponsored initiative (Trend.az, August, 14; News.nur.kz, February, 20).
As Nurlan Erimbetov believes, many of Zhanaozen's current residents still expect to find jobs in the town or in its immediate vicinity, despite the fact that the employment opportunities at local energy companies are continuously in decline due to the year-by-year depletion of nearby oil and gas fields. Moreover, Kazakhstan's energy sector has recently been experiencing difficulties caused by flagging demand for raw materials as well as technological and logistics problems, including delays provoked by the ongoing modernization of the country's three oil refineries. In January 2013, the National Statistics Agency reported that oil production in Kazakhstan had decreased by 1.1 percent in January–December 2012, as compared to the previous year. In order to tackle unemployment and reduce socioeconomic risks in and outside of Zhanaozen, Samruk-Kazyna has been implementing a number of training programs aimed at ensuring the successful requalification of jobless workers for the needs of non-extracting industries. The Ministry of Regional Development established in September 2012 by President Nazarbayev's decree is also deeply involved in the elaboration of such assistance measures (Total.kz, August 21; Oilnews.kz, January 14).
Other single-industry towns have also become victims of Kazakhstan's slowed growth, which are directly correlated with the poor performance of the export-oriented extractive sectors of its economy. On June 20, the management of Kazakhmys Plc, one of the country's largest industrial companies, announced the forthcoming closure of a smelting plant in Zhezkazgan (Karaganda province). Four days later, over a hundred workers protested this decision, questioning their bosses' readiness to offer new employment and accommodation opportunities to ordinary employees and their families. On July 3, Regional Development Minister Bakytzhan Sagintayev met the workers and solemnly promised that none of them would be dismissed. The following day, Kazakhmys and its trade union signed a formal memorandum laying down the employer's obligations extending over the two plus years during which the plant is expected to undergo a profound renovation. Though this intervention avoided a new labor conflict, it appears Kazakhmys will still be hard pressed to honor all of its promises in the context of rapidly falling profits and a vague business outlook. The company reported $962 million worth of net losses in the first semester of 2013, against net profits amounting to $122 million in January–June 2012 (Kazinform, August 22; Fergananews.com, July 4).
Temirtau offers another example of a town heavily dependent on a sole industry and employer. On August 23, around 50 workers of ArcelorMittal's local factory protested the non-payment of compensations for injuries sustained at the workplace. The steel giant's contracted insurance company had earlier refused to pay such indemnities due to suspicions of the employer's reported injury statistics, and the labor dispute rapidly grew into an open conflict. Presently, ArcelorMittal-Temirtau is confronted with the precipitous fall of demand for its steel production, as markets continue to stagnate and bring prices further down. In January–September 2012, the company's profits decreased over 12 times as compared to the same period of 2011. A similarly difficult situation is observed at the Eurasian National Resources Corporation, which employs some 65,000 people in Kazakhstan alone (KazTag, August, 23; Newskaz.ru, March 20; Newskaz.ru, October 31, 2012).
Following the Zhanaozen tragedy, the Kazakhstani government has intensified its support to single-industry towns and areas impacted by the slowdown of the country's industrial growth. It has also become more attentive to nascent labor conflicts, quickly mobilizing local authorities to engage in direct dialogue with both workers and employers. One such recent case is the July 2013 strike by over 200 employees of CAPE Industrial Services, a service company deployed at the Kashagan oil and gas deposit on the Caspian Sea (see EDM, July 23). However, two major factors inhibit these latest efforts. First, the economic crisis is pushing large industrial entities to cut down costs and close unprofitable facilities. In this context, the Kazakhstani government is likely to speed up its diversification plans to create new jobs in innovative fields, even if such reforms are most often highly time-consuming. Second, the central government's efforts may be challenged by both regional and local controlling interest groups. Therefore, a refurbished command and control structure may be needed to ensure the timely implementation of state policies and prevent the embezzlement of public funds.
Despite the gloomy outlook, Kazakhstan's GDP is expected to grow by slightly over 5 percent in 2013, more than in most other Commonwealth of Independent States (CIS) countries as well as in Europe. The launch of oil production at Kashagan will likely also have a medium- to long-term positive impact on the country's economic prospects as well as its oil and gas industry. The Kazakhstani government's efforts to stabilize the socioeconomic situation in places like Zhanaozen will thus receive a sizeable impetus, should these trends be confirmed (IMF, August 14).