Editor's Note: Special Issue on Taiwan Under Siege
Publication: China Brief Volume: 23 Issue: 8
By: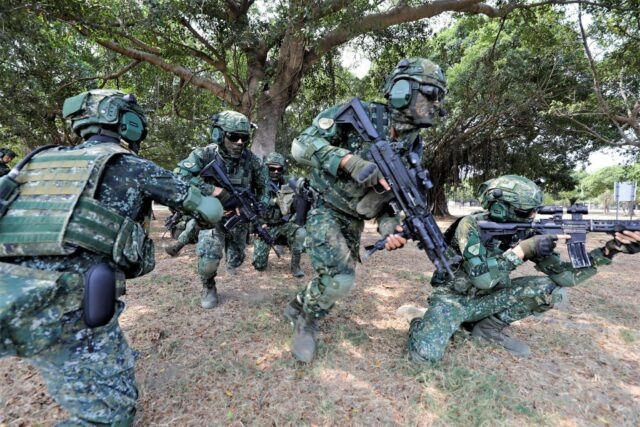 The last year has been a difficult one for Taiwan. The Russian invasion of Ukraine and the People's Republic of China's (PRC) intensification of diplomatic, economic, military and political pressure on Taiwan, along with disinformation, espionage and influence operations conducted through United Front work and other means, have heightened the sense of threat in the Taiwanese defense and security community. Nevertheless, the general population has not evinced the same level of threat perception, with many ordinary Taiwanese discounting the possibility of a PRC invasion. Regardless, the last several years, and particularly the months since U.S. Speaker Nancy Pelosi's visit and the subsequent People's Liberation Army (PLA) live-fire exercises around Taiwan last August, have undoubtedly seen an increase in outright military pressure by the PRC on Taiwan. The PRC's efforts to militarily intimidate Taiwan have only continued as Xi Jinping's third term as Chinese Communist Party (CCP) General Secretary and Chairman of the Central Military Commission (CMC) gets underway. In early April, the PRC carried out naval and aerial patrols of the Taiwan Straits and three days of "Joint Sword" (联合利剑) exercises, ostensibly in retaliation for President Tsai Ing-wen's transit visits through the U.S. en route to Central America, where she met with U.S. House Speaker Kevin McCarthy at the Ronald Reagan Library in Southern California. This special issue of China Brief provides context and breaks down different elements of Taiwan's increasingly challenging strategic predicament following the early April PLA exercises.
I authored the first article in the special issue, "Taiwan's Dwindling Diplomatic Allies," which examines Tsai's early spring visit to Central America, during which she transited the U.S., in the context of China's effort to reduce Taiwan's international space by poaching  its remaining diplomatic allies.
In "Can Beijing Seize the 'Opportunity of the Century'?" Willy Wo-Lap Lam provides context for understanding Xi Jinping's perspective that China has a once-in-a-lifetime opportunity to reshape the world order in its favor, which has ominous implications for Taiwan.
In "'Joint Sword' Exercises Around Taiwan Suggest a Shift in PLA Operational Doctrine", David D. Chen examines how discussion of recent Joint Sword exercises in official PLA sources emphasizes not only blockading Taiwan and neutralizing its defenses, but also preventing interdiction by foreign forces.
Ying Yu Lin assesses how military means fit into Beijing's broader strategic tool kit for pressuring Taiwan into moving toward unification in "Sword out of Sheath?: Assessing the Strategic Implications of the PLA's April Exercises Around Taiwan."
Finally, in "China's Emerging Approach to Taiwan: Blockade and Disinformation," Chihwei Yu examines how two longstanding tactics the CCP has used throughout its history are being applied to Taiwan.
John S. Van Oudenaren is Editor-in-Chief of China Brief. For any comments, queries or submissions, please reach out to him at: cbeditor@jamestown.org.