Egypt's Military Strongman al-Sisi Comes to Moscow to Announce Presidential Bid, Fails to Finalize Ambitious Arms Deal
Publication: Eurasia Daily Monitor Volume: 11 Issue: 29
By: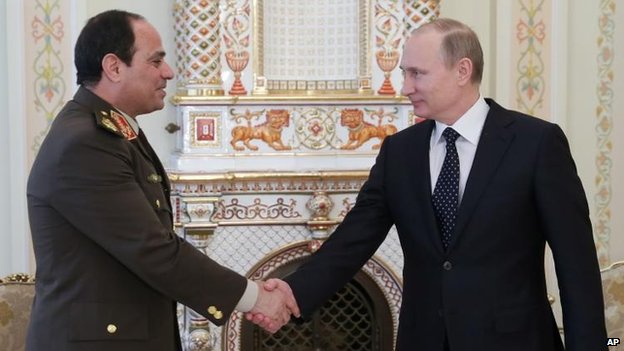 Almost all of Russia seems to be glued to the television, watching the Sochi Winter Olympics where Team Russia—currently in seventh place in the overall medal count—is apparently failing to take much gold. But meanwhile, on February 13, President Vladimir Putin granted an audience at his Novo-Ogaryevo residence near Moscow to an Egyptian delegation led by Army Chief and Defense Minister Abdel-Fattah al-Sisi and Foreign Minister Nabil Fahmy. The Egyptians arrived in Moscow for so-called "2+2" talks with their Russian counterparts, Foreign Minister Sergei Lavrvov and Defense Minister Sergei Shoigu, to discuss regional security, defense cooperation, trade and economic relations. Al-Sisi thanked Putin "for finding time in his tight schedule to meet," told Putin about his "personal admiration" of his host, mentioned Russia's fantastic Sochi Olympics, and thanked the Russian president for "giving the Egyptian people economic and defense aid." In reply, Putin dropped a bombshell by both announcing and simultaneously endorsing al-Sisi's presidential bid: "I know you have decided to run for president. This is a very responsible decision, to take upon yourself responsibility for the fate of the Egyptian people. I wish you luck on my own behalf and that of the Russian people" (https://www.interfax.ru/print.asp?sec=1446&id=358036).
Egypt's military strongman, who last June led a coup that overthrew Islamist President Mohammed Morsi, democratically elected a year before, was of course expected to eventually announce his running for the presidency. He is widely expected to win this post after a referendum last month resulted in some 95 percent of ballots being cast in support of a new constitution written under the supervision of the Egyptian military (Morsi's Muslim Brotherhood boycotted the vote). Some reports in the Egyptian press quoted internal military sources as saying that al-Sisi would come to Moscow to finalize a multi-billion-dollar arms deal to buy Russian weaponry and would later officially announce his presidential bid in elections expected to happen next April. The arms deal apparently was not finalized and talks will continue. According to Lavrov, "We agreed to speed up the preparations of documents that will give an additional impulse to the development of military and military-technical cooperation." A meeting of a joint trade and economic cooperation commission is planned to convene next month. It was previously reported that last November, during a "2+2" meeting between al-Sisi, Shoigu, Lavrov and Fahmy in Cairo, the parties agreed that Russia will sell Egypt some $2 billion worth of weapons, including MiG-29 jet fighters as well as anti-tank and anti-aircraft missiles. Reportedly, Saudi Arabia, which supported al-Sisi's overthrow of the Muslim Brotherhood regime in Egypt and has apparently been providing massive financial aid to the new government, will now finance the Russian arms deal with Egypt (https://www.interfax.ru/world/txt/358020).
The Barack Obama administration had disapproved of al-Sisi's overthrow of Morsi; last year, it partially froze military and financial aid to Cairo. Egypt and its military have been for decades the second biggest (after Israel) recipient of aid from the United States after Cairo broke off close ties with Moscow in the early 1970s and became an important US ally in the Middle East during the Cold War. Since the apparent rift with Washington last year, Cairo has been prodding Moscow to replace the Americans by "restoring Russia's traditional role in the Middle East to help counter Western pressure on Egypt" (https://www.kommersant.ru/doc/2340302).
Putin told al-Sisi in Novo-Ogaryevo: "Trade between Russia and Egypt in 2013 has decreased [to $2.6 billion from $3.5 billion in 2012]. I am sure we can increase it to $5 billion in the future" (https://www.rbc.ru/rbcfreenews/20140213143826.shtml). Russia is ready to support al-Sisi's regime as an alternative to the Muslim Brotherhood, and Putin, of course, has no problem with supporting al-Sisi's declared anti-jihadist military coup. The Kremlin would be glad to see the Obama administration fail in the Middle East and for Egypt to turn to Russia. Such a geopolitical shift could, according to Russian government sources, "dramatically reorient international relations in the Middle East" (https://en.ria.ru/world/20140213/187498184/Egyptian-Leader-El-Sisi-Meets-Putin-On-First-Foreign-Trip.html). Moscow is ready to sell al-Sisi weapons he may want as long as someone (oil rich Gulf monarchies) covers the bill—and this may have been the sticking point that prevented the arms deal from being finalized during al-Sisi's February 13 Moscow visit.
Meanwhile, Saudi Arabia has been prodding Russia to modify its stand on Syria and stop its unrelenting support of the Bashar al-Assad regime, but up to now in vain. During a press conference in Moscow after the "2+2" talks with al-Sisi, Lavrov confirmed Moscow will veto a United Nations Security Council resolution on the humanitarian crisis in Syria, supported by Western and Arab countries, because it "one-sidedly puts the blame on al-Assad and threatens sanctions" (https://www.interfax.ru/world/txt/358004).
It is clear Egypt is ready to accept Russian aid and weaponry as it did during the Cold War in the 1950s–1970s to show the US it has an alternative source of support. Putin's Russia would also be glad to step into Soviet boots in the Middle East, to upgrade its geopolitical status and, at the same time, make money by selling weapons. But Putin's Russia is not the Soviet Union, even if it often pretends it is: Russia does not have the resources or military capabilities to play the Soviet Cold War role in the Middle East. Moscow has squandered more than $50 billion on a showcase Winter Olympics in Sochi and is, up to now, winning little Olympic gold to show the Russian public in return. Furthermore, Putin has promised $15 billion in financial aid and drastically cut natural gas prices in an attempt to keep Ukraine in Russia's orbit, but it is far from clear whether this commitment will indeed help establish a stable pro-Kremlin government in Kyiv. To single-handedly take on al-Sisi's Egypt as another financially broke and inherently unstable client state in the Middle East—where Russia already backs and guards the embattled al-Assad's Syria—looks like an unwise and probably unsustainable overstretch, especially considering that Moscow does not even yet fully (Soviet-style) control Kyiv, Tbilisi, Tashkent, Chisinau or Riga.