Is Georgia Too Close to Sochi?
Publication: Eurasia Daily Monitor Volume: 11 Issue: 28
By: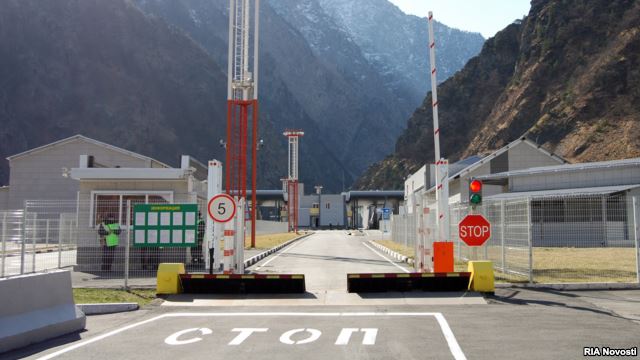 Several days prior to the opening of the Winter Olympic Games in Sochi, peculiar events started to take place at the Russian-Georgian border. According to multiple accounts, Georgian border guards unexpectedly stopped allowing some residents of the North Caucasus to cross at the Upper Lars checkpoint on Georgia's border with the Russian republic of North Ossetia–Alania. Border guards evidently were racially profiling visitors, filtering out ethnic Chechens, Ingush as well as Dagestanis, while freely allowing in ethnic Ossetians and Russians (https://www.ekhokavkaza.com/content/article/25256638.html).
The Georgian border guards found it hard to explain the motives behind their actions. According to eyewitnesses, the border guards felt visibly uncomfortable when pressed by visitors' questions as to why they were not allowed into Georgia. Occasionally, the border checkpoint officials hinted that the newly imposed restrictions were connected to the start of the Olympic Games in Sochi and Georgia's obligations to Russia to assist in maintaining security (https://www.ekhokavkaza.com/content/article/25256638.html).
The special representative of the prime minister of Georgia for the normalization of relations with the Russian Federation, Zurab Abashidze, said in an interview with Jamestown (January 18) that Tbilisi offered Moscow close cooperation in the security sphere. "We have sent our colleagues such a proposal, but have not received any response yet. They probably think that they do not need our assistance" Abashidze noted.
From Abashidze's words it can be deduced that the racially based restriction on entry for Chechens, Ingush and Dagestanis was not one of Moscow's demands, but rather Tbilisi's unilateral decision. However, experts reckon that such measures are absurd and counterproductive. "Even if we suggest that some people from the North Caucasus will attempt to sneak into Georgia in order to get to Sochi and stage a terrorist attack there, they will not try to cross the border through a legal checkpoint where a meticulous search of people and cargo is carried out," an analyst and regular writer for the weekly paper Premier, Zurab Gogoberidze, told Jamestown on February 8. According to Gogoberidze, potential terrorists can secretly infiltrate Georgia through many other border areas that are poorly guarded. Moreover, the analyst pointed out that "[i]n order to travel to Sochi, they would have to make it from western Georgia to Abkhazia, bypassing strong contingents of Russian military and security forces that heavily guard the Georgian-Abkhazian border, which is practically closed during the Olympics." Gogoberidze also noted that two week prior to the start of the Olympics, Russia moved the "zone of border security" 11 kilometers into the territory of Abkhazia (see EDM, February 7; https://www.civil.ge/eng/article.php?id=26879).
Only one conclusion can be drawn from the foregoing information: having established racial profiling controls at a border checkpoint 500 kilometers from Sochi, the Georgian authorities were attempting to send a loyalist signal to Moscow. Evidently, Tbilisi considers such a message to be necessary under the present conditions of warming Russian-Georgian relations, decreasing hostile rhetoric, and the reopening of the Russian market to Georgian goods banned in Russia since 2006 (https://www.civil.ge/eng/article.php?id=26885).
Well-known Georgian lawyer Gela Nikolaishvili told Jamestown on January 9 that he was not surprised by the latest move of the Georgian government. "Our authorities have either deported to Russia or are preparing to deport many Chechens and other North Caucasians whom Moscow suspects of extremism," he said. The case of Chechen Mikail Kadiev, arrested in Georgia on charges of illegal weapons possession, highlights this trend. Moscow currently demands his extradition, and Kadiev's family and lawyer suspect the Georgian authorities are prepared to oblige (https://www.frontnews.ge/ru/news/24330).
The government in Tbilisi was divided about Georgia's participation in the Olympic Games. After long deliberations, Prime Minister Irakli Garibashvili's government decided that Georgian athletes would go to Sochi, but no Georgian official would appear there (https://www.civil.ge/eng/article.php?id=26751). "If the athletes do not go to Sochi, it will be interpreted as disrespect not for Russia, but for the International Olympic Committee (IOC), as the organizer of the Games" Minister for Reconciliation and Civil Equality Paata Zakareishvili told Jamestown back in December 2013 (Author's interview, December 20, 2013).
Nonetheless, other officials realized perfectly well that a boycott of the Olympic Games—insisted upon by the Georgian opposition and many non-governmental organizations—would have been an unpleasant surprise not simply for the IOC, but for the Russian leadership, which endowed these Games with the status of a national project. At the same time, Russia unofficially invited the "presidents" of breakaway Abkhazia and South Ossetia to Sochi, though they were not present among the leaders of other states because it would have broken the IOC's Charter (https://www.civil.ge/eng/article.php?id=26911).
Moscow tried to lure the president of Georgia, Giorgi Margvelashvili, to Sochi, hinting at the possibility of his meeting with President Vladimir Putin (https://rusplt.ru/news/peskov-ne-isklyuchil-vozmojnost-vstrechi-putina-i-margvelashvili-na-olimpiade-90202.html). However, Margvelashvili's aide for international affairs, Vano Machavariani, told journalists on February 6 that Georgian authorities did not intend to break their adopted strategy toward the Olympics after Russian impromptu overtures: "Our position on this issue is unequivocal—Georgia's official delegation will not be represented in Sochi," though Georgian athletes would compete at the Games (https://en.trend.az/regions/scaucasus/georgia/2239098.html).
This approach allowed Georgia, on the one hand, to avoid accusations of trying to disrupt an important celebratory event for the Russians, but on the other hand, to save face regarding Abkhazia and South Ossetia, which are still under occupation and whose de facto leaders were present in Sochi, even though unofficially.
It appears the face-saving strategy will persist in the Georgian government's relations with Putin's Russia, but the question remains as to how effective this approach will be. The answer may come this summer: Georgia intends to sign its Association Agreement with the European Union in 2014, but hopes to avoid the resumption of a Russian embargo on Georgian exports or anything akin to the pressure that Russia placed on Ukraine last year.