Elections In Kyrgyzstan: Atambayev Wants Outright Victory In the First Round
Publication: Eurasia Daily Monitor Volume: 8 Issue: 193
By: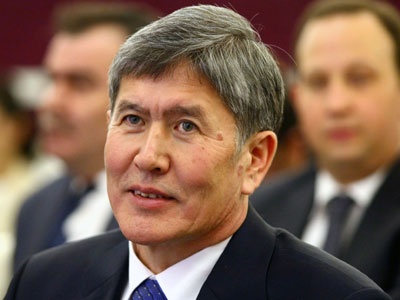 Two weeks before the presidential elections in Kyrgyzstan the question many in the country ask is whether there will be a second round of voting. The frontrunner, Prime Minister Almazabek Atambayev, certainly hopes to secure victory during the first round on October 30.
Although Kyrgyzstan has replicated last year's experience of holding the electoral campaign in a fairly free and transparent environment, some shortcomings in the democratic process remain. This time, the candidates will have to prove themselves in televised debates, but the Kyrgyz parliament has ruled to censor foreign TV channels during the election period.
Overall, 21 candidates are competing, with three of them – Atambayev, Adakhan Madumarov (Butun Kyrgyzstan), and Kamchybek Tashiyev (Ata-Jurt) – having a realistic chance of making it to the second round. The major divide is between a candidate typically considered to be from the north and two rivals from southern Kyrgyzstan.
Atambayev, who has temporally stepped down from the post of prime minister, has invested the most into campaign funds. He has reportedly spent to date over 22 million soms (roughly $490,000), with Madumarov spending 20 million soms. Tashiyev spent a little over 9 million soms ($200,000) (www.24.kg, October 11).
According to the recent opinion polls, 79.5 percent of Kyrgyzstanis plan to vote, with Atambayev receiving 57 percent support (https://m-vector.com/upload/news/electoral/issledlyasaita.pdf). The second most popular candidate is Adakhan Madumarov, who currently has 15.7 percent support. Tashiyev is close behind at 10 percent. All other candidates barely reach 2 percent. These poll results indicate that Atambayev will win in the first round. Other polls, however, indicate that Atambayev does not have enough support to win in the first round.
Furthermore, studies show that more people are concerned with the state of the economy rather than security as was the case during parliamentary elections one year ago (https://www.ndi.org/files/Kyrgyzstan-FG-072711.pdf). Ethnic Kyrgyz are more likely to vote, compared to ethnic Russians and Uzbeks.
Some candidates jumped into the race to later secure influential government posts. Candidates such as Kubatbek Baibolov and Omurbek Suvanaliev, although known to the wider public and having invested considerable resources, will earn votes at the expense of Atambayev. Several influential candidates, including the leader of Ata-Meken party Omurbek Tekebayev, the leader of the April 7 Youth Movement Nariman Tuleev, and Akylbek Japarov (independent) have dropped out of the race. Each of these candidates would have drawn votes away from Atambayev. Pundits in Bishkek believe the recent dropouts might well have resulted from closed door negotiations between Atambayev and second-tier candidates.
Due to his influence inside the government, Atambayev has a strong competitive advantage over other candidates. During his recent trip to Moscow, he met with Russian Prime Minister Vladimir Putin, thus demonstrating his good relations with the Russian leadership. He also met with labor migrants from Kyrgyzstan and announced the construction of a monument dedicated to Kyrgyz epic hero Manas in the Russian capital. Largely thanks to his populist moves, Atambayev is the most frequently featured candidate in the Kyrgyz press (www.kloop.kg, October 10).
Atambayev has been heavily advertising in Bishkek and across the country, positioning himself as a politician seeking to unite the country. Meanwhile, Tashiyev presents himself as a strong leader, showing up in police uniform on his campaign posters. Madumarov presents himself as an ardent nationalist, promising to solve all of the country's troubles.
In an attempt to control the influence of Russian television media, the Kyrgyz parliament banned live broadcasts by all foreign channels. Tekebayev, who claims his party suffered from negative reporting by the Russian media before last year's parliamentary elections, was the primary initiator of the legislation. As a result, all providers of cable TV featuring foreign channels were forced to broadcast foreign news reports with a one hour delay and delete any news or analysis dealing with Kyrgyzstan's elections. The Organization for Security and Cooperation in Europe (OSCE) has voiced its concern over the parliament's ruling, calling it illegitimate (www.24.kg, October 7).
While Atambayev is emerging as a potential outright winner, in an attempt to secure victory in the first round he must maintain a careful balance in his campaign and avoid aggravating other candidates for using his competitive advantage against them. Unless he and his competitors seek to falsify the election results, the upcoming vote will mark the first peaceful transition of power in Kyrgyzstan in which the leading candidate does not win in a landslide victory.