Emboldened Rebels Fire on Helicopters in Chechnya
Publication: Eurasia Daily Monitor Volume: 6 Issue: 132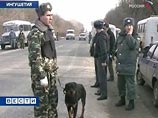 Rebels in Ingushetia and Chechnya continue to target the police and military in the two troubled republics. The chief of the forensics department of Ingushetia's interior ministry, Magomed Gadaborshev, died today of wounds sustained during an attack on July 7. Gadaborshev was shot by unknown assailants who fired on his car outside a shopping center in the city Nazran. "Magomed Gadaborshev entered the hospital in very grave condition following the attack on him," RIA Novosti quoted a source in Ingushetia's health ministry saying: "he was wounded in the head. The doctors did everything they could, but they were unable to save him" (RIA Novosti, July 10).
Unidentified gunmen fired automatic weapons and grenade launchers today at the homes of two policemen in the Ingush town of Karabulak. Nobody was hurt and the homes sustained only minor damage in the attacks, which were reportedly drive-by shootings. On July 9, the head of the Karabulak city police department's non-departmental guard service, Israpil Ozdoev, was shot and killed when his car came under fire in Nazran (www.kavkaz-uzel.ru, www.newsru.com, July 10).
Interfax yesterday quoted Ingushetia's Interior Minister Ruslan Meiriev, as saying that police had seized weapons and ammunition during an operation in the village of Surkhakhi in the republic's Nazran district. According to Meiriev, police seized eight submachine guns, five machine guns, five grenades, an Uzi rifle and four vehicles that were on the federal authorities' list of stolen vehicles. The republican interior minister said he had asked local residents to turn over arms to the police and urged members of "illegal armed formations" and their accomplices to surrender (Interfax, July 9).
One Russian soldier and a rebel fighter were killed and six soldiers wounded in a shootout in Ingushetia on July 7. The battle erupted after interior ministry troops came across a large group of rebels -numbering around 20- in a wooded area several kilometers from the village of Chemulga in Ingushetia's Sunzha district, not far from where nine Chechen policemen died in a rebel ambush on July 4 (EDM, July 6). The security forces used artillery against the militants during the July 7 battle.
Also on July 7, a member of Ingushetia's OMON special task police unit, Magomed Balaev, was killed when unidentified gunmen fired on his car on the outskirts of Karabulak. The press service of the Ingush branch of the federal investigative committee said Balaev died from his wounds at the scene of the shooting (www.kavkaz-uzel.ru, July 8).
A member of the Ingush interior ministry's rapid-reaction regiment for protecting the administrative border, Ruslan Barakhoev, was wounded when a car in which he and another policeman were traveling came under fire in Nazran's Plievo municipal district. The other policeman was unhurt (ITAR-TASS, July 6).
Ingushetia's acting president, Rashid Gaisanov, claimed during a press conference in Moscow on July 7 that the armed attacks in his republic and the calls by the opposition for the temporary return to power of Ingushetia's former president, Ruslan Aushev, while Ingush President Yunus-Bek Yevkurov recovers from wounds sustained during a June 22 suicide bombing attack, are all being "coordinated from a single center" (Interfax, July 7).
Meanwhile, a policeman was found dead today on the outskirts of the city of Shali in neighboring Chechnya. The Kavkazsky Uzel website quoted a Chechen law-enforcement source as saying that the policeman's attackers apparently used a Kalashnikov automatic rifle, given that two 5.45 millimeter shell casings were found at the scene of the crime. The attackers also stole the policeman's Makarov service revolver (www.kavkaz-uzel.ru, July 10).
In what may be a sign that rebels in the North Caucasus have become emboldened by recent military successes, including the suicide bombing attack on Ingushetia's president, two helicopters reportedly came under fire in Chechnya on July 8. One law-enforcement source was quoted as saying that the two choppers were fired on, apparently with automatic weapons, from a forest in Chechnya's Shatoi district and were forced to land. According to the source, one serviceman was wounded in the attack. This was the second such attack on helicopters in three days: according to the news agency, unidentified gunmen fired at a Mi-8 helicopter near the Shatoi district village of Kharsenoi, injuring one serviceman (ITAR-TASS, July 8).
A bomb blast in Grozny on July 6 injured nine people, including two police officers. The explosive device went off in a public garden in the Chechen capital. The bomb had been planted in a garbage can. RIA Novosti quoted a Chechen interior ministry spokesman as saying that eight people wounded in the explosion had received treatment at a hospital and had been discharged but that one police officer remained hospitalized in a "medium to grave" condition (RIA Novosti, July 8).
The Kavkazsky Uzel website reported today that at least 28 people were killed and 36 wounded in attacks and battles in Ingushetia, Chechnya and Dagestan between July 2-8 (www.kavkaz-uzel.ru, July 10).