Energy, Transportation Dominate Turkmenistan President's Visit to Tashkent
Publication: Eurasia Daily Monitor Volume: 15 Issue: 66
By: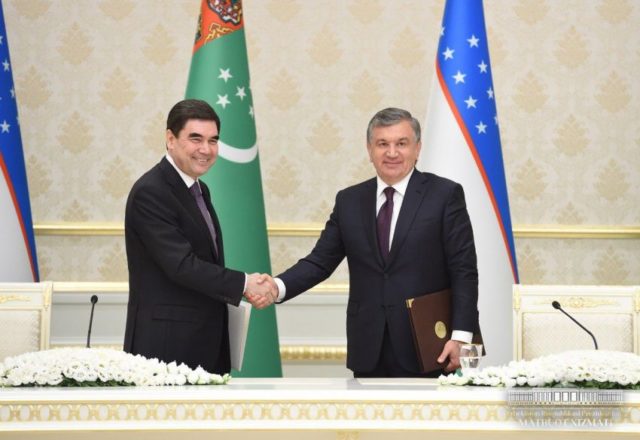 Uzbekistani President Shavkat Mirziyoyev's first foreign trip, in March 2017, nearly seven months after coming to power, took him to Turkmenistan. The salient point of the visit was the opening of a mile-long rail-and-car bridge connecting both countries over the Amudarya river and the signing of a strategic agreement, one of only two Uzbekistan ever signed with its Central Asian neighbors (President.uz, March 7, 2017; Gazeta.uz, March 6, 2017). Mirziyoyev visited Turkmenistan two more times following his first visit. And on April 23–24, 2018, a little more than a year since the first official bilateral summit, he hosted President of Turkmenistan Gurbanguly Berdimuhamedow in Uzbekistan.
The latest meeting between both leaders did not deliver the same political and economic milestones as the first. Nevertheless, the abundance of cultural events tailored for President Berdimuhamedow seemingly made him the most culturally entertained foreign leader to ever visit Uzbekistan (President.uz, April 24; BBC News—Uzbek service, April 23). Talks on trade and transportation dominated the official part of the meeting. The two sides underlined that bilateral trade reached $177.3 million in 2017 and set a target of tripling this amount by 2020. Already in the first quarter of 2018, trade turnover increased by 55 percent year-on-year (Gazeta.uz, April 25; Kun.uz, April 24). Additionally, within the framework of the official visit, business leaders of both countries met at special events and signed agreements cumulatively worth $250 million (Gazeta.uz, April 25).
During Berdimuhamedow's visit, the government of Uzbekistan reconfirmed its participation in the Turkmenistan–Afghanistan–Pakistan–India (TAPI) natural gas pipeline project (Kun.uz, April 24). Tashkent first expressed its desire to partner with Turkmenistan on the project in the middle of 2017, when Mirziyoyev paid a follow-up meeting to Turkmenistan (Kun.uz, May 22, 2017). In turn, Turkmenistan offered Uzbekistan use of its territory to access Middle Eastern and European markets via the planned Uzbekistan–Turkmenistan–Iran–Oman and Uzbekistan–Turkmenistan–Caspian Sea transportation corridors (Kun.uz, April 24; Uzbekistan 24 TV, April 23).
For Uzbekistan's government, Turkmenistan indeed offers unique opportunities that no other bordering country can match. In particular, Turkmenistan (and transit through this state) can offer Uzbekistan's growing industrial base quick access to world ports and markets (BBC News—Uzbek service, April 25). Tashkent is presently explicitly pursuing international transit corridors traversing Turkmenistan. And to this end, Berdimuhamedow expressed his support for the Uzbekistan–Turkmenistan–Iran–Oman corridor, which Uzbekistan's government had focused on last year in its negotiations with Iran and Oman (Kun.uz, April 23, 2018; Gazeta.uz, April 20, 2017; UzA, March 14, 2017).
Neutral Turkmenistan also offered to host Uzbekistani-led negotiations among rival belligerent Afghan factions (Kun.uz, April 23). Uzbekistan's recent attempt to hold peace talks in its capital between Afghans and world leaders was the latest example of Tashkent's endeavors to influence the situation in the bordering country (UzA, March 28). Besides, Ashgabat is well aware that stabilizing the situation in Afghanistan is not merely important to Uzbekistan, but to Turkmenistan as well. Both Central Asian republics have strong economic and political interests in a peaceful and stable Afghanistan as a prerequisite for building the TAPI pipeline and other major projects.
Meanwhile, Turkmenistan's economic stake in Uzbekistan's ongoing development continues to grow. Turkmenistan has been shipping natural gas to China via Uzbekistani territory since 2009, when Ashgabat broke its decades-long unfavorable dependency on Russia as consumer and transit country. Additionally, Turkmenistan recently announced an interregional project to sell electricity produced on its territory to South Asia that will pass through Uzbekistan's power grid (Kun.uz, March 6, 2017).
Despite the reactivated diplomacy and major economic projects that increasingly link both countries, Turkmenistan remains the only neighboring state (except for Afghanistan) with which Uzbekistan maintains a visa regime. Five years have passed since their shared border was closed, and the situation remains unchanged today (BBC Uzbek, April 27). Although negotiations were reopened in March 2017, there has been little progress on bilateral border delimitation and demarcation to date; and the issue was apparently not raised at the latest summit, according to the official agenda of Berdimuhamedow's visit to Tashkent (Kun.uz, March 31, 2017). This omission exists in stark contrast with Uzbekistan's recent active border negotiation rounds with Kazakhstan, Tajikistan, Kyrgyzstan as well as the abolishment of visa requirements with Tajikistan and Kyrgyzstan. Nevertheless, Mirziyoyev's statement that "there is no single issue [Uzbekistan and Turkmenistan] have not discussed… Mutual understanding has been reached in all areas" implies a strong wish and desire to solve these border issues with Ashgabat as well (Kyn.uz, April 24).
President Berdimuhamedov's first visit to Uzbekistan since President Mirziyoyev's election did not result in any true breakthrough developments. On the contrary, the expected easing of border and visa issues—similar to those Uzbekistan reached earlier with Tajikistan and Kyrgyzstan—actually failed to materialize. Turkmenistan's isolation and strong inherent cautiousness in foreign affairs might be the restraining factor for Ashgabat in this area. Nonetheless, the Berdimuhamedov visit to Tashkent still confirmed that the two countries are willing to work together on issues of utmost national interest, such as transportation corridors for Uzbekistan and the energy sector for Turkmenistan.