Russia, the Baltic Sea and Unexecuted Missile Tests off the Latvian Coast
Publication: Eurasia Daily Monitor Volume: 15 Issue: 67
By: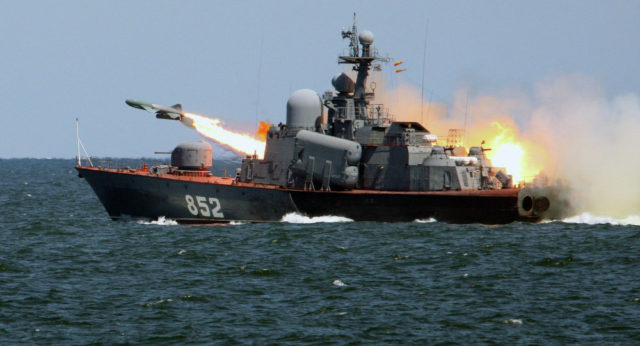 Twice this past month, Russia's Main Air Traffic Management Center provided indication that the Russian Navy planned to conduct military exercises, which would include the live fire of missiles, within Latvia's exclusive economic zone (EEZ): between April 4 and 6 (Bnn-news.com, April 3) and April 17 and 19 (Bnn-news.com, April 16). The timing of the first exercise, in particular, does not appear to be coincidental. The presidents of the three Baltic States (Estonia, Latvia and Lithuania) were all in Washington, DC, to meet with President Donald Trump at the White House on April 3 (Whitehouse.gov, April 3).
Interestingly, no missiles were ultimately fired during either exercise. Whether this was always the intention, or if there were tactical or technical problems preventing Russia from going forward with the test launches, may never be known. The second announcement, however, may possibly indicate the latter to be the case; if so, these problems likely persist. Alternatively, the wider media coverage and general consternation of Latvian government officials over the first event may have inspired Russia to make the same kind of provocative proclamation in mid-April (Bnn-news.com, April 9).
The broader question is: Why conduct these exercises in Latvia's exclusive economic zone in the first place? These appear to be the first such tests planned outside of normal Russian naval operation test areas (which are located within Russian territorial waters) and inside Latvia's EEZ.
Such tests are not illegal. Freedom of navigation (FON) operations and military exercises in international waters are standard practice by the United States, the North Atlantic Treaty Organization (NATO) and other blue-water navies. As are the live firing of naval ordnance. Missile tests, on the other hand, are normally confined to pre-defined areas that are marked on nautical charts and can be closed to commercial sea and air traffic. Shipping lines and airlines normally stay out of these areas, even when no exercises have been announced.
Nor are they smart. Avoiding danger zones like the ones in question is not hard, assuming they are well and accurately defined in time and space as well as shared with the appropriate agencies. However, the chance of miscalculation or malfunction increases risks to all concerned, particularly close to coastal zones—as is true for the entirety of the Baltic Sea.
Past Russian provocative activity on the Baltic Sea has been tactically irrelevant. Low-level aircraft fly-bys of NATO ships (RT, April 14, 2016) offer quite limited naval or military training value. The same is true of close military jet passes of Allied military aircraft (RT, April 11, 2015) or diverting commercial shipping in Lithuania's EEZ (Defense News, June 27, 2017).
Unlike the typical aforementioned FON operations performed by NATO (rooted in public and customary international law, defined by the United Nations Convention on the Law of the Sea), Russia's actions are used for two purposes: to signal to the international community that the Baltic Sea, like the Black Sea, is Russia's to operate in and ultimately control; and fodder for its propaganda machine. Russia wants to be seen as the de facto sea power in the Baltic, restoring a position that the Soviet Navy had before the collapse of the Soviet Union, and to reduce NATO and European Union influence on its periphery.
When NATO forces sporadically arrive for exercises or diplomatic missions, they are portrayed by Russian state-controlled media as interlopers or aggressors, which increases the risk to sailors and mariners alike because of the increased potential for misunderstandings (RT, June 21, 2017). Moscow's propaganda outlets leave out that the risk-taking and unpredictable actions are actually being perpetrated by only one side—Russia.
Estonia, Latvia and Lithuania all lack the number or types of naval or constabulary vessels required to secure, let alone effectively patrol, their entire exclusive economic zones (as well as their territorial waters for that matter) individually or in cooperation against Russian adventurism. Moreover, they do not have sufficient maritime domain awareness to adequately detect illegal state-on-state or criminal activity (Csis.org, March 12, 2018). This is a problem that only reinforces the potential image of the Baltic Sea as a Russian lake. It also encourages Moscow to test the Baltic States' response to sovereignty violations, as it did most recently when a Russian hovercraft entered Lithuanian's territorial waters within the Curonian Lagoon, on April 16 (Bnn-news.com, April 17, 2018).
When NATO naval forces are present in the Baltic Sea, such as during the annual BALTOPS naval exercises, Russian maritime adventurism is curtailed (Daily Signal, June 16, 2017). The recognized maritime picture, which can be shared with all cooperative Baltic Sea countries, is also improved (Jane's 360, June 15, 2017). At sea, like on land, deterrence seems to work.
The second set of Baltic exercises Moscow had announced for April—which was also supposed to include missile test launches—garnered less press interest, locally and internationally. This relative lack of coverage ostensibly reduced the perceived importance or threat posed by those exercises or tests, which in turn minimized the value they may have had for Russian propagandists. At the same time, however, accurate situational information made available to the international community is equally important in order to highlight the necessary cooperation, transparency and behavior required to ensure the stability of the Baltic Sea. Such stability is required in order to support and maintain the Baltic's role as a lifeline to the global economy for littoral states.
The free and legal flow of goods and people on and over (and in the case of communication, under) the Baltic Sea is crucial for the small economies of the three Baltic States and their larger European allies across the Sea. As such, they are unlikely to trust the maintenance of international law and order of the Baltic Sea to the Russian Navy.