Erdogan Prioritizes Foreign Policy in State of the Union Address
Publication: Eurasia Daily Monitor Volume: 6 Issue: 104
By: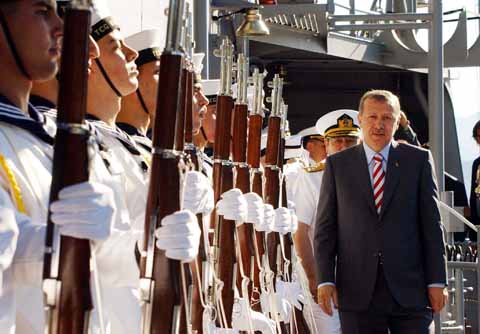 On May 30 Turkish Prime Minister Recep Tayyip Erdogan delivered his State of the Union address, focusing on Turkey's enhanced profile in regional diplomacy. Erdogan provided details relating to his trips to Azerbaijan, Russia and Poland, and discussed recent foreign policy initiatives, most importantly Turkey's role in energy security. Erdogan attempted to boost public confidence in the foreign policy agenda, which he described as "very active, dynamic and intensive," essentially offering a restatement of the Justice and Development Party (AKP) government's position on these issues (www.bbm.gov.tr, May 30).
Erdogan highlighted Ankara's role in energy policies, which he described as one of the most important issues on the global political agenda. He illustrated how his government had "turned Turkey's geographic position into an effective foreign policy instrument,' while arguing that the country's location enables it to act as an "energy corridor and terminal" between Western markets and the Middle Eastern or Caspian energy producers. However, he noted that if Turkey fails to develop longer term planning, it will be unable to fully capitalize on these opportunities or meet its domestic needs.
Erdogan's views on energy geopolitics reflect the growing energy demands of an emerging economy. Although Turkey has initiated various projects to increase its domestic production and invest in alternative energy sources, its domestic energy output accounts for only one third of the country's needs. Recent Turkish foreign policy initiatives have endeavored to turn this ongoing dependence on imports from a liability into an asset, by capitalizing on Turkey's position between the suppliers and Western consumers.
Erdogan maintained that the AKP government had taken important steps toward diversifying suppliers and energy transportation routes. After summarizing several existing and planned oil and gas pipeline projects across Turkish territory, Erdogan added that Turkey had become an integral part of the discussions on ensuring European energy security. He claimed that once these projects are completed, "Turkey will emerge as the fourth largest hub after Norway, Russia and Algeria, in supplying gas to Europe." He also suggested that the Turkish port of Ceyhan will become an "important energy distribution center and the largest oil sale terminal in the eastern Mediterranean."
In that context, Erdogan prioritized the Nabucco project, since it will consolidate Turkey's role within European energy security. He hoped the construction of the pipeline will begin soon and become operational by 2010: "we will sign the [intergovernmental] agreement in June," he added. Erdogan's statements also reflect recent changes in Turkey's position over the stalled Nabucco project, which raised expectations that the intergovernmental agreement might be concluded in June (EDM, May 15).
Turkey's diplomatic initiatives in the South Caucasus were another key feature of Erdogan's agenda. After noting Turkey's cooperative policies within the region, he highlighted his trip to Azerbaijan. He underlined the close ties between the two nations by referring to the growing bilateral trade volume, and Turkish investment in Azerbaijan's economic development.
Erdogan also stressed Turkey's continued support for international initiatives to resolve regional issues, most importantly the Karabakh question. He repeated his government's recent stance on the Azeri-Armenian dispute by maintaining that "Turkey and Azerbaijan will continue to share a common destiny, and walk on the same path" and that Turkey "will protect Azerbaijan's interests as much as our own interests." He warned the Turkish and Azeri peoples against those "who work to undermine the friendship and brotherhood between the two countries through false claims" (www.bbm.gov.tr, May 30).
He was clearly seeking to alleviate domestic concern over the normalization process between Turkey and Armenia. Nationalist forces within Turkey had successfully mobilized public opinion against the AKP government's overtures toward Armenia. They argued that it had betrayed the interests of Azerbaijan, by separating the Turkish-Armenian normalization from Azeri-Armenian negotiations. The mounting domestic pressure and criticism from Baku forced the government to reduce the pace of Turkish-Armenian rapprochement (EDM, April 29, May 6). Erdogan's trip to Azerbaijan as well as other recent high level contacts between the countries, has served to reassure Baku (EDM, May 14). Nonetheless, these moves toward Baku added to uncertainty surrounding the future of the Turkish-Armenian rapprochement, and Turkish politicians have recently proven reluctant to comment on the issue.
He also referred to the recent naval exercises carried out by the Turkish military in the Aegean and Mediterranean. Erdogan stressed the use of high-technology weaponry and said the successful conclusion of the exercises was proof of the country's power of deterrence in the region. Moreover, he emphasized that the Turkish army not only ensures national defense, but it also makes significant contributions to global security.
Erdogan's address provided significant clues concerning Ankara's strategic vision, which underpins the thinking of the Turkish political elite on foreign affairs. Erdogan repeated the geopolitical argument that Turkey is uniquely located in a strategic position at the intersection of several regions. He maintained that Turkish foreign policy strategies are devised with the aim of turning this position into an asset. Moreover, he reflected on how a constant search for markets and energy supplies to sustain Turkey's economic development now drives many of the country's foreign policy initiatives. Equally, he revealed that military power remains an essential component of Turkish foreign policy, despite the government priding itself on its effective use of soft power.
Erdogan's use of geopolitical rhetoric also highlighted the shifting priorities of Turkish foreign policy under the AKP government. He said that since a large part of Turkey's territory is in Asia, that part of the world naturally occupies a vital place in Ankara's foreign policy agenda. This admission is important, since some analysts describe the reorientation of Turkish foreign policy toward the Middle East and the South Caucasus as an indication of an ideological shift and the emergence of neo-Ottomanism – whereas Erdogan rightly explains it as a geopolitical necessity.