U.N. Secretary-General Revises Report on Abkhazia under Russian Pressure
Publication: Eurasia Daily Monitor Volume: 6 Issue: 105
By: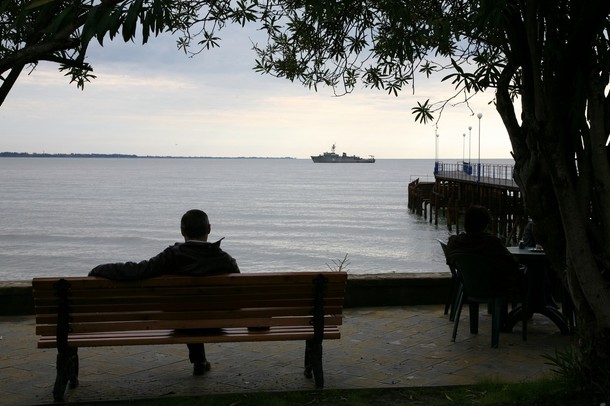 Russia no longer needs to veto the U.N. Security Council's (UNSC) resolution on the mandate of U.N. observers in Georgia, which expires on June 15. Intimidated by Moscow's veto threats, U.N. Secretary-General Ban Ki-moon and some key UNSC members have bowed to Russian demands and agreed to change key wording in the Secretary-General's report that recommends a new mandate for the observers.
Presented in closed-door consultations on May 27 at the UNSC, the report no longer refers to Abkhazia as part of Georgia. The report eliminates even the UNSC's traditional way of referring to Abkhazia as "Abkhazia, Georgia," a usage that had been designed to imply that this territory was situated within Georgia. The report also recommends re-naming the mission as a "stabilization mission," as if to imply consolidating the Russian seizure of Abkhazia, rather than aiming for de-occupation.
The Georgian permanent representative to the U.N. Alexander Lomaia, commented that it was "unfortunate and alarming that the [U.N.] Secretariat submitted to Russian blackmail." According to information disclosed from the Secretariat, Russian officials had demanded rewording the report under the threat of vetoing it (Reuters, Civil Georgia, May 27, 28).
Indeed, Moscow was threatening to force the U.N. observer mission out of theater by the simple expedient of vetoing the new mandate, just as it doing with the OSCE Mission in South Ossetia. Moreover, the Abkhaz delegates walked out of the ongoing Geneva talks to force Ban's and the UNSC's hand; and the delegates of South Ossetia (which is not involved in that U.N. process) walked out in sympathy with the Abkhaz in Geneva (Interfax, May 22). With Moscow and its proteges threatening to scuttle that "process" as well, Ba and his Secretariat changed their report's wording to Moscow's liking. The Abkhaz and South Ossetian delegates promptly returned to the Geneva talks.
According to a statement issued by Ba's office in his name, "The claim that the Secretary-General amended his report in response to Russian 'blackmail' is categorically rejected. That statement itself is very unfortunate…[His change of wording] reflected his view of what all [UNSC] members could live with" (UNSC press release, Civil Georgia, May 28, 29).
While describing Georgian anguish as "very unfortunate," Ba has never been heard using such terms regarding the Russian military invasion. His reference to the need for wording acceptable to all members is a euphemism for it being acceptable to veto-wielding Russia.
This Russian maneuver in the UNSC is hardly new. Ba's predecessors had experienced it and submitted to it also when this mission's mandate was due for prolongation. But the stakes were seen to be relatively lower in previous years. The Russian invasion of Georgia in August 2008 and its military seizure of Abkhazia, however, has thrown a more glaring light on the U.N.'s 15-year old failure regarding this conflict.
Russia's permanent representative to the U.N., Vitaly Churkin, was pleased with the new wording of the report and recommendations: "They do not contain anything that is inconsistent with the new political realities in the South Caucasus or that might question the status of Abkhazia, and therefore South Ossetia, as independent sovereign states." The "new realities" are the enlarged Russian military presence in the two territories and their "recognition" unilaterally by Moscow (Interfax, May 27, 29).
The mission, hitherto named UNOMIG (United Nations Observer Mission in Georgia), has been present in the field since 1994. It deployed 129 military observers and 16 police advisers, stationed and patrolling on either side of the ceasefire line that ran along the Inguri River prior to the August 2008 war. Unarmed and lacking any armored vehicles, the mission depended on Russian "peacekeeping" troops for its protection and for mobility. UNOMIG had no reconnaissance capability and, therefore, hardly any useful early-warning capability.
UNOMIG and the United Nations as such was a passive bystander as Russia deployed supplementary troops to Abkhazia from April to July 2008, with obvious offensive intent. When Russian forces attacked unprovoked Georgia's interior from Abkhazia on August 9, 2008, they gave UNOMIG two hours' notice to leave the area. UNOMIG cleared out immediately. While understandable from a human standpoint -the observers were defenseless and could not be expected to risk their lives in a hopeless situation- UNOMIG's response again highlighted that mission's limitations and constraints. These were built into its mandate, itself shaped largely by Russia, or under Russian veto power, since the 1990's. Thus UNOMIG's usefulness was marginal at best.
The new post-invasion U.N. mission faces an even more daunting task. Its new mandate is due for approval by the UNSC -again under Russian veto power- before June 15. The new mission -along with the U.N. itself- will again prove irrelevant unless it is endowed with real capabilities for monitoring and police functions, authorized to promote step-by-step de-occupation of the territory, and above all seek the implementation of the French-brokered, E.U. adopted ceasefire terms, which require the withdrawal of Russian forces to the pre-August 8 positions -that is, the return of most of them to Russia.