Escalation in Karabakh Casts Shadow Over Peace Process
Publication: Eurasia Daily Monitor Volume: 19 Issue: 146
By: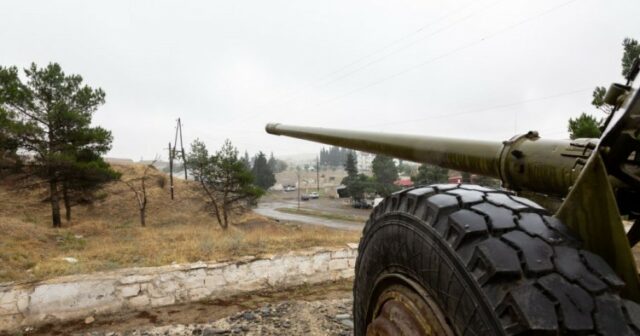 Beginning on the night of September 12, three days of escalation gave way to violent clashes between the Armenian and Azerbaijani armed forces along the internationally recognized border between the two countries—the bloodiest since the 2020 trilateral agreement following the Second Karabakh War. On September 13, the Azerbaijani Ministry of Defense announced that the seven-hour military operation—"Decisive Response"—had ended and that a significant portion of Armenia's military infrastructure, which can be used for provocations at the border in the directions of Lachin and Kalbajar, had been destroyed by high-precision weapons, and it will take years for Yerevan to restore it (Milli.az, September 13).
For the first time in 30 years, Baku targeted military objects not located within Azerbaijan's internationally recognized borders but rather on Armenian territories. The Azerbaijani troops advanced along borders that are disputed and not delimited, as well as took control of 53 combat positions, two-mortar firing positions, a large number of commanding heights and the permanent deployment point of Armenia's 538th detachment in the direction of Zod. The starting positions of two S-300 units and two S-125 divisions were also destroyed. The Azerbaijani military's destruction inflicted on the Armenian army has been estimated at more than $1 billion (Apa.az, September 15).
This escalation triggered harsh reactions from the United States, Iran and France directed toward Azerbaijan. US Secretary of State Antony Blinken urged Azerbaijani President Ilham Aliyev to cease hostilities immediately, disengage military forces and pull forces back from the border (YouTube, September 14). Tehran again warned Baku about the consequences of the escalation (Iranintl.com, September 13). Since 2020, Iran has claimed that the prospect of opening the Zangezur Corridor will block its border with Armenia, the access to which has been critical for Iran to reach the rest of world (Azatutyun.am, July 19). And France decried the clashes between Armenia and Azerbaijan at the United Nations Security Council (Rfi.fr, September 13).
Overall, Azerbaijani diplomacy has tended to be quite careful, and its military operations, unlike Armenia's, were usually narrowed within its internationally recognized territories (see EDM, October 19, 2020). Moreover, on August 27, Azerbaijani foreign policy adviser to the president, Hikmet Hajiyev, said that, during the 44-Day War in 2020, despite its military advantages, Azerbaijan narrowed its military operations to its own territory of Karabakh, only in those areas where historically Azerbaijanis have been in the majority, and did not enter densely populated Armenian areas for the purpose of avoiding unwanted civilian casualties (Bakupost.az, August 27).
Although the meeting of the leaders of Azerbaijan and Armenia initiated by European Union in Brussels on August 31 did not produce significant results, on September 7, Azerbaijan returned five Armenian military personal who had been arrested before, which was a signal from Baku for the constructive potential of future negotiations (Gundelik-baku.com, September 8). The escalation also coincided with the first visit of the US State Department's senior adviser for negotiations in the Caucasus, Ambassador Philip Reeker, to the region (Turan.az, September 13).
Thus, the logical question to raise is: What happened now that pushed Azerbaijan to strike targets within Armenia? Ultimately, a number of military and political considerations served as triggers.
So far, because of the sensitive nature of operations on the ground, the Azerbaijani Ministry of Defense continues to limit its explanations of the recent escalation, relying instead on general statements such as "provocations of Armenia." Well-known security expert and ardent critic of the Azerbaijani leadership, Arastun Orujlu, claims that an Armenian sabotage group entered the Azerbaijani army's barracks deep inside Kalbajar and killed a sleeping unit of fresh conscripts, which triggered Baku's harsh reaction (YouTube, September 20). A close ally of Armenian President Nikol Pashinyan and chairman of the Independent Armenia political party, David Sanasaryan, posted on his Facebook account that "during the last short war, the enemy was taken by surprise and defeated" (Radar.am, September 24).
Nevertheless, a number of additional factors could have pushed Azerbaijan to respond so harshly. Kalbajar, where the recent escalation took place, is one of the most vulnerable positions for Azerbaijan. Since 2020, statistics demonstrate that most ceasefire violations have taken place here. Kalbajar district, which is outside Karabakh, is situated between Armenia to the west and Armenian military units to the east, where Russian peacekeepers temporarily hold control. In the north, Kalbajar is encircled by the Murovdag mountain range, which makes it extremely difficult for Azerbaijan to reach it from the north and nearly impossible during the cold season. In the south, from Lachin, Azerbaijan has yet to finalize the improvement and development of new road infrastructure there.
Currently, in the west, Kalbajar faces at least three army corps from Armenia: the 1st, 2nd and 4th. The International Crisis Group estimates that approximately 12,000 Armenian soldiers remain in Karabakh to the east in the Russian-controlled area, which means that, in fact, Kalbajar is encircled by all four Armenian corps (Crisisgroup.org, April 22). Since 2020, after its return from occupation to Azerbaijan, Armenian experts and commentators have frequently emphasized two underlying points regarding Kalbajar's strategic importance (168.am, June 17, 2021). First, Kalbajar is a critical connecting territory between Armenia and Karabakh. Second, it holds a vulnerable position in "the pocket," or "handbag," of the region. .
In 2020, during the 44-Day War, Azerbaijan engineered a strike on military infrastructure in the Vardenis region of Armenia bordering Kalbajar (Radio Free Europe/Radio Liberty, October 14, 2020). After, the location was used to launch OTR-21 Tochka, Elbrus and Scud ballistic missiles on Ganja and other densely populated areas far from the war zone. These strikes killed around 65 civilians, wounded 297 and inflicted serious damage on civilian infrastructure. The Murovdag mountain range in this area blinds the Azerbaijani air defense systems from intercepting missiles launched by Armenian forces.
On November 25, 2020, Kalbajar was "liberated" after 27 years; yet, the internally displaced persons (IDPs) and local residents—which were 99.9 percent Azerbaijanis—there still cannot return to their homes. This is not only because all major infrastructure in the area has been destroyed or because civilians and journalist still lose their lives in landmine explosions but also because the same security threats, similar to those during the First Karabakh War stemming from geographical realities on the ground continue to persist (Oc-media.org, June 4, 2021). IDPs from Kalbajar, unlike other occupied regions, have suffered more after leaving their homes, trying to escape either by helicopters or through the snowy mountains (YouTube, April 2, 2013). As a result, massacres have ensued (Aircenter.az, May 5, 2020).
Even though almost two full years have passed since 2020, Armenia and Azerbaijan have not yet been able to reach normalization and a lasting peace. Both sides are cautious about the intentions of the other. As such, Baku continues to strengthen its army. For their part, Armenian experts hint that they have acquired new missiles that can strike not only Azerbaijani oil and gas pipelines but also other energy infrastructure and reservoirs (Twitter.com/KonulRanveerian, August 19). In truth, Both societies are becoming more militarized and hostile toward each other (Twitter/TheScarmind, June 11). Sadly, in the face of this escalation, the hope for peace and stability in the region still seems quite far off.