Zelenskyy Bans Negotiations With Putin
Publication: Eurasia Daily Monitor Volume: 19 Issue: 147
By: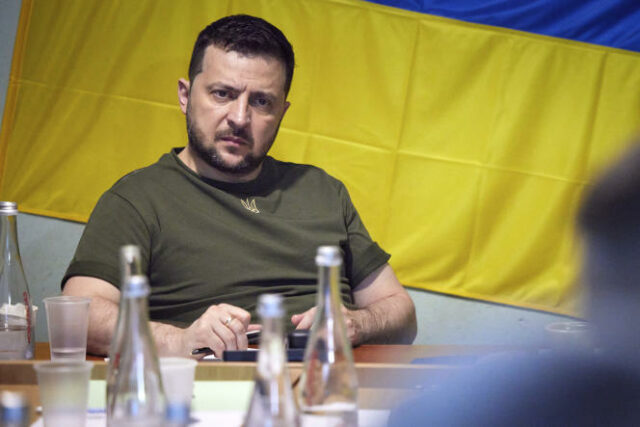 On October 4, Ukrainian President Volodymyr Zelenskyy released a decree effectively ruling out negotiations with Russia's incumbent president. Technically, Zelenskyy's decree confers legal force on the Ukrainian National Security and Defense Council's (NSDC, or in Ukrainian, RNBO) September 30 decision, which "determin[ed] that holding negotiations with the Russian Federation's President Vladimir Putin is impossible." Zelenskyy's decree entered into force on the day of its release (President.gov.ua, October 4).
Implicitly, Kyiv's decision leaves open the possibility for negotiations with the next Russian president following the end of Putin's presidency, albeit on Ukrainian terms (see below). Meanwhile, Zelenskyy's decree provides an internal legal safeguard against falling back into the old temptations to negotiate with Putin yet again. Equally, it provides a shield against entreaties from third parties to Kyiv to negotiate with this Kremlin.
Kyiv's decision allows for the continuation of internationally mediated negotiations with Moscow at technical levels on such topics as: exchanging war prisoners, prolonging the arrangements on Ukrainian grain exports via the Black Sea and demilitarizing the Russian-occupied Zaporizhzhia nuclear power plant and reinstating its Ukrainian management.
In the short-term, however, Kyiv's decision represents a quick and unbending rejection of Putin's September 30 call for bilateral negotiations. In his speech at the Kremlin announcing the official annexation of four Ukrainian regions, Putin declared: "We call on the Kyiv regime to cease fire and all combat actions immediately, stop this war that it [Kyiv] unleashed ever since 2014 and return to the negotiating table. We have said more than once that we are ready for negotiations. However, the peoples of Donetsk, Luhansk, Kherson and Zaporizhzhia have made their choice. We are not going to question that choice, Russia will not betray it. The current authorities in Kyiv must relate to that free choice respectfully and in no other way. This is the only way to peace" (Kremlin.ru, September 30). Negotiations, therefore, are conditional on Ukrainian acceptance of Russia's territorial annexations as faits accomplis, and the outcome of any negotiations is already predetermined.
Zelenskyy instantly responded: "Negotiations and agreements are obviously impossible with this Russian president. Honesty and justice are unknown to him. We will be ready for dialogue with Russia afterward, with another Russian president. Only a stronger Ukraine expelling the occupiers from Ukrainian territories will bring peace. This is our way" (Ukrinform, September 30).
While Ukraine's dismemberment is the Kremlin's non-negotiable goal, Ukraine deems its territorial integrity as non-negotiable. Accordingly, on the day of Putin's demarche (September 30), the Ukrainian leadership adopted the collective decision that Zelenskyy then legalized on October 4, effectively banning negotiations with Putin.
Having seized the initiative on the battlefield and sensing the growing possibility of winning this war, Kyiv proposes to start preparing the framework of an eventual postwar settlement. Along with the restoration of Ukraine's territorial integrity, Kyiv proposes the creation of international mechanisms for investigating and prosecuting Russian war crimes in Ukraine as well as seeking compensation for war damages from Russia.
On October 3, Zelenskyy publicized an international appeal for instituting a special tribunal to draw up indictments against those who planned Russia's war of aggression and ordered its launch, issue arrest warrants against those responsible for it and bring them to trial. This initiative does not intend to be prejudicial toward the International Criminal Court (ICC). Kyiv long ago recognized the ICC's jurisdiction on Ukrainian territory and is currently in communication with the ICC on this issue but remains skeptical about the international court's means to effectively accomplish this task (Ukrinform, October 3). The Ukrainian Presidential Office has recently impaneled a working group under office chief Andrii Yermak to draft proposals for creating such a tribunal and submitting the proposals to Ukraine's partners and relevant international organizations (President.gov.ua, September 22).
Also on October 3, Zelenskyy appealed for support on a Ukrainian draft resolution in the United Nations General Assembly that would hold Russia responsible for inflicting war damages on Ukraine and liable for paying compensation, as well as defining an international mechanism to obtain such compensations (President.gov.ua, October 3).
These Ukrainian initiatives may be viewed as premature at this stage in practical terms. They are, however, politically and symbolically significant and topical already at this stage. These initiatives will cement Ukraine's rejection of negotiations with this Kremlin. They render Kyiv's political, geopolitical and civilizational break with Moscow permanent and irrevocable. And they turn Ukraine into a moral leader in efforts to exclude Russia from European security arrangements and ostracize this Kremlin from polite international company.