EU Offers Carrots for Ukraine to Free Tymoshenko
Publication: Eurasia Daily Monitor Volume: 8 Issue: 183
By: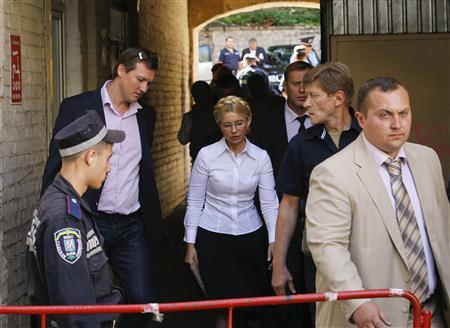 The Pechersky District court in Kyiv on September 30 adjourned the trial of former Ukrainian Prime Minister Yulia Tymoshenko until the week starting October 10, when a verdict should be delivered. This may become the turning point in Kyiv's relations with the West. Tymoshenko faces seven years in prison for the role she played in preparing the controversial 2009 gas contract with Russia. However, it is widely believed that Ukraine's justice in this case is influenced by the team of President Viktor Yanukovych who, through Tymoshenko's conviction, wants to target a rival ahead of next year's parliamentary election and to have an additional argument against the 2009 contract, which Ukraine has been disputing with Russia. Western leaders told Yanukovych last month that Tymoshenko's conviction would spoil bilateral relations. At the same time, smoother integration into the EU was offered if Tymoshenko is freed. Kyiv promised to think about decriminalization of the offences Tymoshenko is charged with.
As both the Tymoshenko trial and the political association and free trade talks with the EU draw to a close, Kyiv has come under unprecedented criticism over Tymoshenko. While the EU pursues economic gains in the talks as a free trade agreement will open up a rapidly developing market of 45 million people, it would be difficult for EU leaders to explain to voters why they agreed on political association with a country where opposition leaders are imprisoned on trumped up charges.
On September 9, US Secretary of State Hillary Clinton and EU foreign policy chief Catherine Ashton wrote a letter to Yanukovych warning him against selective justice (Ukrainska Pravda, September 16). EU officials made it clear at the September 16-17 Yalta European Strategy Forum that the Ukraine-EU association and free trade accord could be blocked at the stage of ratification next year even if the accord itself were finalized in December 2011 as planned. Yanukovych, at a two-hour-long meeting with EU enlargement commissioner Stefan Fule, Swedish Foreign Minister Carl Bildt and European Parliament deputy Elmar Brok, agreed that the Tymoshenko case was a problem, but he blamed outdated laws for this and promised to change them. However, he failed to clarify whether or when Tymoshenko would finally be freed (UNIAN, September 16-17, Kommersant-Ukraine, September 19).
Ahead of the Eastern Partnership summit in Warsaw last week, the EU had issued more warnings to Yanukovych. European Commission spokeswoman Maja Kocjancic said on September 28 that the commission was concerned by the public prosecutors' September 27 request for the court to imprison Tymoshenko for seven years and fine her the equivalent of $190 million. German Chancellor Angela Merkel expressed her concern over Tymoshenko to Yanukovych by telephone before the summit and face to face during the summit (Ukrainska Pravda, September 16; Ukrinform, October 3). However, Kyiv was clearly angered by what it saw as foreign interference in domestic affairs. Foreign Minister Kostyantyn Hryshchenko claimed in an interview that the EU and Russia were defending Tymoshenko because she helped them attain their goals during the 2009 gas crisis at Ukraine's expense (Ukrainska Pravda, September 28).
Before and during the summit, the EU not only continued to criticize Kyiv for Tymoshenko's treatment, but also offered carrots for her release. The head of the EU representative office in Ukraine, Jose Manuel Pinto Teixeira, indicated that the EU might think about inserting a provision in the political association agreement draft on a possible future membership for Ukraine if the political situation in the country improved (Interfax-Ukraine, September 19). Several EU officials including Fule reportedly said at the summit that the EU visa regime could be lifted for Ukrainian citizens sooner than planned. The EU also hinted that financial assistance to Ukraine could be increased if Ukraine took convincing steps toward democratization (Kommersant-Ukraine, September 30). Despite the controversy over Tymoshenko, the EU's trade chief, Karel De Gucht, said after the summit that a free trade agreement would be concluded with Ukraine by the EU–Ukraine summit in early December at the latest, as planned (www.europa.eu, press release from October 3).
Circumstances are in Ukraine's favour since the EU wants a success story in order to show that the Eastern Partnership, launched in 2009 to assist the six former Soviet states located in Europe in their political and economic transition without promising EU membership, has not been a waste of time and money. Ukraine is best suited for the role in contrast to the other participants in the Partnership, which are either even less democratic like Belarus – which demonstratively ignored the summit – or too weak both politically and economically like Moldova.
Yanukovych could save face and improve relations with the West if the offences Tymoshenko is charged with were decriminalized. Such a possibility has been discussed in Ukraine for several weeks and several bills on this were submitted to parliament by both the opposition and pro-government deputies. Yanukovych also submitted his own bill, but his legal adviser Andry Portnov announced that Yanukovych's bill was not related to Tymoshenko's offences (Channel 5, October 3). Thus, time is running out for Yanukovych.