Putin Prioritizes Rebuilding the Lost Empire
Publication: Eurasia Daily Monitor Volume: 8 Issue: 184
By: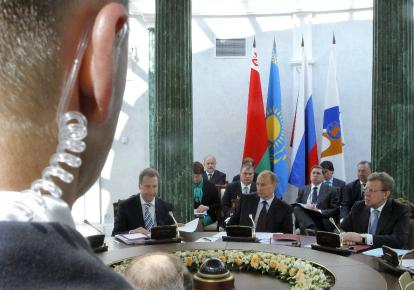 This week, Prime Minister Vladimir Putin – the ruling United Russia party's official candidate for reelection as president for a third six-year term next March – published a major policy article in the Izvestiya daily. Putin announced a long-term strategy to build a Eurasian superstate within the boundaries of the former Soviet Union, called the Eurasian Union. According to Putin, the new union will eventually replace the present CIS (Commonwealth of Independent States), formed in 1991 after the demise of the USSR. To begin with, a customs union was established between Russia, Belarus, and Kazakhstan. Next January it will be upgraded to the Common Economic Space (CES), allowing the free flow of goods and services. Kyrgyzstan and Tajikistan are seeking to join the customs union and CES, according to Putin. The doors will be open for other CIS states to join. The existing Union State between Russia and Belarus and the Collective Security Treaty Organization (CSTO) defense organization (Russia, Belarus, Kazakhstan, Uzbekistan, Armenia, Kyrgyzstan and Tajikistan) will supplement the drive for integration. Putin believes the reintegration of the post-Soviet space will be much faster than in Europe through the EU (Izvestiya, October 3).
Former Kremlin political adviser Gleb Pavlovsky told journalists he "could not remember a single election after 1996 where the president failed to promise to restore the Soviet Union" (Kommersant, October 5). Liberal commentator Dmitry Oreshkin told Ekho Moskvy that Putin's policy article is just another empty election manifesto to placate the masses still nostalgic about the great Soviet empire. Oreshkin noted Moscow's failure to move beyond empty declarations in establishing a Union State with Belarus or to woo the supposedly pro-Russian Ukrainian President Viktor Yanukovych into joining the Customs Union or CES. Oreshkin believes that by announcing the plan to build the new Eurasian Union, Putin is cynically "putting up a smokescreen to hide his failures" (Ekho Moskvy, October 4).
Putin stressed the new Eurasian Union "will not be a reincarnation of the USSR," but failed to explain the difference in detail. Putin's press secretary Dmitry Peskov stated: "The establishment of the Eurasian Union will be one of Putin's main priorities in the coming six years [after presidential reelection]." Peskov explained that the member states of the new union will retain political sovereignty, "while the management of their economies must be fully integrated" (Kommersant, October 5). In the old USSR, the republics that formed the union were also legally sovereign: Soviet Belarus and Ukraine enjoyed separate UN membership during the Cold War, while being in fact integral parts of a totalitarian state.
Peskov insisted the Putin's Eurasian Union plan has nothing to do with the coming elections. Indeed, Putin is in any case assured of a landslide victory in a nation were elections are anything but democratic or fair. The acute public nostalgia over the demise of the USSR has greatly diminished after its fall in 1991 as a new generation matures that did not know it much or at all. Putin writes about Russia's "7,000 kilometers border with Kazakhstan" becoming a purely administrative interstate line, allowing Kazakhs, Kyrgyz and Tajiks to travel and work anywhere within the new superstate at will. That is a vision many Russian nationalists will surely hate. It also makes virtually impossible Putin's insistence on visa-free travel between Russia and the EU.
Putin's Eurasian Union dream is a serious long-term strategy, which trumps almost anything else. Putin seems ready to open Russia and its coffers to any nation that chooses to join. The Customs Union is already costing dearly. Under the Customs Union agreements import duties are jointly collected and later divided with Russia receiving 87.97 percent, Belarus 4.7 percent and Kazakhstan – 7.33 percent. According to government statistics, under this tariff sharing agreement Russia's budget will lose in 2011 some 40 billion rubles ($1.15 billion) of revenue (Vedomosti, August 22).
In addition, Russia's long postponed entry into the WTO has been further muddled by the Customs Union. But Putin has a revisionist vision of the future that does not involve the WTO. Putin writes that economic and political globalization has been undermined by the present world economic recession, and the WTO is in crisis. Putin sees the future world as an agglomeration of several superstates, created by the integration of many nations. The Eurasian Union would be one of these "powerful poles." Putin expresses the view that global integration will be replaced by regionally integrated powerful groupings: the EU, NAFTA, APEC and ASEAN.
It would seem Putin believes that while Russia "integrates" the post-Soviet space, taking in Belarus, Kazakhstan, Kyrgyzstan and Tajikistan with others (Ukraine, Uzbekistan, Armenia, Moldova) possibly adding up, the US is free to "integrate" Canada, Mexico and other Central American, Caribbean states, forming the "NAFTA Union" superstate. India, China and the ASEAN nations may form their own regional superstates: an Orwellian future, like in "Nineteen Eighty-Four" (first published in 1949) by George Orwell. Putin writes: "I am convinced that the establishment of the Eurasian Union and efficient integration are approaches that will enable members to take a prominent place in our complicated, 21st century world. Only by standing together will all our countries be able to take their places as leaders of global growth and drivers of progress, only together will they succeed and prosper" (https://premier.gov.ru/eng/events/news/16622/).
Putin tried to dismiss arguments "by some of our neighbors" [clearly pointing at Ukraine] against joining the Customs Union and CES, since "this may contradict their pro-European stance." According to Putin: "The Eurasian Union will be based on universal integration principles as an essential part of Greater Europe united by shared values of freedom, democracy, and market laws" (https://premier.gov.ru/eng/events/news/16622/). In reality Putin is at present integrating into his Customs Union and CES only authoritarian dictatorships that do not share any "values of freedom, democracy, and market laws" with the West. A massive rearmament effort is underway in Russia – aimed at building modern conventional forces using Western technologies to defend the union of Eurasian dictators from popular uprisings and a new generation of long-range nuclear weapons to deter the West to keep its values out. Putin is pragmatic: such protection may indeed induce the Eurasian Union dictators to integrate.