Putin Attempts to Reinvent the Customs Union As a Eurasian Bloc
Publication: Eurasia Daily Monitor Volume: 8 Issue: 184
By: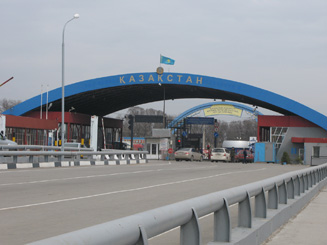 Russian Prime Minister Vladimir is yet to win the presidency formally next year, but he has already laid out ambitious foreign policy plans in regard to former Soviet states, Russia's "traditional sphere of influence," as the Kremlin often defines it. In his recent op-ed piece in Izvestiya, Putin proposed deepening the integration of former Soviet states within a newly proposed Eurasian Union (www.izvestia.ru, October 3).
Putin sees the Eurasian Union as an extension of the CIS and the Russia-Belarus-Kazakhstan Customs Union, arguing that it will be a long-term project that intends to function independent of political regime changes in its member states. Putin also pledges that the new union, "connecting Europe and the Asia-Pacific region," will promote the development of domestic industries and expand trade ties between its members.
The Russian leader, however, denies that the new union will be a mere restoration of the USSR. Instead he compares the potential union with the EU Schengen zone and promises that labor migrants would be free to move across borders without having to match their skills to existing migrant quotas in Russia. Europe needed 40 years to integrate, while the Customs Union requires much less time to gain traction, he says.
For Putin, the Customs Union's main architect, the grouping has already become an instrument of both regional and international politics. Union membership is regarded as an indicator of political alignment with and support of the Russian leadership in the post-Soviet space. Ukraine, Kyrgyzstan and Tajikistan are being pressurized to join the club.
Moscow easily convinced Belarus and Kazakhstan to support the idea of a common market. The isolated Belarusian economy is deeply dependent on Russian credits, and President Alyaksandr Lukashenka's domestic political support is contingent upon his relations with his much larger neighbor.
For Kazakhstan, on the other hand, the Customs Union is more a symbol of good neighborly relations with Russia rather than of economic integration. Unlike Belarus, Kazakhstan's biggest trade partner continues to be the European Union, and the country is also expanding its economic cooperation with China and the United States. Kazakh experts, however, link 12 percent inflation in the country over the past few months with the union agreement.
By contrast, Ukraine's current pro-Moscow leadership has been reluctant to join Putin's project as a full member, proposing collaboration with the union in a special "3+1" format. President Viktor Yanukovych has said that Ukraine is interested in collaborating with the union, but full membership would undermine the country's current benefits derived from serving as a transit state for Russian gas (www.rbc.ua, August 26). Russian President Dmitry Medvedev rejected the idea outright, however, stating that Russia will only accept Ukraine as a full member.
While Kyrgyzstan and Tajikistan have shown interest in becoming members of the Customs Union, both countries face strong domestic opposition against joining the grouping. If Tajikistan joins the Customs Union, Russia will have the right and responsibility to station its border guards on the Tajik-Afghan border to control all cargo passing through to the union's border. According to Moscow, Tajikistan's military lacks sufficient capacity to prevent the transit of drugs across the border. Russian border guards are already posted on the Kyrgyz-Kazakh border to check trucks crossing that frontier. Since withdrawing from the Tajik-Afghan border in 2004, Russia has been trying to reestablish its military presence in the country.
Since entering into force last year, the Customs Union has implemented several key trade agreements, but its members remain divided on a number of policies. The union forces Russia to relax some of the retaliatory trade bans Moscow imposed in 2006 on Georgian products. As the Customs Union is designed to erase trade barriers among its members, Georgian products banned in Russia will inevitably make their way to the Russian market once they pass through intermediary countries that have not imposed similar trade bans. Although Belarus has imposed sanctions on Georgian products, Kazakhstan freely sells Georgian wines and mineral water.
The Customs Union's future beyond its three members is uncertain. Putin's new Eurasian project will survive should the current members show their political support. Other Russian-led initiatives have been similarly supported by regional players, only to fizzle out later. According to the Kremlin, before announcing his plans, Putin had not consulted with the union's other members (www.kommersant.ru, October 4).