EU Supports Nabucco Against South Stream
Publication: Eurasia Daily Monitor Volume: 7 Issue: 149
By: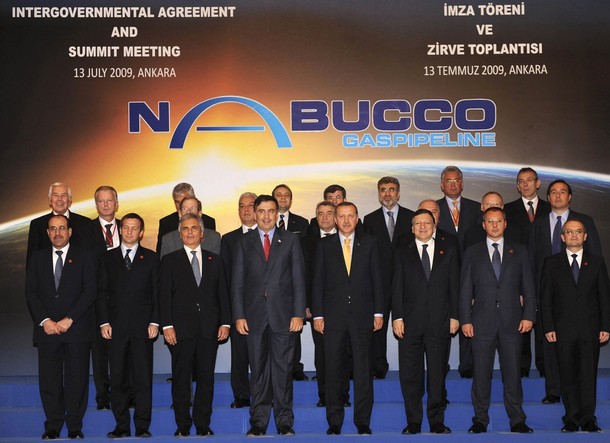 On July 30 in Berlin, Gazprom's Vice-President, Aleksandr Medvedev, deprecated the EU-backed Nabucco project and claimed that Russia would imminently proceed with the rival South Stream. "There is complete certainty about South Stream. We have enough gas to supply 63 billion cubic meters (bcm) every year, from 2015 onward, for the next 30 or 40 years," Medvedev claimed. Along with the lure to Europeans came the threat to bypass an "unreliable" Ukraine: "Gazprom has good and reliable partners along the whole route of South Stream." Moreover, he asserted, "we have unique technical experience for laying gas pipelines on the seabed." Medvedev was speaking at a news conference presenting the new CEO of Gazprom Germania, Vladimir Kotenev, the former Russian Ambassador to Germany (ITAR-TASS, July 30).
Medvedev failed to identify a source of gas in Russia or elsewhere to supply South Stream, or a source of funding for the $25 billion to $30 billion cost of this project (by Russian estimates). Russian officials invariably omit these issues when promoting South Stream. Medvedev even upped the ante on this occasion, hinting at 40 years worth of supplies, rather than the 30-year project previously on offer.
The bluff seems designed, this time, not simply to keep a virtual South Stream in play as a Nabucco-stopper, but also to conceal Moscow's political setbacks in Western Europe over South Stream. At least three major setbacks have become apparent in recent weeks.
The German government has not moved to support South Stream politically or to encourage financing for the project, as Moscow was hoping Berlin would do. On the contrary, the Berlin government across party lines expressed concern when Gazprom suggested to the German RWE company (a Nabucco consortium partner) to join South Stream. The German government even took this concern to the recent Russo-German summit, which was markedly cooler overall than the previous ones (EDM, July 13, 14). Shortly afterward, on an official visit to Kazakhstan, German Chancellor, Angela Merkel, raised with President Nursultan Nazarbayev the possibility of Kazakh gas supplies for Nabucco and other planned pipelines in the Southern Corridor to Europe (Kazinform, July 18). The US Special Envoy for Eurasian Energy Affairs, Richard Morningstar, took up that issue during his visit to Astana, with an emphasis upon Kazakhstan's strong potential to capture and export associated gas (Interfax, July 28).
Moreover, the European Commission has rebuffed Moscow's theory that Ukraine is an "unreliable" transit country, and South Stream is necessary to bypass Ukraine. That theory had gained currency in Germany and some other West European countries, where Gazprom's propaganda reversed the interpretation of the January 2009 gas crisis, shifting the blame from Russia to Ukraine. This became the central argument in support of South Stream, despite its exorbitant cost. The European Commission, however, has now made its disagreement public on both counts. In Kyiv on July 28, EU Energy Commissioner, Guenther Oettinger, declared that the Commission "is interested in a more cost-effective business project than South Stream. And, definitely, there is no route more profitable and reliable than transit through Ukraine (Inter TV I, Interfax-Ukraine, July 28). Oettinger also told the Russian press explicitly that South Stream would not fit the EU's interest to open direct access for Caspian gas through the Nabucco pipeline (Kommersant cited by Interfax, July 30).
Finally, Italian ENI, Gazprom's main partner in South Stream, seeks a way out from the original project. Apparently doubting Russia's capacity to line up the gas and financing, ENI proposes downscaling South Stream's capacity to 15 bcm per year and unify it with Nabucco's first stage of the same capacity, for a total of 30 bcm per year. The unified project would consist of one branch, from Turkey via Bulgaria to Vienna, abandoning South Stream's intention to build the branch from Bulgaria to southern Italy. ENI had made public this proposal in April, and was admonished publicly by Gazprom at that time, though it continues to propose this solution. ENI's change of position reflects confidence in Nabucco, rather than in the South Stream project. ENI further proposes to supply 2 to 3 bcm of gas annually from its own production in Turkmenistan and Kazakhstan, shipping it as compressed natural gas, via the Caspian Sea and Azerbaijan to Turkey, using existing pipelines. This proposal would make sense if that volume would go into Nabucco as first priority (Trend, July 21).