Europe Is Talking to Minsk
Publication: Eurasia Daily Monitor Volume: 18 Issue: 178
By: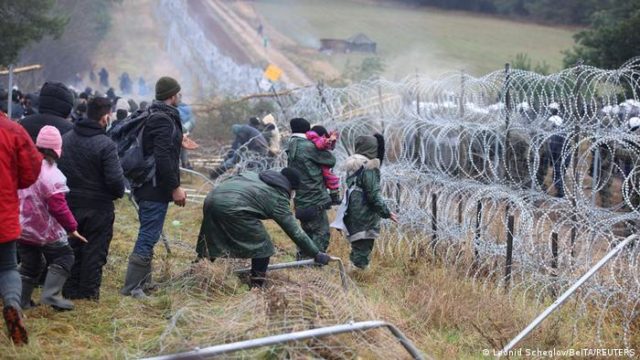 On November 15 and 17, Angela Merkel, the outgoing chancellor of Germany, telephoned Belarusian President Alyaksandr Lukashenka (RBC, November 17). While, on November 14 and 16, Belarus's Foreign Minister Vladimir Makei had two phone conversations with Josep Borrell, the European Union's High Representative for Foreign Affairs and Security Policy (Belta, November 14; Mfa.gov.by, November 16). These contacts changed the nature of the border crisis because hitherto no Western leader was expected to talk to Lukashenka or his associates.
Warsaw, Vilnius and Riga were notified of Merkel's first call on the same day it took place. Much of the Belarusian opposition that has so far insisted on blanket ostracism of Lukashenka was taken aback. After Svetlana Tikhanovskaya publicly criticized "the return to business as usual and Realpolitik," (Tsikhanouskaya.org November 22), Merkel gave her a call, too. During her November 24 speech at the European Parliament (EP) and in a subsequent interview, Tikhanovskaya also denounced the many loopholes in Western sanctions, like the fact that 80 percent of potash exports are exempt from sanctions (Svaboda.org, November 24).
According to veteran opposition journalist Alexander Klaskovsky, "Yes, Lukashenka can celebrate a PR win, and Belarusian propaganda has a reason to trumpet it… But at the same time, Berlin calls the Belarusian leader just "mister" not "president" (Facebook.com/klaskouski, November 16). Incidentally, Radio Liberty had previously agonized over CNN using the word "president" in reference to Lukashenka (Svaboda, October 8). According to yet another opposition-minded pundit, Artyom Shraibman, "Borrel's and Merkel's calls are increasingly looking like an attempt to give Lukashenka the opportunity to independently deescalate the conflict without completely losing face" (T.me/shraibman, November 17). Many other attempts have also been made at damage control.
The reality, however, seems to stray from such attempts. Rather than losing face, Lukashenka and his entourage gained political capital. The Western sanctions are not as tough as promised and, most importantly, the West is now talking to Minsk. Even Lithuanian President Gitanas Nausėda lauded the re-opening of dialogue despite his erstwhile toughest stance on boycotting Lukashenka: "I think it is possible to resolve the crisis by addressing Mr. Lukashenko [sic], as Angela Merkel has just done," he said in an interview with the BBC on November 16 (Svaboda.org, November 16).
Debate on the matter is also brewing in Poland. The prominent journalist Witold Jurasz, who as a diplomat was stationed in Minsk, remarked that "while we are defending our border (rightly so), Washington, Berlin, Paris, Moscow and Minsk engage in diplomacy. This, in turn, means that although we do defend the border, we, in a sense, also lose" (Facebook.com/witold.jurasz.16, November 15). Additionally, when Polish border guards used water cannons in frosty weather, as they did on November 16 against Iraqi Kurd migrants camped on the Belarusian side of the border, even opposition-minded Belarusians cried foul (Zerkalo, November 17).
According to Belarusian sources, Lukashenka and Merkel agreed to allow 2,000 migrants passage to Germany, while the remaining 5,000 would be returned their homelands. No more than 400 initially agreed to return voluntarily (Belta, November 18), but three planes have already taken about 1,000 of them back to Baghdad (Svaboda.org, November 18; Interfax, November 25). On November 26, Lukashenka arrived at the camp where migrants are kept near the Bruzgi border crossing and promised that nobody would be repatriated forcibly. Once again, he appealed to Germany to accept migrants and suggested that if it were not for Poland's intransigence, the problem would have already been resolved (Svaboda.org, November 26). It appears that Poland's ruling party may, indeed, be interested in the prolongation of the border crisis—both for the sake of domestic consolidation and because the crisis helps position Warsaw as the eastern outpost of Western civilization, not as a violator of rules imposed by Brussels. Former foreign minister Radosław "Radek" Sikorski's statement at the EP's plenary session (Memnews, November 23) and this author's November 25 personal interview with Jurasz reinforce this view.
Denis Melyantsov of Minsk Dialogue Council offered his interpretation of the chain of events, which is squarely at odds with the views of his former comrades-in-arms in the opposition (T.me/realist_belarus, November 15). According to Melyantsov, the border crisis was triggered by sanctions that Minsk perceived as interference in its domestic affairs. Decreasing protection at the EU's eastern border from illegal migrants, which is how, in Melyantsov's opinion, the migration conundrum emerged, was Minsk's way of showing that interference in its domestic affairs comes at a price. "In the future, Poland and Lithuania will think twice whether to host fugitive Belarusian oppositionists and whether to lobby for sanctions against Minsk," reasons Melyantsov.
Furthermore, the Belarusian leadership underwent internal cleansing and became more monolithic. It no longer wants to play by Western rules or to pose as a diligent student of democracy in exchange for closer relations with Western mentors. Hence, Minsk's reaction to the November 22 conference in Vienna, promoted by the Austrian Foreign Ministry, with exiled opposition leaders scheduled to take center stage (see EDM, November 10), was highly negative.
In Melyantsov's words, "Minsk is now presenting the West with a range of the possible: from a 'situationally neutral' Belarus to a Belarus being a military outpost of Russia capable of causing the EU and especially the EU's most Belarus-hostile members a lot of problems. At the same time, Minsk is making a point that the situation is reversible. That is, situational neutrality can be restored. What is apparently irreversible is intolerance to external mentoring, learned the hard way, and reluctance to allow the West to rebuild networks of influence inside Belarus" (T.me/realist_belarus, November 15).
Melyantsov's perspective may be seen as too flattering to Belarusian authorities. After all, no one is likely to forget anytime soon the hard-to-believe official election results of August 2020 or what came thereafter, including the 1,000 or so political prisoners, according to international human rights groups. But flattering or not, it effectively invokes the Realpolitik about which Tikhanovskaya lamented. It also reveals what Minsk's rationale actually is. Not for the first time, idealism yields realism when push comes to shove. Is that not what Europe's decision to talk to Minsk is all about?