European Union Develops Ties with Kyiv Despite Concerns Over Democracy
Publication: Eurasia Daily Monitor Volume: 8 Issue: 47
By: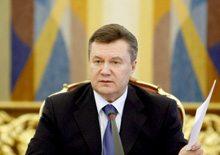 It is clear that problems with democracy and slow reforms in Ukraine under President Viktor Yanukovych have not prevented the European Union from developing closer ties with Kyiv. German Foreign Minister, Guido Westerwelle, and EU chief free trade negotiator, Philippe Cuisson, confirmed recently that the EU will sign a political association and free trade agreement with Ukraine by the end of 2011. Also, the EU has pledged financial assistance to Ukraine. The EU, although reminding Kyiv about the need to adhere to democratic standards on occasions such as new arrests of former government officials, prioritizes the economy, just as Yanukovych wants. One possible explanation is that Brussels is wary of Ukraine's falling back into Russia's orbit.
Cuisson told a roundtable in Kyiv on February 10 that the EU wanted to sign a free trade agreement with Ukraine by the end of 2011. If the document is signed this year, it would come into force in 2013, and within the following decade Ukraine should be fully integrated into Europe's economy like the non-EU members Switzerland or Norway, the Ukrainian cabinet's official website quoted Cuisson as saying (www.kmu.gov.ua, February 10). Yanukovych also said on several occasions that the agreement should be signed this year, and on February 9 he instructed the cabinet to speed up the talks whose next round is scheduled for April (UNIAN, February 9). It had been agreed earlier that there will be no free trade agreement without a political association accord, consequently Cuisson's statement means that Brussels sees no problem in a Ukraine under Yanukovych becoming a part of Europe politically.
The free trade talks have been difficult. Ukrainian negotiators complain that the EU is reluctant to open its agricultural market to Ukrainian competition. Prime Minister, Mykola Azarov, even told his cabinet on March 2 that Ukraine did not need the agreement at any price (Ukrainska Pravda, March 2). At the same time, there were no recent reports about serious disagreements on political association. Westerwelle made it clear during his visit to Kyiv in early March that economic issues rather than concerns over reports of the persecution of the opposition or media freedoms are at the top of the agenda for the EU's most influential economy, Germany. Westerwelle carefully avoided commenting on Ukrainian domestic developments and discussions on democracy were not on his agenda (Kommersant-Ukraine, March 2; Zerkalo Nedeli, March 5).
EU enlargement commissioner, Stefan Fule, echoed Westerwelle, speaking in Slovakia one day later. Fule said that although "some described the situation in Ukraine as democratic stagnation," the EU remained committed to deepening ties with Kyiv and that Ukraine recently made important steps in its political and economic development (Interfax-Ukraine, March 3). This statement contrasted with Fule's own warnings issued two months earlier against using criminal prosecution for political purposes, following the arrest of former Interior Minister Yury Lutsenko (EDM, January 14).
Fule did discuss "basic freedoms and human rights" with Ukrainian First Deputy Prime Minister, Andry Klyuyev, in Brussels earlier this month, saying that the EU wanted Ukraine to develop not only economically but also as a democracy. Yet, this did not prevent the two officials from signing a deal according to which Ukraine should receive 470 million Euros ($654.28 million) in assistance in 2011-2013 (UNIAN, March 2). The figure is incomparable to the amount of loans that Ukraine receives from the International Monetary Fund and Russia, but the deal has an important symbolic meaning. It is tantamount to the EU acknowledging Ukraine's progress in reforms as during the last years of Viktor Yushchenko's presidency and after Yanukovych's election as president one year ago, the EU made it clear that there would be no assistance without reforms in Ukraine.
In order to qualify for the assistance package, Yanukovych's administration reportedly had to promise the EU to amend the state procurement law which is conducive to corruption in its current form. According to the amendments to the law which were passed last January, tenders are not necessary for buying gas, electricity, heating and related transport services. The EU was promised that tenders would be reintroduced (Kommersant-Ukraine, March 2). It is important that the EU chose to believe those promises, although Kyiv failed to adhere to its international obligations spelt out in official documents, let alone promises, on many occasions in the past.
The influential Ukrainian weekly Zerkalo Nedeli suggested that the West, although it does not want Ukraine to repeat the fate of Belarus, has been deliberately avoiding lecturing Kyiv on democracy so as not to anger Yanukovych (Zerkalo Nedeli, March 5). Perhaps the newspaper meant that, if angered, Yanukovych would turn his back on the West and allow Moscow to draw Kyiv back into its orbit. Kyiv may choose this option if the political association and free trade talks with the EU fail. Russian officials keep inviting Ukraine to join the Russia-dominated customs union. The most recent such invitation came from visiting Russian Deputy Prime Minister, Igor Shuvalov, who claimed that Ukraine would benefit from joining the customs union and then negotiating free trade with the EU as part of the customs union (UNIAN, March 3).