Armenian President Faces New Opposition Offensive
Publication: Eurasia Daily Monitor Volume: 8 Issue: 47
By: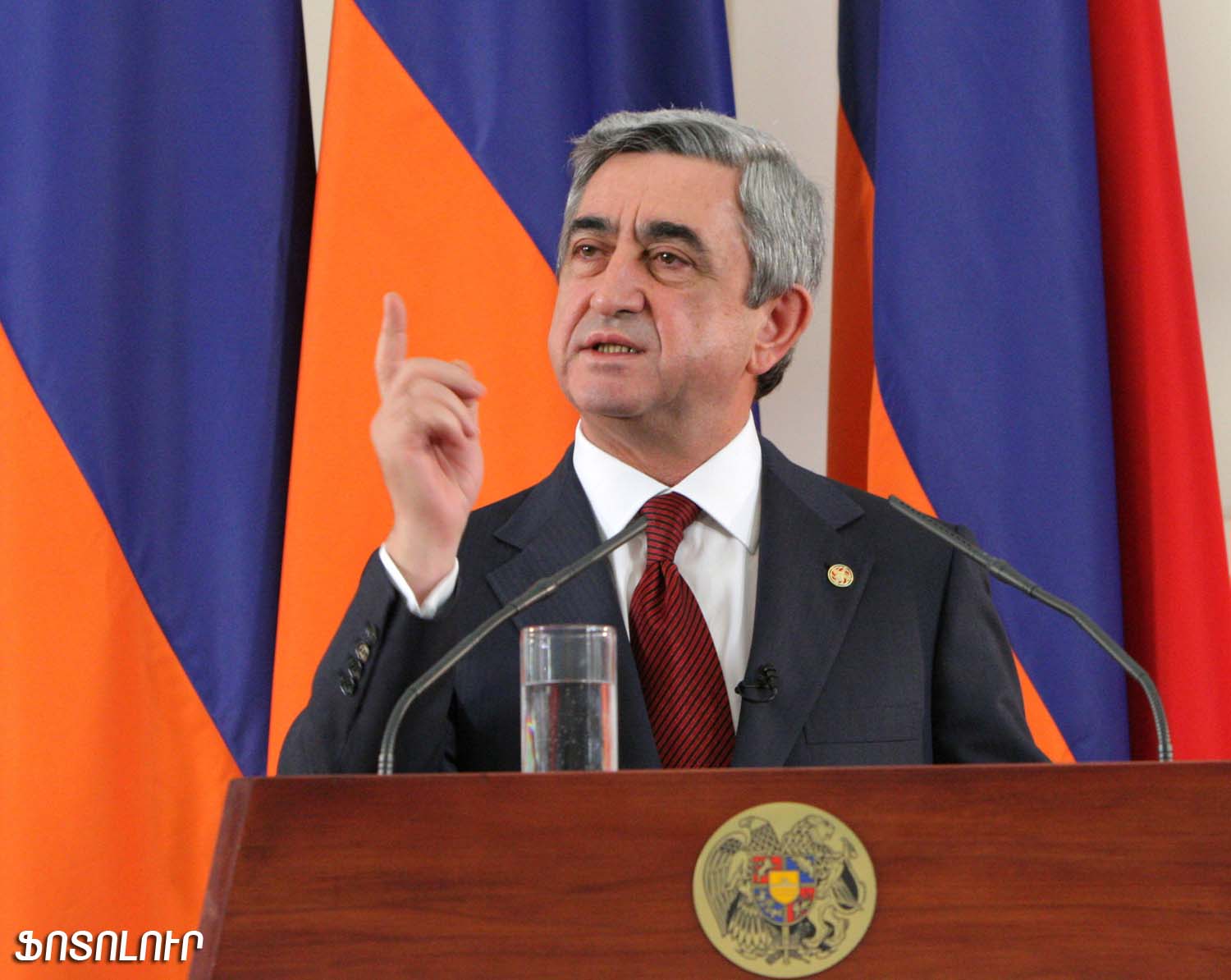 Armenia's President Serzh Sarksyan has warded off potential challenges from his predecessor Robert Kocharian but is now facing mounting street protests organized by another former president, Levon Ter-Petrosian. Buoyed by the ongoing wave of anti-government uprisings in the Arab world, Ter-Petrosian's Armenian National Congress (HAK) has launched a new campaign for snap presidential and parliamentary elections in the country.
More than 10,000 people rallied in Yerevan on February 18 and March 1, in the biggest demonstrations held by Ter-Petrosian since the ruthless break-up of his massive 2008 post-election protests. The HAK gave the Sarksyan government until March 15 to meet a string of its demands or face the kind of revolt that brought down the ruling regimes in Egypt and Tunisia.
Despite strong pressure from more radical opposition elements, Ter-Petrosian was until now careful to avoid a repeat of his February-March 2008 standoff with the authorities that ended in a harsh government crackdown on his opposition movement. Attendance at his periodical rallies steadily declined in 2009 and 2010 amid a growing sense that Sarksyan and Armenia's current parliament dominated by government loyalists will be able to complete their constitutional terms in office in 2013 and 2012 respectively. The incumbent president was also reinforced by a lack of Western pressure on his administration, which commentators attribute to his Western-backed (and ill-fated) policy of rapprochement with Turkey.
The anti-government revolutions in Tunisia, Egypt and other Arab states have clearly changed the mood among the HAK leaders and the most disgruntled Armenians. The latter now feel that a fresh opposition push for power is not only feasible but imperative. Accordingly, the last two HAK rallies (attended by the author) were significantly bigger than previous ones. Addressing supporters on February 18, Ter-Petrosian spoke of Sarksyan's inevitable "Mubarakization." "Unless the authorities draw the correct conclusions from those telling events, the same will happen in Armenia sooner or later," Ter-Petrosian said.
Ter-Petrosian gave what he called "the last warning" to the authorities at the next rally. As well as demanding fresh polls, he issued a 13-point ultimatum containing political (i.e., the release of all "political prisoners") and economic demands. The HAK will rally supporters again on March 17 to discuss the authorities' response and outline its further actions. Ter-Petrosian and his associates have so far refused to specify just what they will do if Sarksyan refuses to make concessions. They have indicated only that they feel another bloody suppression of anti-government protests in Yerevan would meet with tougher international reaction against the backdrop of the Arab revolts. "We see that these events have created a new international background, and we see that the international community is now giving adequate assessments of violence against the people," Levon Zurabian, the HAK's central office coordinator, told reporters on February 25 (www.armenialiberty.org).
That Sarksyan will reject the opposition ultimatum has been made clear by representatives of his Republican Party of Armenia (HHK) and its junior partners in the governing coalition. HHK representatives claimed that the ruling party's governing board headed by Sarksyan did not even discuss the HAK demands when it met late on March 3 (Hraparak, March 4). However, the authorities are clearly worried about rising attendance at Ter-Petrosian's renewed demonstrations. They reportedly summoned scores of opposition activists to police stations across the country ahead of the protests and blocked public transportation between Yerevan and surrounding regions on March 1.
Ter-Petrosian's alliance launched its latest anti-government campaign the day after Sarksyan secured the backing of his most important coalition partner, the Prosperous Armenia Party (BHK), for his 2013 reelection bid. The BHK is led by Gagik Tsarukian, a wealthy businessman close to Kocharian. It is represented in the government by four ministers and boasts the second largest faction in parliament.
Tensions between the HHK and the BHK steadily rose in recent months because of Tsarukian's reluctance to pledge support for Sarksyan in Armenia's next presidential election due in 2013. The tycoon made clear late last year that his party will field its own presidential candidate if it wins parliamentary elections slated for May 2012. Friction between the two governing parties came to a head in early February, prompting Kocharian to publicly side with the BHK. In a rare public statement, Kocharian hit out at Sarksyan's party and stressed the need for "fair political competition in the upcoming parliamentary elections" (Mediamax, February 7).
The statement was the clearest indication yet that Kocharian, who served as president from 1998-2008, is unhappy with Sarksyan, his longtime comrade-in-arms, and would like to return to power. The Armenian president moved quickly to neutralize a potential threat from his predecessor, ratcheting up pressure on the BHK in the following days. Tsarukian relented and agreed to sign on February 17 a joint declaration with the HHK and Orinats Yerkir (Country of Law), the third party represented in the government. The declaration posted on the presidential website (www.president.am) makes clear that the three parties will support Sarksyan in the 2013 presidential ballot and, moreover, will refrain from "contesting against each other or changing correlation of forces within the coalition" in the next year's parliamentary elections.
Tsarukian was thus forced to give up his stated ambition to end the HHK's single-handed control of Armenia's National Assembly. More importantly, the coalition agreement severely limited Kocharian's possibilities for making a political comeback. It not only clipped the BHK's wings but also sent a clear message to elements in the state apparatus that do not hold Sarksyan in high regard.
Sarksyan and Kocharian may not be on good terms, but they should still be united by a threat posed by their most bitter common adversary: Ter-Petrosian. That threat subsided considerably in 2009 and 2010 but now seems to be again on the rise.