Biden's Horse-Trading Mission in Moscow
Publication: Eurasia Daily Monitor Volume: 8 Issue: 48
By: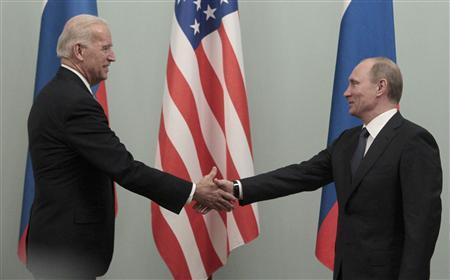 US Vice President Joe Biden's visit to Moscow has been planned primarily as a promotion of business ties and Western support for President Dmitry Medvedev's announced modernization efforts. "We see the vice president's trip as trying to expand into new dimensions of reset with a particular focus on … the business piece," explained National Security Council Senior Director for Russian and Eurasian Affairs Michael McFaul (The Moscow Times, March 9). Together with First Deputy Prime Minister, Igor Shuvalov, Biden visited the Moscow School of Management at Skolkovo, near the place where the government wants to create a Russian Silicon Valley and chaired a roundtable discussion with US and Russian business leaders. Later Biden met Medvedev in his Gorki-9 residence. On March 10, Biden meets Prime Minister, Vladimir Putin, addressing students at the Moscow State University and holding a ritual meeting with a trove of human rights activists to demonstrate the Barack Obama administration is still concerned with constant repression and rights abuse in Russia, though in reality this is indeed a secondary issue.

During the Skolkovo meeting Shuvalov was upbeat about "the US actively working to help Russia join the World Trade Organization (WTO) in 2011." While meeting with Medvedev, Biden announced the administration strongly supports Russia's WTO membership and the repeal by Congress of the 1974 Jackson-Vanik amendment that is needed for full Russian participation in the WTO." Both Medvedev and Biden praised strong progress in US-Russian relations in arms control, on Afghanistan and UN Security Council sanctions imposed last year on Iran. Medvedev offered to discuss Russian proposals to build a joint Ballistic Missile Defense (BMD) system in Europe with NATO and the "unrest in the Middle East" (RIA Novosti, March 9).

Russia is the largest world economy outside the WTO. Russia predominantly exports oil, gas and other raw materials that are not much affected by trade tariffs, but still badly needs WTO membership to improve its appalling investment climate. Today the main stumbling block to Russia's speedy WTO entry seems to be a conflict with WTO member Georgia over the customs control on the Russian borders with the former Georgian republics of South Ossetia and Abkhazia, which Georgia claims as its own territory. After a brief war in August 2008, Russia unilaterally recognized the independence of Abkhazia and South Ossetia, while diplomatic and trade relations between Moscow and Tbilisi have been severed. This week Russian and Georgian diplomats began consultations in Bern, Switzerland, where Tbilisi offered a compromise based on the procedure that currently allows self-proclaimed Transnistria to trade legally in agreement with Chisinau passing the border with Ukraine – an EU observer mission or EUBAM (European Union Border Assistance Mission to Moldova and Ukraine). But Moscow says this is unacceptable without the agreement of Abkhazia and South Ossetia and that Georgia must negotiate with them (Kommersant, March 10).

Before Biden's arrival, Medvedev's foreign policy aide, Sergei Prikhodko, told journalists there are "signals coming from the Americans" the US may help put pressure on Georgia for it not to oppose Russian WTO membership. In exchange, Moscow may not oppose in the UN the imposition of a no-fly zone over Libya to stop forces loyal to Colonel Muammar Gaddafi from bombing the opposition (Kommersant, March 9). It is not clear if the Obama administration can persuade the Georgians to capitulate on the issue, but even if it does, it will hardly manage to organize the repeal of the Jackson-Vanik amendment by a Congress it does not control. Biden does not seem to have the merchandise for an effective horse-trading mission in Moscow.

The BMD controversy seems impossible to solve. Russia has stringently opposed former and current US and NATO plans to build a BMD system in Europe. Medvedev has demanded the status of an "equal partner" in any future European BMD and has threatened to "make unpleasant decisions to deploy an attack nuclear missile force," apparently aimed at Europe (Interfax, January 25). The US is in turn placating Russia on all fronts: a top Russian General told Jamestown that the Chairman of the Joint Chiefs of Staff, Admiral Mike Mullen, promised to immediately personally telephone Russia's First Deputy Defense Minister, Chief of General Staff, Army-General Nikolai Makarov "as soon as a decision is made in Washington to send Georgia a single bullet" and "the General Staff confirms there have been no direct arms shipment from the US to Georgia."

Biden has promised to "push hard to develop a work plan for cooperation on missile defense" (ITAR-TASS, March 9). But political and military-technical incompatibilities make a truly joint US/NATO/Russian BMD impossible. This is fully understood in Moscow, despite all the bluff. In an interview published last week, Yuri Solomonov, the constructor-general of Russia's most modern land-based intercontinental ballistic missiles (ICBMs) SS-25 Topol, SS-27 Topol-M and the submarine-based missile SS-NX-30 Bulava, announced that previous plans to deploy BMD interceptors in Poland, a radar in the Czech Republic as well as present BMD plans "do not and cannot threaten Russia's ICBMs in any way." Solomonov described Medvedev's proposal to form a joint "sectoral BMD" in Europe as a "dead-end and absolutely unfeasible." Solomonov believes it is reasonable to build a limited BMD in Russia and the US to guard against possible unauthorized launches of single ICBMs. At the same time, Solomonov described as an "outright provocation aimed at receiving an inevitable negative Western response" the proposal by then president Putin in June 2007 to jointly use the Russian early warning radar in Gabala, Azerbaijan for BMD (VPK, March 2).

A top Russian general told Jamestown "the General Staff has intelligence that US BMD interceptors (GBI and SM-3) will be dual-use" – armed with nuclear warheads and deployed close to Russian borders to attack cities and other strategic targets on Russian territory. Hence, it appears that Russian military chiefs are deliberately producing and feeding their political masters with fabricated intelligence and unacceptable "cooperation" proposals on BMD to promote constant military tension and confrontation. These efforts have been highly successful: defense spending has skyrocketed and a massive defense procurement program worth some $670 billion has been approved (EDM, February 24). According to First Deputy Defense Minister in charge of rearmament, Army-General (retired) Vladimir Popovkin: "The main priority of the new procurement program is to develop new nuclear strategic weapons" – aimed, of course, at the US.