European Union's Eastern Partnership Unwanted by Armenia, Inadequate to Azerbaijan
Publication: Eurasia Daily Monitor Volume: 10 Issue: 220
By: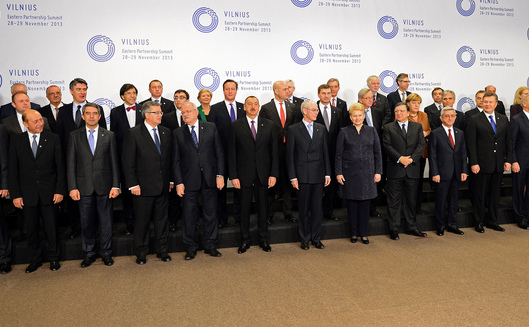 The European Union's Vilnius summit (November 28–29) helped to demonstrate that the Eastern Partnership program must pursue a more differentiated approach toward the individual partner countries.
The EU had, broadly speaking, made identical offers to Armenia and Azerbaijan, respectively. It proposed to each of them the usual Eastern Partnership package of an Association Agreement, a Deep and Comprehensive Free Trade Area (DCFTA) agreement, and simplification or facilitation of travel visa procedures. However, Armenia declined the EU's offer (see EDM, September 5), preferring Russia's instead; while the Western-oriented Azerbaijan deemed the EU's offer inadequate to the modernization agenda at this stage of Azerbaijan's development (see EDM, December 6).
According to President Ilham Aliyev's top foreign policy adviser, Novruz Mammadov, Baku had declined the EU-proposed association agreement and informed Brussels about this, already one year prior to the Vilnius summit. In the run-up to Vilnius, Azerbaijan proposed a modernization partnership that should proceed from "mutual respect and equality of rights of the parties." This signaled all-round that Baku would deem any high-handed political lecturing as inappropriate to a genuine partnership for modernization. It was not until November 26 that Azerbaijan's President Ilham Aliyev announced that he would attend the summit (APA, Trend, November 24, 26).
Azerbaijan is a recognized strategic partner of the European Union with regard to energy supplies. The Eastern Partnership in the form proposed, however, looked barely relevant to Azerbaijan. On the political side, the association agreement fell far short of reflecting the importance of the energy partnership. On the economic side, Azerbaijan is probably not yet ripe for entering into a DCFTA with the European Union.
From Baku's perspective, a deep and comprehensive free trade agreement with the EU would bring little economic gain, and might turn out to be more risky than beneficial. The DCFTA does not cover oil and gas. Azerbaijan does not have competitive industrial or agricultural products for export to EU markets in any significant volume at this stage and for some time to come. The country's modernization strategy envisages diversification of competitive production and exports in sectors other than oil and gas. This requires years of capital investment and product development.
Among the EU's six Eastern Partner countries (Belarus, Ukraine, Moldova, Georgia, Azerbaijan and Armenia), Azerbaijan alone is in a position to re-invest oil and gas revenues into the development of other sectors of its economy, in order for its modernization strategy to succeed. The DCFTA, however, being reciprocal, could result in flooding Azerbaijan's internal market with imports from the EU, possibly nipping in the bud the development of Azerbaijan's own modern industrial and agricultural production.
The EU's draft of the Association Agreement posed a special problem. It used ambiguous language about Azerbaijan's territorial integrity, even as the EU emphatically supported Georgia's and Moldova's territorial integrity in the association agreements negotiated with those two countries. Azerbaijan wanted its territorial integrity to be upheld in the same way as that of Georgia and Moldova in the association agreements. It also wanted to work out a new document that would more closely reflect the actual level of Azerbaijan-EU cooperation. Such a document might have acknowledged the value of the energy partnership while minimizing the political content of EU-Azerbaijan relations generally.
Azerbaijan's main goal at the Vilnius summit was to start the lengthy process that would lead toward a facilitation and liberalization of European travel visas for Azerbaijani citizens. The EU delivered on this expectation. An agreement, initialed in July, was signed at Vilnius by the European Commissioner for Enlargement and Neighborhood Policy, Stefan Fuele, with Azerbaijan's Foreign Affairs Minister Elmar Mammadyarov. The European Council's president, Herman van Rompuy, congratulated Azerbaijan and President Aliyev personally on this step "to bring Azerbaijan and its citizens closer to the EU." The agreement simplifies visa procedures for certain categories of Azerbaijani citizens, cuts the cost of visa fees, and reduces the number of documents hitherto required to be submitted with the visa applications. This agreement will enter into force after the signing of the readmission agreement between Azerbaijan and the European Union next year (2014) (see EDM, December 6; Trend, APA, November 29, 30).
For its part, Armenia used the Vilnius summit indirectly to confirm its alignment with Russia, and directly to attack Turkey, a non-EU country (while sparing its fellow Eastern Partner, Azerbaijan, during the summit). In his speech at the summit, President Serzh Sargsyan stated that any EU-Armenia "cooperation mechanisms must be compatible with other formats of cooperation" (Armenpress, November 29, 30). Thus, Armenia's prospective accession to the Russia-led Customs Union takes precedence over the Association Agreement with the EU.
Out of necessity, the European Union accepted this logic at Vilnius. In a joint statement, the EU and Armenia "acknowledge that they have completed negotiations on an association agreement, including a DCFTA, but they will not proceed with initialing it, due to Armenia's new international commitments" (News.am, Armenpress, November 29, 30).
That circumlocution refers to Armenia's September 2013 decision to abandon the agreements it had negotiated with the European Union and to turn to Russia's Customs Union instead (see EDM, September 5, 6, 11, 18).
Sargsyan further told the EU in his speech that Armenia "expects" EU member countries to ask Turkey to recognize that it had committed a "genocide" against Armenians in 1915 and to re-open the Turkey-Armenia border (News.am, November 29, 30). The speech indirectly confirmed that Yerevan is preparing for a major international political campaign in the centennial year 2015.