Ex-Northern Alliance Leaders Challenge Kabul over Chinese Project
Publication: Eurasia Daily Monitor Volume: 9 Issue: 119
By: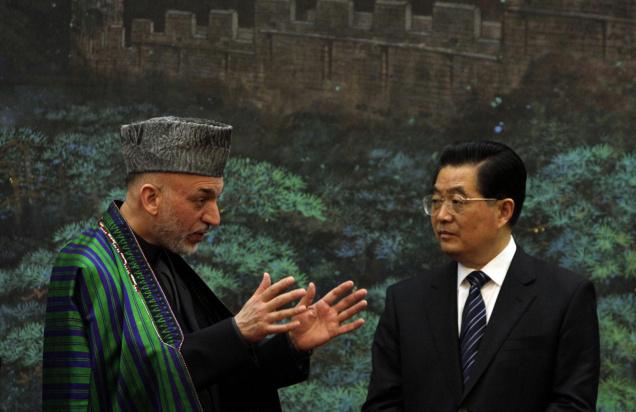 Anti-Taliban leaders of the former Northern Alliance coexist uneasily with the Kabul government and NATO in Afghanistan's north. There, China proposes to explore and develop oil and gas fields and to build a transit pipeline for Turkmenistani gas via Afghanistan to China. The coexistence in the north, although precarious on all sides, makes those provinces less unsafe for foreign investment, compared with the south where Taliban forces operate. But even in the north, project implementation seems to necessitate some deal-making with local leaders such as Abdul Rashid Dostum and other former Northern Alliance protagonists.
Even in the relatively calmer Afghan north, mineral and infrastructure projects are only being considered by state-controlled companies from the authoritarian states China and Russia. Of these, Russia declares its intentions to undertake such projects in the context of a political settlement, as Foreign Affairs Minister Sergei Lavrov most recently reaffirmed (Interfax, June 20). Moscow seems to await the planned withdrawal of US and NATO forces by 2014. Meanwhile, China has become the first to enter the field in Afghanistan's northern provinces.
In December 2011, President Hamid Karzai's government signed an agreement with China's National Petroleum Corporation (CNPC) to explore and develop three small-size oil and gas fields in the Amu River basin and build an oil refinery there. The fields are located in the northern provinces Sar-i Pul and Faryab, predominantly Uzbek- and Tajik-populated. On June 6-8, 2012, receiving Karzai in Beijing, President Hu Jintao and CNPC chairman Jiang Jiemin offered to build a large-capacity transit pipeline for Turkmenistani gas via Afghanistan's north to China. The Chinese propose to sign a framework agreement covering those projects and to create a Chinese-Afghan joint committee for the projects' implementation. Karzai hailed Beijing's initiative as important to Afghanistan's stability and development. Beijing and Kabul want to sign the framework agreement and set up the implementation committee within the next few weeks (see EDM, June 19).
However, project implementation is complicated by the deepening political rift between Karzai's government and northern leaders. These are in the process of reconstituting the Northern Alliance (which subsisted in a latent form all along) under mostly old leadership with a new title, National Front of Afghanistan (NFA), in opposition to Karzai, his family and the government in Kabul. Northern leaders oppose any negotiations – specifically those undertaken or attempted by Karzai – that would lead to power-sharing with the Taliban. To safeguard against such a scenario, they demand devolution of power to territorial and tribal leaders generally, and themselves in particular.
This political backdrop affects Kabul's projects with the Chinese in territory controlled or contested by northern leaders. CNPC's Afghan partner in the oil and gas field project is the Watan Group, in which several Karzai relatives are said to be the main shareholders. Northern leaders apparently do not oppose this project as such but seek to squeeze some benefits out of it.
Instantly upon the announcement from Beijing (see above), the veteran Uzbek-Afghan warlord Dostum sent armed groups to intimidate Chinese personnel arriving in Faryab province and prevent them from starting work. Dostum "welcomes" investments but demands that locals be hired to work or provide "security" for Chinese projects in Faryab and Sar-i Pul provinces. He also wants locals from Dostum's native province, Jawzjan (where no projects are located), to be prioritized for hiring.
In Kabul, the National Security Council (NSC), in a special session chaired by Karzai, ordered the Interior Ministry to send a 300-strong armed unit to provide security for Chinese field projects in Sar-i Pul and Faryab. It further tasked the Interior Ministry and National Directorate of Security to deploy within six months a protection force to mineral projects in other parts of Afghanistan. This almost certainly refers to the Metallurgical Corporation of China's copper-mining concession at Mes Aynak, in the Logar province south-east of Kabul. The NSC's statement accused Dostum of "betrayal of state interests" for disrupting those projects. The NSC referred him to the Attorney General's Office for possible prosecution; and government officials told Western news agencies that Dostum's group was demanding a share of the proceeds.
Dostum's close Tajik-Afghan ally, Ahmad Zia Massoud (NFA leader, brother of the late warlord Ahmad Shah Massoud), in a specially convened news conference described Dostum's demands as legitimate, accused the government of defaming Dostum and northern leaders, and warned of "grave consequences." Massoud branded Karzai and his family (without naming them outright) as "traitors" for rigging elections and defrauding the Kabul National Bank (currently in insolvency). Karzai countered with a statement that the opposition may criticize the government but must not oppose foreign investment in the national interest (PAN [Pajhwok Afghan News], BNA (Bakhtyar News Agency), June 12-17; www.e-ariana.com, June 21).
Speaking to parliament on June 20, Karzai seemed to fend off the latest corruption accusations against his relatives, linked this time with the Chinese project in the north. He claimed to have personally worked to combat governmental corruption, and urged state officialdom to join in such efforts. Karzai cautioned "the US and other foreign countries" against awarding contracts to private firms belonging to Afghan "government officials and their family members" (RFE/RL, June 21).
Oil and gas resources at the Chinese projects in the north are almost certainly modest. But this is the first foreign economic investment in Afghanistan since the Soviet occupation of the country. If the Chinese project is successful, it could encourage further investment in Afghanistan. Meanwhile, northern leaders are reacting in their own way to the US-led coalition's planned withdrawal and incipient negotiations on a political settlement with the Taliban. These twin processes are triggering a reactivation of the Northern Alliance (now NFA) in anticipation of possible scenarios: continuing fighting against the Taliban, a de facto partition of the country, or more likely a combination of these two scenarios after 2014, if not earlier.