Falling Coal Prices Help China's 'New Silk Road' Win Over Mongolia
Publication: China Brief Volume: 14 Issue: 4
By: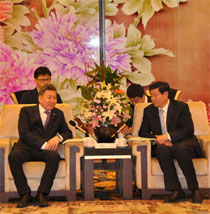 Mongolia's Minister of Foreign Affairs L. Bold made an official visit January 16–21, 2014 to the PRC at invitation of his counterpart Wang Yi. The most interesting result from the trip may have been the fact that it was widely covered by Chinese media, while in Mongolia there was muted coverage. For example, the Chinese press pointed out that Bold was the first foreign minister to visit Beijing in 2014 and that it was his first overseas trip of the year (China.org.cn, January 17; China Daily, January 20), while neither facts were mentioned in Mongolian press accounts. The official Chinese press spun Bold's comments on Mongolia's desire to be a conduit to connect the greater Central Asian and North Asian region and link China and Russia, as Mongolia seeking to strengthen "closer integration with China, Russia" (China Daily, January 20). Chinese reporting heavily emphasized China's contribution to Mongolia's economy but the Beijing press did not mention the Mongolian Foreign Minister's 2 day trip to Urumqi, which was prominently featured in Mongolian governmental and independent press sources. However, on his visit Minister Bold acknowledged the key role China has played in Mongolia's growth: "Trade and economic collaboration is the driving engine of the Mongolia-China strategic partnership. We are developing fruitful cooperation in the fields of mining, construction, road transport and agriculture, and in banking and financial areas" (aisanewsnet.net, January 20).
China has been Mongolia's leading trade partner and investor for almost 15 years. However, Mongolia is facing a drop in its export income, which was 2.6 percent lower in 2013 than 2012, amid a decline of 41 percent in shipments of coal by value, the nation's biggest earner. According to the Mongolian National Statistics Office, total export earnings were $4.27 billion in 2013, compared with $4.38 billion in 2012. China accounted for 87 percent of these by value, with sales falling to $3.7 billion last year from $4.06 billion a year earlier (english.news.mn, January 14). Mongolian coal exports alone fell to $1.12 billion in 2013 from $1.9 billion in 2012. Volume fell to 18.3 million metric tons, from 20.9 million tons (Mongolian National Statistics Office website). This trend could possibly continue since on the day of Foreign Minister Bold's arrival, the Chinese government announced it would increase its own new coal production capacity by more than 100 million tons—six times over 2012 and equal to 10 percent of U.S. annual usage. The vast increase would meet Beijing's goal of placing 860 million tons of new coal production capacity into operation through 2015—more than India's entire annual output. The National Development and Reform Commission (NDRC), China's most powerful planning authority, approved construction of 15 new large-scale coal mines with 101.3 million tons of annual capacity in 2013 projected to cost $8.9 billion. Nevertheless, despite output expansion, it is thought by foreign experts that Beijing will continue to need to import more coal both to replace 300 million tons of old capacity that has been closed for safety and environmental reasons since 2003, and to meet quickly growing energy demand (Coal Age, January 17).
On the first day of the visit, the two foreign ministers shared views on Sino-Mongolian relations and cooperation during this 65th year anniversary of bilateral diplomatic relations and 20th anniversary of the Treaty on Friendly Relations and Cooperation. The Chinese press emphasized that the agreement aims to increase annual two-way trade volume to $10 billion and explore the feasibility of building a free-trade zone (Xinhua, January 17; People's Daily Online [English], January 17). Wang and Bold signed a memorandum outlining joint commemorative activities to take place throughout the year, and then held a joint press conference. The Mongolian Ministry of Foreign Affairs has not released its version of the text, but the Chinese Ministry of Foreign Affairs immediately revealed information on four points covered in this memorandum:
Strengthening high-level exchanges to improve strategic mutual trust.
Deepening practical cooperation by launching the "2 + 2" connectivity joint working group by strengthening cooperation in large-scale projects in infrastructure, energy and mineral resource development, by promoting bilateral trade to the level of $10 billion annually, and by exploring the feasibility of setting up a free trade zone.
Further expanding people-to-people and cultural exchanges to influence public opinion in the two countries, organizing commemorative activities during this China-Mongolia Friendship and Exchange Year, and increasing cooperation in Chinese language teaching and youth and personnel exchanges on both sides.
Especially interesting for its potentially anti-Japanese slant: Strengthen multilateral cooperation "as victors of the World War II, both countries should jointly safeguard victorious outcomes of the world Anti-Fascist War, and will jointly hold commemorative activities of the 70th anniversary of the victory of the World War II next year" (fmprc.gov.ch/eng, January 16).
On January 17, Bold met with Chinese Vice-President Li Yuanchao. Li announced that China is making its neighbors a priority, in particular Mongolia, through a trust-building, open-hearted and mutually beneficial policy. In response, Foreign Minister Bold said that "Mongolia's Government is for closer cooperation with China and deepening bilateral strategic partnership relations with new content" (The Mongol Messenger, January 24). Bold also visited Chinese State Councilor Yang Jiechi to discuss a wide range of bilateral, cooperative, regional and global issues.
That same day, Foreign Minister Bold delivered a speech entitled "Together for a Peaceful Future" at the China Institute of International Studies (CIIS), in front of over 80 people from the PRC Ministry of Foreign Affairs, diplomatic missions and research organizations. He reviewed current Sino-Mongolian relations and introduced the mechanism entitled Ulaanbaatar Dialogue on Northeast Asian Security initiated in April 2013 by Mongolian President Tsakhia Elbegdorj to build confidence and peace in the region through developing Track I and Track II dialogue mechanisms. In a summary of Bold's speech released only by CIIS, it stated that the Mongolian Foreign Minister stressed that "trade and economic cooperation constitutes an important component of the bilateral relations…particularly in mining and infrastructure that have started to bear concrete results" (ciis.org.cn/english, January 20). After the presentation, Bold answered questions about the structure of the Ulaanbaatar Dialogue, Sino-Mongolian trade cooperation and his view of Japanese Prime Minister Shinto Abe's visit to Yasukuni Shrine. For Mongols, the Shrine issue does not carry any sensitivity, and Bold was willing to say only that Mongolia "understood" China's view of the issue, but did not endorse it.
Foreign Minister Bold also gave an interview to China Central Television (CCTV) which covered the Mongolian political and socio-economic issues and recent developments in bilateral ties. China Daily quoted him as saying that regional integration of Russia, Mongolia and China will provide enormous business opportunities: "Our common goal is to improve overall regional integration, so we are planning big infrastructure projects and production facilities linking Russia, Mongolia and China. This will improve connectivity in the greater region of Central Asia and North Asia" (China Daily, January 20). He seized the chance to visit the Secretary-General of the Shanghai Cooperation Organisation (SCO), Dmitry Mezentsev, and expressed Mongolia`s willingness for further active cooperation with the organization. Minister Bold also received ambassadors from over 40 countries accredited to Mongolia but based in Beijing to introduce the priorities, goals, and current foreign policies of Mongolia, and met with Mongolian diplomats working in the embassy in Beijing (montsame.gov.mn, January 17; montsame,gov.mn, January 19).
Visit to Xinjiang
On January 18–19, Foreign Minister Bold left Beijing to travel westward to the Xinjiang provincial capital of Urumqi and Khorgos border checkpoint with Kazakhstan. There he held talks with the Vice Chairman of Xinjiang Uygur Autonomous Region, Shi Dagang, on bilateral efforts to increase trade and people-to-people contacts among provinces in the western regions of the two countries. Attending these meetings were Mongolian officials from Khovd province, who presented concrete proposals to stimulate bilateral border check-point activities and ease related regulations. In addition, Bold visited the Qinghua Energy Group, which has built a refined coal chemical industrial zone in Yining County, 90 km away from the Khorgos checkpoint. Qinghua Energy Group's coal-to-natural gas (CTG) project began operations there in 2013 (Mongolian Ministry of Foreign Affairs website, www.mfa.gov.mn, January 21). Mongolia is planning to develop this type of technology in an industrial park in the south Gobi. The Foreign Minister also visited the Urumqi-based Micro Financial Service company, Tian, which was developed by investment from Khas Bank, one of Mongolia's largest banking institutions with a particularly strong presence in countryside areas.
The trip to Xinjiang follows Mongolian Prime Minister Norov Altankhuyag October 2013 visit to Chengdu, Sichuan's 14th Western China International Fair. At that time Altankhuyag suggested that Mongolia is seeking ways to organize demonstration cooperation projects between different Chinese regions as a way of "playing a more active role in the overall development of the strategic partnership between Mongolia and China" (Sichuan Provincial People's Government website, 125.64.4.148:82/gate/big5/www.sc.gov.cn, October 22, 2013). Mongolia now has limited economic ties with Xinjiang, an area with relatively few Mongol ethnics among the population. However, in Mongolia's west there are Mongol Kazaks and other small minority groups which could benefit from increased cross-border trade. Expanding outreach to the western regions of China both strengthens Mongolia's Central Asian connections, and is a potentially troubling message to Beijing that the Mongols will not let relations be entirely defined by PRC central government authorities.
At the end of his official visit, Bold returned to Beijing to speak at the Diplomatic Academy, where he discussed finalized proposals for Mongolia to send its diplomatic personnel for training and shared his experiences from his Xinjiang visit (Montsame, January 22; english.news.mn, January 22).
Conclusion
Mongolia has been faced with a slump in earnings and declining foreign investment as economic growth cooled somewhat in the past two years due to an unstable foreign investment legal environment and continuing disputes with key western and Chinese investors (english.news.mn, January 14). Foreign Minister Bold's China visit clearly indicates that Mongolian policymakers understand the importance of China to the near term development of its economy, even though they are devising strategies to seek out more diversified trade partners. Fall of income from coal exports in 2013 was a warning signal that the Mongols take very seriously. Bold illustrated the very pragmatic approach that Mongolia gives top priority to developing friendly relations with China, acknowledged that China's development was an important opportunity for Mongolia, and vowed "to cement substantial cooperation in various areas and promote common development" (China.org.cn, January 17). Although the Chinese political leadership publicly emphasized the importance of economic relations with Mongolia, the prominence given to discussions with Bold in the media illustrate that it sees an opportunity to turn the successful discussions into actions which could build mutual strategic trust, enhance beneficial regional cooperation, and deepen the bilateral strategic partnership as well as provide prosperity and economic benefit for both countries' citizens.