FEARING COLOR REVOLUTIONS ARE CONTAGIOUS, KAZAKHSTAN SHUTS BORDER WITH KYRGYZSTAN
Publication: Eurasia Daily Monitor Volume: 2 Issue: 223
By: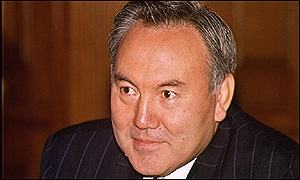 On November 29 Kazakhstan imposed new restrictions along the state border with Kyrgyzstan "to prevent possible penetration into Kazakhstan of unwanted elements" ahead of presidential elections on December 4 (Kazinform, November 30). Dozens of Kyrgyz traders were not able to cross the busy Kyrgyz-Kazakh Qordai customs point, and some 230 Kyrgyz citizens were arrested and deported from Almaty, according to Kubanychbek Isabekov, head of the Kyrgyz parliamentary committee on labor migration (Akipress, November 30). Besides the economic implications of tightened control on the Kazakh-Kyrgyz border, the move also carries strong symbolic undertones.
Kazakh President Nursultan Nazarbayev had persistently declared that a democratic "color revolution" is not possible in Kazakhstan, hinting that the March 24, 2005, Tulip Revolution in Kyrgyzstan brought instability and chaos to that country. The Kazakh media have focused solely on negative events such as looting in Bishkek, the numerous demonstrations, and political assassinations in the wake of the new political regime in Kyrgyzstan.
The closure of the Kyrgyz-Kazakh border and deportation of migrants had no advance warning. The first explanation was the alleged involvement of Kyrgyz citizens in setting fires at four large bazaars in Almaty last week. The fires caused an estimated loss of $5,000-$400,000 per stall and overall damage ran into millions of dollars. But the Kazakh Ambassador to Kyrgyzstan, Umurzak Uzbekov, rejected this version of events, saying that different security reasons had guided the border shutdown and noted that Kyrgyz, Uzbek, and Tajik migrants were deported as well (Akipress, November 30). However, it was clear that Kyrgyz citizens were the main targets.
The forceful mass deportation of Kyrgyz migrants demonstrated that Nazarbayev is ready to take harsh measures against potentially disturbing "third forces" that might trigger instability following the elections. Instead of focusing on the legal opposition groups and their ability to challenge the validity of election results, the government chose to scapegoat migrant workers in advance of any potentially destabilizing activities. The Kazakh online magazine Ekspress-K labeled the Kyrgyz migrants "revolutionary hucksters" who are attempting to "export revolution to neighboring Kazakhstan" (November 30). The Kazakh mass media took special pains to warn of possible looting in Almaty, drawing a parallel with the chaos in Bishkek immediately following the March 24 regime change.
Such active propaganda against labor migrants by the Kazakh mass media, in combination with the devastating fires at the Almaty bazaars, has found a wide audience among the local population. "We will not allow a second Paris in Almaty!" declared one 26-year old Kazakh student, referring to recent riots in the suburbs of the French capital. But Anara Tabyshalieva, a senior researcher at the Kyrgyz Institute for Regional Studies, suggested, "The Kazakh government's [decision to] accuse migrants was a strategic move to divert the attention of the local public from internal problems and unite it around a common enemy before the elections."
Aziza Abdirasulova, head of a Kyrgyz NGO "Kylym Shamy," claims that, prior to deportation, the Kyrgyz migrants were asked to pay 10,000 tenge ($75) in bribes to the Kazakh militia (Centrasia.ru, November 28). Most of deported workers had legal residency permits, but had to leave their families and merchandise behind in Kazakhstan. About 15 of the Kyrgyz citizens had their passports marked with a deportation stamp, which restricts entrance to Kazakhstan for 3-5 years.
Some 50 deportees gathered at a central square in Bishkek demanding the Kyrgyz government to take actions and enable them to return to Kazakhstan to secure their families and businesses. "We, businessmen and shuttle traders, are the most peaceful people. We don't participate in pickets and demonstrations; we are not involved in politics. Regional stability and good payment are important for us… Neither Kazakhstan nor Kyrgyzstan is harmed by us, on the contrary, we benefit Kazakhstan through [paying] taxes and Kyrgyzstan by remittances," one of the deportees insisted (Kylym Shamy newsletter, November 28).
The Kazakh border will remain closed to Kyrgyz citizens until around December 8-10. The International Organization for Migration is providing the deported migrants, who come from different parts of Kyrgyzstan, with shelter in northern Kyrgyz cities and small sums of money (Akipress, November 30).
According to Kyrgyz government estimates, about 150,000 Kyrgyz citizens currently live and work in Kazakhstan. Half of them are engaged in trade at Kazakh markets. But unofficial data estimate that up to 500,000 Kyrgyz citizens are occupied in small and medium businesses in Kazakhstan. Yet the number of Uzbek and Tajik labor migrants in Kazakhstan is significantly higher.
Along with increased media censorship and the suspicious death of opposition activist Zamanbek Nurkadilov on November 12 (see EDM, November 22), the incident with the Kyrgyz migrants and the unilateral shutdown of the Kyrgyz-Kazakh border will play a negative role in Kazakhstan's drive to chair the Organization for Security and Cooperation in Europe in 2009.
Kazakhstan is not the only Central Asian country to openly despise the March 24 political changes in Kyrgyzstan. Like Uzbekistan, Kazakhstan also sealed its borders with Kyrgyzstan for several days immediately after former Kyrgyz president Askar Akayev's ouster.
The forceful deportation of Kyrgyz migrants could cause the Kyrgyz government to object to Kazakhstan's membership in the World Trade Organization, which is set to begin in 2006. But the Kazakh and Uzbek sides undeniably possess immense leverage over domestic economic and political developments in Kyrgyzstan. As the Kyrgyz migrants are humiliated and blamed, Kyrgyz civic groups reacted to the crisis faster than the government. So far, there have been no official statements from the Kyrgyz Presidential Administration on Astana's latest move.