Feeble Pool of Presidential Candidates Indicates Weakened Presidency in Georgia
Publication: Eurasia Daily Monitor Volume: 10 Issue: 138
By: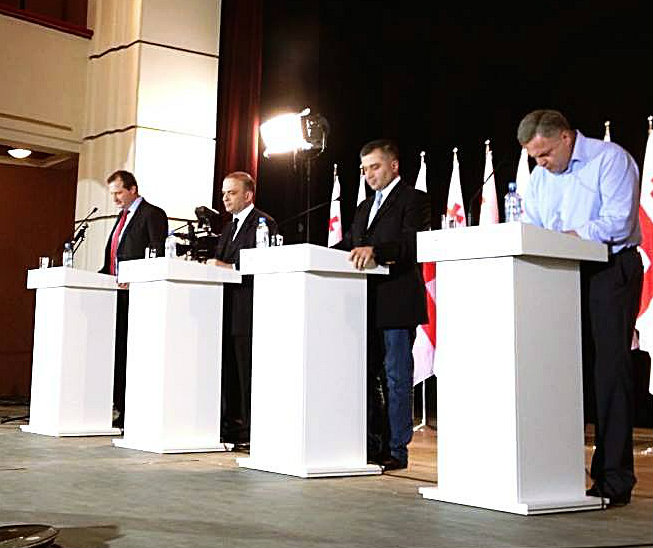 On July 21, the United National Movement (UNM) held one more round of primaries, this time in the city of Batumi, to elect the party's presidential candidate who will run in the upcoming October elections (www.gnh.ge, July 21). Although, Georgia's new constitution transfers most executive powers from the president to the prime minister, thus leaving the presidency with largely symbolic functions, the office of the president will still hold political significance for the Georgian parties vying to occupy it.
Currently two UNM heavyweights, David Bakradze, former speaker of the parliament, and Giorgi Baramidze, former deputy prime minister and state minister for Euro-Atlantic integration, are competing for their party's nomination. The UNM remains widely unpopular in the country (www.civil.ge, July 15; see EDM, July 24) and stands to lose the presidential elections. The UNM's run for the presidency looks more as an attempt to remain a force within Georgia's political system and survive as a party, rather than a real effort to win the president's office.
The leader of the Ruling Georgian Dream (GD) coalition, Prime Minister Ivanishvili, nominated Giorgi Margvelashvili as GD's presidential candidate (www.radiotavisupleba.ge, May 11). Margvelashvili, a former president of the Georgian Institute of Public Affairs (GIPA) in 2010–2012, also served in Ivanishvili's government as the minister of education and science as well as a deputy prime minister until his resignation in July, due to the start of his presidential campaign.
Before Margvelashvili's nomination, Ivanishvili's close confidant Gia Khukhashvili stated that Georgia's future president definitely should be acceptable to Moscow (www.news.ge, April 24)—a statement that raised questions as to why sovereign Georgia's head of state should have to be tolerable for Russia, the country that keeps 20 percent of Georgian territory under military occupation. Margvelashvili certainly could be suitable to the Kremlin, as he, a political unknown, has nothing in his political biography that would irritate Russia. Moreover, Margvelashvili is known for his conciliatory approach to Moscow (www.saqinform.ge, May 23; www.netgazeti.ge, May 15), not to mention the fact that his daughter studies in Russia (www.gurianews.ge, July 19).
Margvelashvili is far less popular than GD itself. Nevertheless, he stands assured to win (www.civil.ge, July 15; see EDM, July 24). Furthermore, Margvelashvili's low popularity can be an asset to the still highly popular Ivanishvili as it ties the future president to the prime minister, something that Ivanishvili certainly desires. Also, Margvelashvili does not have his own political base, making him even more dependent on Ivanishvili. Above all, he is of very amicable and agreeable character, having in the past compared himself to children's modeling clay—able to be molded and reshaped at will (Palitra TV, May 6). Needless to say, such a character is not a desirable trait in a politician and especially in a future head of state. By nominating Margvelashvili, Ivanishvili deliberately picked the weakest candidate possible, guaranteeing his own dominance over the already constitutionally weakened presidency. Moreover, by picking the weak Margvelashvili, Ivanishvili emphasizes the declining role of the office of the presidency in Georgia.
Another presidential candidate is Nino Burjanadze, the leader of the Democratic Movement–United Georgia Party. She served twice as a speaker of parliament (2001–2003 and 2004–2008) and twice as an interim president of Georgia (2003–2004 and 2007–2008). She grew up in a family of affluent Communist nomeklatura members. Her father, a friend of Eduard Shevardnadze, made a fortune as a "bread czar" in the deeply corrupt and lucrative Soviet (and then post-Soviet) grain industry. She studied in the Soviet Union's elite Moscow State University, earning her doctorate in international law. After initially supporting the Rose Revolution and Mikheil Saakashvili's government, roughly following the August 2008 Russia-Georgia War, she turned increasingly pro-Russian in her political orientation (see EDM, July 19). At this point, Burjanadze's socioeconomic and political program is pretty much non-existent. So far, as a presidential candidate, all she has advocated is the need for a strong presidency, more active rapprochement with Russia at the expense of Georgia's pro-Western orientation, and investigations and prosecution of current President Saakashvili and his associates (www.netgazeti.ge, July 10; www.geoworld.ge, July 20; 24 Saati, June 13). She still trails in the polls with 21 percent support (www.civil.ge, July, 15; see EDM, July 24).
Other candidates include Shalva Natelashvili, a populist-leftist leader of the Labor Party, whose main electoral program includes reinstating a powerful presidency in Georgia (Rustavi 2, March 28), and Giorgi Targamadze, the leader of the Christian-Democratic Party (www.prime-news.ge, July 12), who remains unpopular for being perceived as too conciliatory to the then-ruling UNM faction in parliament. Both of these parties failed to win any seats in the October 2012 parliamentary elections. As recent polls show, none of these two candidates stand a chance of winning the presidential race (www.civil.ge, July, 15; see EDM, July 24).
A small pool of bizarre presidential candidates also exists, including Mikheil-Gela Saluashvili, the leader of a small, obscure, ultra-religious party, whose electoral program vows to declare Eastern Orthodoxy the state religion of Georgia and prepare the nation for the second coming of Christ (www.kvirispalitra.ge, July 17; www.netgazeti.ge, July 16). Another marginal candidate, Nicholoz Gorgijanidze, running as an independent, promises astronomical hikes to pensions, generous salaries for homemaker wives, and financial aid for alcoholics, drug-addicts and the intentionally unemployed. Above all, he plans to build Vatican-like quarters for the Georgian Orthodox Patriarchate to attract 10 million tourists (www.frontnews.ge, July 12).
Widespread talk persisted for a time about world-renowned Georgian opera singer Paata Burchuladze running for president. He was even supported by the Georgian Patriarchate (www.alia.ge, July16), doubtlessly one of the most powerful sources of backing in modern Georgian politics. However, after weeks of speculations, Burchuladze declared that he would not run (Rustavi 2, www.primeinfo.ge, July 15).
The current presidential race offers the Georgian electorate a particularly weak pool of candidates, ranging from outright bizarre to politically weak and unpopular personalities, with incomplete or largely non-existent electoral programs. So far, none of the candidates have fully elaborated on their vision for Georgia. None of them laid out what they will do as president with newly limited constitutional powers or how they would see themselves in this new capacity. Georgia's current presidential candidates herald a politically declining role for the already constitutionally limited role of the presidency in Georgia.