Following the Peshawar School Attack, Pakistan Moves Against Domestic Terrorism
Publication: Terrorism Monitor Volume: 13 Issue: 5
By: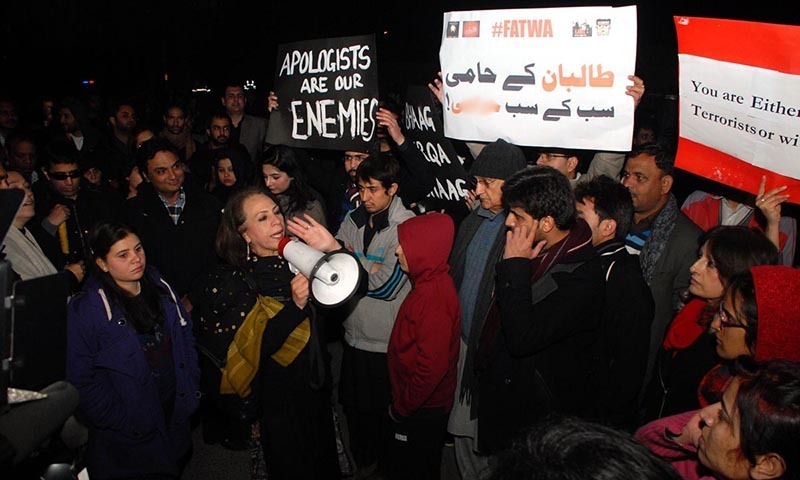 The attack by Tehrik-e-Taliban Pakistan (TTP) on the Army Public School in Peshawar on December 16 was a watershed moment in the country's fight against terrorism. The death of 132 children transcended preconceived boundaries between civil and military or Sunni and Shi'a, creating space for concerted action against terrorism and Islamic extremism (Dawn [Karachi], December 16, 2014). In its aftermath, the Pakistani government immediately stepped up its war against terrorism through both military and legislative action. The reinstatement of the death penalty and a move to establish military anti-terrorism courts are at the forefront of its 20-point National Action Plan (NAP) (Express Tribune [Karachi], December 25, 2014). The military meanwhile intensified Operations Zarb-e-Azb and Khyber-I against the TTP in the country's volatile Federally Administered Tribal Area, with increased air and ground operations (Express Tribune [Karachi], February 5). Meanwhile, Pakistan's civil society demonstrated a level of unity unusual in a country divided along ethnic and religious lines. Although implementing the NAP, and maintaining public support of it, is essential to sustaining its momentum, events nonetheless suggest that the attacks created a new willingness in Pakistan to tackle terrorism.
Implementation
One day after the Peshawar attack, on December 17, Prime Minister Nawaz Sharif lifted the six-year death penalty moratorium, announcing that 500 death row inmates would face execution (Dawn [Karachi], December 27, 2014). In a matter of weeks, 24 prisoners were executed at various prisons across Pakistan. The executions sparked a series of reprisal attacks that claimed the lives of 86 individuals. Sunni militant group Jundullah also claimed responsibility for two separate attacks on Shi'a mosques; the first occurred in the Shikarpur district of Sindh Province on January 30, killing 60 people, and the second in Peshawar, on February 13, killed 20. On February 17, TTP splinter group Jamaat ul-Ahrar claimed responsibility for an attack on a Lahore police headquarters that claimed the lives of eight people (Express Tribune [Karachi], February 17). Representatives from both groups said the attacks were in retaliation for the execution of militant prisoners, hoping to pressure the government into halting further executions.
Members of the Pakistan Peoples Party and Pakistan Muslim League-Nawaz who were previously ousted by military coups watched nervously as the civil government conceded sweeping authority to the military, as it has done in the wake of previous crises. Despite latent concerns, a measure to establish military courts passed unopposed, with the country's two main Islamic parties, the Jamaat-e-Islami and Jamiat Ulema-e-Islam Fazal, abstaining (Dawn [Karachi], January 6). As a result, special military courts are expected to begin functioning by the end of February for a two-year period in order to expedite the trial of suspected terrorists by bypassing the already overburdened civil judiciary (Express Tribune [Karachi], February 9). However, members of Pakistan's judicial system have criticized the move as they feel it gives too much power to the military without improving civilian courts (Dawn [Karachi], January 30). The structure of these courts and the method of transferring cases from a civil to a military jurisdiction remain unclear. What is clear, however, is that they will drastically alter the requirements needed to secure convictions, as the standard of what constitutes evidence will be up to the discretion of those presiding over the case.
Around a month after the attack, thousands of schools reopened in mid-January with tightened security and improved security features, but many high-risk schools remain closed (Express Tribune [Karachi], February 27). The government has formulated a plan to create a new security force comprised of retired military and law enforcement officials to protect the nation's schools. However, it is unclear when it will become operational, and many schools will continue to rely on untrained and poorly armed guards or teachers. Students across the country have demonstrated unprecedented resilience and bravery, with many children openly stating they will not be deterred from returning to school (Dawn [Karachi], January 12). The government has, meanwhile, opened terrorism hotlines in every province (Dawn [Karachi], December 30, 2014). According to local sources, the hotlines have already received 253 actionable calls, highlighting the public's increased willingness to report incidents (The Nation [Lahore], February 25). Figures released by Dawn News reported that since the National Action Plan was first introduced, law enforcement officials have arrested more than 10,000 individuals on charges ranging from loudspeaker misuse to direct involvement in terror attacks (Dawn [Karachi], February 19). Police officials have also cracked down on hate speech and the distribution of extremist propaganda as well as the use of cellular devices with unregistered SIM cards (Dawn [Karachi], January 8).
Response and Outlook
The Peshawar attack has so far unified Pakistan's historically divided civil society and acted as a springboard for public activism across the country. In one notable incident, for example, Sunni and Shi'a Pakistani rallied together against Islamabad's Lal Masjid mosque and its hardline chief cleric Maulana Abdul Aziz for his refusal to publicly condemn the massacre and the militants responsible (Dawn [Karachi], December 19, 2014). On the second day of the rally, Aziz threatened to attack the protesters; rather than resorting to violence, the protesters registered a case against Aziz in the form of a First Information Report (FIR) (Express Tribune [Karachi], December 19, 2014). A FIR alone is not damning; however, it prompted the police and civilian courts to file an arrest warrant against Aziz (Pakistan Today, December 26, 2014). The police have done so 22 times previously without taking action, primarily due to the memory of the Musharraf regime's bloody siege of the mosque in 2007, and there is no guarantee of action taking place this time. However, the development does indicate a renewed public willingness to look again at the long-standing problem of Lal Masjid.
While the response from civil society has mostly been in favor of the NAP, civil society is also now, more than ever, critical of every previous counter-terrorism initiative enacted by the government. Repeatedly the Pakistani public has watched as the government hastily responds to a tragedy, only to lose steam after achieving meager or narrow results. Although the director general of Inter-Services Public Relations, Major General Asim Bajwa, purports that nine of the 27 individuals responsible for the Peshawar attack have been killed and 12 others arrested, a considerable segment of the public will not be satisfied until authorities show equal effort in eliminating all terrorist groups, not just the "bad Taliban" (The Nation [Lahore], February 13). The success of the NAP will be determined by the government and military's actions, as well as the civil society's will to stand up against terrorism and religious intolerance. The younger generation of activists, like the Pakistan Youth Alliance, is trying to push government action through peaceful demonstrations and social media, with Twitter hashtags such as #ReclaimYourMosque to encourage the public to speak out against radicalization.
Meanwhile, the country's bellicose militant groups will likely alter their tactics in an attempt to break the will of the Pakistani people. Terrorist attacks since December highlight an increased willingness to claim civilian lives and an increased propensity for conducting attacks on "soft targets." For instance, the Lahore police headquarters is the only fortified target attacked since December, but there have been a series of attacks on schools and students. For instance, on February 17 in Wah Cantonment in Punjab (a town with a large army presence), military personnel defused an explosive device outside a school after students reported a suspicious package, potentially saving the lives of their teachers and classmates (Dawn [Karachi], February 17). In another incident, armed assailants kidnapped a student in Karachi on February 20, before setting him ablaze and pushing him from a moving van (Pakistan Today, February 20). According to local police officials, the kidnappers left a note threatening further attacks against students if military operations continued (Dawn [Karachi], February 20). Pakistan's children, students and minority Shi'a community will likely continue to face such terrorist threats as the government grapples with implementing the NAP. Pakistan will not win the war against terrorism without more bloodshed, but the NAP—combined with civil society's increased willingness to stand up to militants—could potentially serve as a stepping-stone towards normalcy.
Brian M. Perkins is a South and Central Asia analyst and freelance journalist specializing in terrorism and sectarian violence.