FORMER AND CURRENT UKRAINIAN INTERIOR MINISTERS READY TO CONFRONT EACH OTHER
Publication: Eurasia Daily Monitor Volume: 4 Issue: 56
By: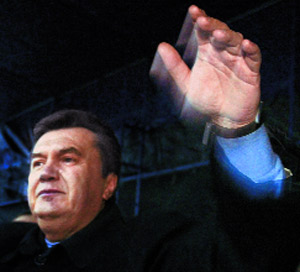 Ukrainian law-enforcement agencies are not concealing their displeasure with the behavior of former interior minister Yuriy Lutsenko, one of the key figures of the 2004 Orange Revolution. Lutsenko has set up the "People's Self-Defense" movement and is touring the regions in order to find out if the current degree of popular discontent with the government of Prime Minister Viktor Yanukovych is enough to organize a popular "March of Justice" in Kyiv sometime this spring. Lutsenko was ousted from the post of interior minister last December.
Lutsenko's opponents apparently fear a repeat of the Orange Revolution. Reporting to parliament in February, Vasyl Tsushko, who replaced Lutsenko as interior minister, accused him of using the police to further his political goals (see EDM, March 6). The Prosecutor-General's Office, meanwhile, has opened a criminal case against Lutsenko and declared that he is a foreign citizen. Yesterday, March 20, the Prosecutor-General's Office searched Lutsenko's apartment, seized his documents, and summoned him for interrogation.
Lutsenko began to tour the regions in early February. On weekends, he has been gathering several thousand people in the central squares of major Ukrainian cities for anti-government rallies. He has already visited such big cities as Poltava, Lviv, Kharkiv, and Dnipropetrovsk. He plans to soon go to Luhansk and Donetsk – both Yanukovych strongholds.
In response to the accusations of using "administrative resources" as an aide to President Viktor Yushchenko, Lutsenko has resigned from that post. But he is being helped by several other people from Yushchenko's entourage, including tycoon Davyd Zhvania, who is believed to have been one of the financiers of the Orange Revolution; Yushchenko's aide Taras Stetskiv; and MP Mykola Katerynchuk, who was a key legal adviser to Yushchenko during the revolution. While Lutsenko's populist Self-Defense group targets mostly young people, Katerynchuk has organized "European Platform," a less radical movement apparently designed to complement Self-Defense.
Lutsenko denies that Self-Defense is a party, and he says it will not be transformed into a party even if early elections are called. Instead, one of the goals that People's Self-Defense and European Platform share is the organization of a popular referendum in order to boost presidential powers, reversing the constitutional reform of 2004-2006, Katerynchuk told a meeting in Cherkasy on February 11.
In a recent interview with Glavred, Lutsenko listed the key three goals that his movement pursues. These are: "to teach politicians to fulfill their election promises"; "a new social contract" in order to amend the constitution to prevent the possibility of usurpation of power; and "a search for new, young political personalities." Speaking at a press conference in Lviv on March 9, Lutsenko added a fourth goal: "protecting Ukraine's political and economic independence" against "anti-Ukrainian forces."
Speaking to Glavred, Lutsenko denied that he intends to oust the Yanukovych government by force. "We are organizing a constitutionally allowed form of protest against the inefficient authorities," he said. Lutsenko also pledged loyalty to Yushchenko, saying that he is the symbol of Ukraine's independence and, as such, he has to be helped "irrespective of his personal qualities."
Tsushko, speaking at his first press conference as interior minister on March 17, said that he is ready to counteract his predecessor. What's more, Tsushko hinted that the police may use force to repel Self-Defense's March of Justice. Tsushko alleged that the march's organizers are offering $25 to high school students for participation. "Those children will be used as cannon fodder," he warned. Tsushko said that Yanukovych supporters are planning to take some 100,000 people to Kyiv streets to confront the March of Justice, and that the police would interfere so that "they should not kill each other."
Deputy Prosecutor-General Renat Kuzmin, who is believed to be a faithful Yanukovych ally, told TV on March 13 that a criminal case had been opened against Lutsenko. According to Kuzmin, he was charged with the illegal issue of small arms. Kuzmin also said that he received a copy of a document signed by Israeli officials saying that Lutsenko was granted Israeli citizenship in the 1990s.
Lutsenko countered that he did not have any other citizenship but Ukrainian and insisted that the Israeli documents to which Kuzmin referred had been forged. Lutsenko promised to turn to the Israeli Embassy to clarify the matter. Commenting on the criminal case, Lutsenko said that it was launched in order to prevent him from touring Ukraine.
Dual citizenship is forbidden in Ukraine. Even if the reports about Lutsenko's Israeli citizenship are proven to be false, they are sure to make him less popular with Ukraine's right-wing nationalists, whose support he apparently seeks. And if Lutsenko is pronounced guilty on the illegal arms distribution charges, he may face up to 12 years in prison, Ukrayinska pravda reported.
(Interfax-Ukraine, February 10, March 10; ProUA.com, February 11; Channel 5, March 9, 17; Glavred.info, March 12; Inter TV, March 13; Silski visti, March 16; Ukrayinska pravda, March 19)