Four Militants Killed in Kabardino-Balkaria
Publication: North Caucasus Weekly Volume: 10 Issue: 11
By: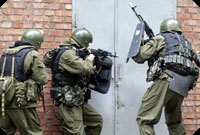 The Associated Press (AP) reported on March 19 that four gunmen were killed during a three-hour gun battle with police in Kabardino-Balkaria. Kavkazky Uzel reported on March 19 that the shootout took place in the town of Baksan, which is located 24 kilometers northwest of Nalchik, the republican capital, after the militants were discovered in a private home. According to the website, only two suspected militants were killed in the shootout.
AP quoted federal Interior Ministry officials as saying that police used anti-tank grenades to destroy the house, killing four gunmen inside. State-run Channel One TV, citing a local Federal Security Service (FSB) official, reported that two militants were killed and that extremist Islamist literature was found in the destroyed house.
Also on March 19, Kabardino-Balkaria's Interior Ministry reported that security forces had discovered and destroyed two hidden militant "bases"—one for winter, the other for summer—in a wooded area several kilometers from the village of Kishpek. The "bases" consisted basically of camouflaged dugouts with space for 8 to 12 people, Kavkazky Uzel reported. In addition, Itar-Tass reported that security forces found a hidden food storage site for militants in a wooded area two kilometers from the village of Gerpegezh in Kabardino-Balkaria's Chereksk district.
Last month, Interior Ministry troops shot and killed seven suspected militants during a firefight in the Chereksk district. Newsru.com reported that among the slain militants were a rebel field commander, Zeitun Sultanov, and "one of the Khamukov brothers," who was wanted on suspicion of involvement in the murder of nine hunters and forest rangers in Kabardino-Balkaria in November 2007 (North Caucasus Weekly, February 12; November 8, 2007).