Militants and Security Forces Battle in Dagestan
Publication: North Caucasus Weekly Volume: 10 Issue: 11
By: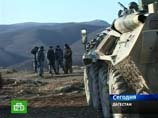 RIA Novosti reported on March 19 that a police officer was killed when his patrol car came under fire on the evening of March 18 in Dagestan's Derbentsky district, near the border with Azerbaijan.
Kavkazky Uzel reported on March 19 that four servicemen were wounded during a special operation on the outskirts of the village of Kakashura in Dagestan's Karabudakhkentsky district, 30 kilometers south of the capital Makhachkala, where a group of 10 to 15 militants were reportedly blockaded. Three law-enforcement officers were hospitalized with light wounds. A helicopter gunship gunner-radio operator from the interior ministry's internal troops reportedly suffered a head wound. Itar-Tass reported that there were also casualties among the militants, but there was no information about how many.
RIA Novosti on March 19 quoted Dagestani Interior Ministry spokesman Mark Tolchinsky as saying that an "intense" battle was underway, with exchanges of fire from grenade launchers and flame-throwers, and that the militants were refusing to surrender. He also said that a helicopter gunship, which had been providing air support for the ground operation, had to pull out and land because its gunner-radio operator had suffered a head wound.
Kavkazky Uzel on March 18 quoted Dagestani Interior Minister Adilgerei Magomedtagirov as saying that a special operation launched in the village of Gubden that morning would continue until militant leader Magomedali Vagabov, a Gubden resident, was liquidated and his group came out of the woods. Earlier, Dagestan's Interior Ministry announced that the special operation would continue for around two months.
Itar-Tass on March 18 quoted Dagestani Interior Ministry spokesman Mark Tolchinsky as saying that Magomedtagirov and Dagestan's prime minister, Shamil Zainalov, had met with village and district residents on March 17, and that the local population "demanded authorities terminate the gang which had been giving it a hard time by terrorist attacks, murders and other serious crimes."
The Yuga.ru website on March 18 quoted Magomedtagirov as saying during a meeting with inhabitants of the village of Gurbuki, located several kilometers from Gubden, in reference to the rebel group headed by Vagabov: "We do not plan on preventing the inhabitants from living normally, but we will leave from there only after we've put an end to that group." The RIA Dagestan news agency reported that during the meeting in Gurbuki, the situation in Dagestan's Karabudakhkentsky district was discussed, as well as issues related to cooperation between the local population and the law-enforcement bodies.
Itar-Tass reported that "no information" was available about the number of gunmen from Vagabov's group operating not only in the Karabudakhkentsky district, but also in the Sergokala district. For that reason, the news agency reported, the law-enforcement bodies launched an operation of "wide scope" and set up a field camp near Gubden for OMON special task police units and interior ministry internal troops.
A month ago, on February 18, militants shot up a base station of the Megafon mobile phone operator in Karabudakhkentsky district, causing around $1 million in damage. According to Dagestan's Interior Ministry, the attack was carried out by militants belonging to Vagabov's "illegal armed formation." Vagabov and members of his group are on the Russian and international wanted lists for dozens of crimes, including the murder of law-enforcement personnel.