France, Russia Sign Mistral Agreement
Publication: Eurasia Daily Monitor Volume: 8 Issue: 18
By: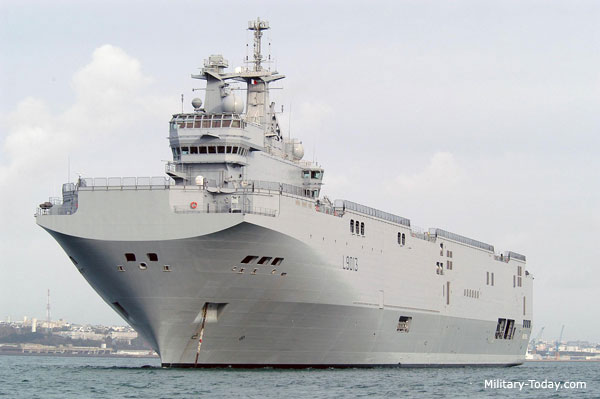 "Paris is well-worth a [Catholic] mass" ("Paris vaut-bien une messe"), King Henri IV, a Protestant, remarked when told that his attendance at a Catholic Church service was the price for his acceptance by the Parisians. That remark is recorded as the epitome of crass political expediency. Updating on it, French President, Nicolas Sarkozy, declared on January 25 that Russia's procurement of four French Mistral-class warships was worth 1,500 French jobs over a four-year period. Inasmuch as this transaction undermines NATO's cohesion and authority, it follows that 1,500 French jobs are worth as much as these Allied values, or more than these.
On January 25 in Saint-Nazaire, the French naval shipyard STX and Russia's United Shipbuilding Corporation signed an agreement for Russian procurement of two French Mistral-class warships. In an accompanying joint declaration, the French and Russian governments "agree to give their full support to the construction of two [warships] in France and two in Russia" (Interfax, Agence France Presse, January 25).
President Sarkozy and Russian Deputy Prime Minister, Igor Sechin, attended the event in Saint-Nazaire, a crisis-hit port, where Sarkozy hopes (as in the port of Nantes, which will share the Mistral construction work) to gain votes for his uphill re-election campaign. In Russia, Prime Minister Vladimir Putin is the prime mover behind the amalgamation of several naval shipyards into the United Shipbuilding Corporation under Sechin's supervision and the Mistral procurement contract. Given these two KGB veterans' leading role in the Mistral deal, Paris makes no pretense that the deal would aid President Dmitry Medvedev's "modernization" and "rule-of-law" agenda for Russia.
The Mistral is a power projection capability by definition, primarily designed for offensive coastal warfare. The 200 meter long ship can carry up to 16 helicopters for airborne troop landings ashore, four landing craft for amphibious troop operations, 13 tanks, 60 armored vehicles, and 800 combat troops (the force mix depending on the mission's duration). It is an unmatched, state-of-the-art model in Europe. The French navy has only procured two ships of this class thus far, whereas four are now slated for Russian procurement.
Russian officials have repeatedly indicated that they plan to deploy one ship of this class with each of Russia's four fleets (Baltic, Black Sea, Northern, Pacific). Under Russia's military doctrine and organization, naval forces are auxiliary to ground forces, to be used in support of ground operations in the event of hostilities. This indeed was the role of Russia's Black Sea Fleet in the 2008 invasion of Georgia. The fleet's mediocre performance in that war directly inspired Moscow's search for a modern, Western-built warship class, designed for attacking coastlines.
In a hypothetical crisis or possible hostilities at some future time, Mistral warships would enable Russia to threaten some Black Sea or Baltic country with a coastal landing, in addition to a ground force attack. The mere prospect of opening a second front from the sea would tie down some defending forces there, thinning out the defenses against a ground attack. Essentially, the Mistral can become an instrument for maritime supremacy and intimidation vis/a-vis Russia's maritime neighbors, including NATO member and partner countries. All this belongs in the realm of military hypothesis and contingency planning, which the Mistral deployment in the Baltic and Black Sea would significantly complicate for NATO. This will be the case even if Russia initially uses Mistral-class ships in some international missions, i.e., anti-piracy, for flag-showing purposes.
Even before the January 25 signing, the Mistral deal-in-the-making had set an example for other West European arms producers to enter into agreements with Russia's Defense Ministry. Yet, to depict the Mistral affair as "precedent-setting" is not an appropriate argument for its critics (BNS, January 25). Acknowledging an undesirable precedent is unwittingly helping to set the precedent, legitimizing further actions of the same type with reference to the "precedent." Critics need to handle the Mistral deal not as a precedent, but simply as a negative example, one that cannot serve as a precedent for further arms deals with Russia.
Similarly, statements that Russian deployment of Mistral ships would "not dramatically" alter the power balance, or that the countries potentially affected need not worry since they are covered by the NATO Treaty's Article Five in any case (BNS, January 24, 25), can encourage complacency among influential West European governments within NATO on at least two levels: contingency planning, and the whole issue of arms sales to Russia. An incremental change to the power balance in Russia's favor, courtesy of a NATO country, needs not be rationalized simply for not being a "dramatic."
Lithuanian Prime Minister, Andrius Kubilius, has identified a deeper implication of arms deals by West European producers with Russia. Commenting on the Mistral deal just signed, he cautioned, "We hope that NATO will not have to experience headaches in the future, when planning how to defend from weapons they themselves had delivered" (BNS, January 25).