France to Refund Russia $1.2 billion for Non-Delivery of Mistral Helicopter Carriers
Publication: Eurasia Daily Monitor Volume: 12 Issue: 83
By: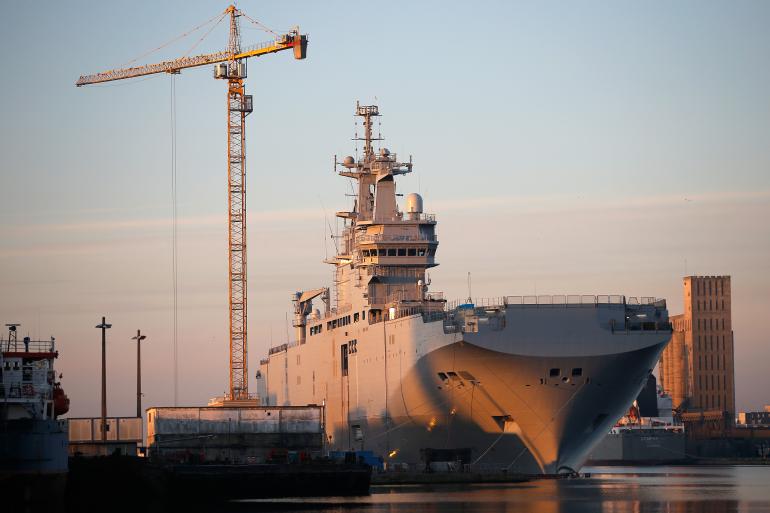 Russia's March 17, 2014, annexation of Crimea plunged Russian-Western relations to their lowest level since the Cold War. Members of the North Atlantic Treaty Organization (NATO) subsequently imposed sanctions on Russia over its actions toward Ukraine. Notably, a pair of Mistral-class helicopter assault ships being built under a 2010 French contract for the Russian navy were delayed for a year. Under the terms of the contract, the vessels Vladivostok and Sevastopol, designated to join the Pacific Fleet, were to be delivered in November 2014 and November 2015, respectively. On April 22, French President François Hollande commented that if the warships were not delivered, then France would have to refund Russia's advance payments. Two days later, when Hollande met for an hour with Russian President Vladimir Putin in Yerevan, no progress was made on releasing the warships (Le Figaro, April 24).
On December 24, 2010 then–French President Nicolas Sarkozy announced a proposal for the construction of two Mistral-class amphibious assault helicopter carriers for the Russian Navy in France's DCNS and STX St. Nazaire shipyards. Sarkozy's office stated that the contract would create 1,000 jobs in French shipyards over the four years of the contract, which contained the option of constructing two more ships at a later date (Deutsche Welle, December 24, 2010). The contract was subsequently signed by Russian Deputy Prime Minister Igor Sechin and French Defense Minister Alain Juppé in Sarkozy's presence on January 25, 2011, after France's Inter-ministerial Commission for the Study of War Material Exports (CIEEMG) and the General Secretariat for National Defense and Security (SGDSN) cleared the deal with Russia (Le Monde, January 26, 2010; RIA Novosti, January 25, 2011).
The five-day August 2008 Russian-Georgian clash revealed the mediocre performance of much of the Russian military's equipment, causing the government in Moscow to consider European military imports. In addition, the global financial crisis and Europe's subsequent sluggish economic recovery made European politicians desperate for any opportunities to boost jobs and exports. The high point of French military sales to Russia was to be the Mistrals, a NATO member's largest military sale to Russia, and post-Soviet Russia's first major foreign warship purchase.
The French Navy, which operates two Mistral-class carriers, the Dixmude and Thunder, refers to these vessels as the "Swiss army knife" because of their versatility (Le Figaro, December 11, 2014). Admiration for the Mistral's capabilities extended to the Russian Navy; in September 2009, a year after the Black Sea Fleet's uninspired performance against the Georgian military, Russian naval chief Admiral Vladimir Vysotskii boasted that had Russia possessed such amphibious assault ships in 2008, it would have won its war against Georgia in "40 minutes instead of 26 hours" (Gruziia Online, September 15, 2009).
From the outset, the Mistral contract had overt political overtones; many Russian military leaders opposed it because they believed it was subject to France's NATO commitments, while several Russian shipbuilding enterprises complained that they were being deprived of work that they could do as well, if not better, than French shipyards.
After Russia's annexation of Crimea, a number of European NATO members and the United States pressured France to annul the sale in light of Russian policies towards Ukraine. While Hollande kept the door open for ongoing negotiations, after meeting with Ukrainian President Petro Poroshenko in Paris on April 22, 2015, the French president told reporters, "On the Mistrals, all options will be addressed. At the moment, as I have said, the Mistral delivery is not possible in the current context. If the ships are not delivered, I do not see how they can be paid for, it is a pretty simple principle… Under various scenarios, you have payment or reimbursement" (Radio France Internationale, April 22).
Prior to Hollande's announcement, Putin observed that while Russia would not impose penalties against France over its failure to fulfill the $1.29 billion contract, France should honor and reimburse all costs incurred by Russia, while stressing that France's failure to deliver the warships would not undermine Russia's defense capabilities (Tribune de Genève, April 22). During his April 2015 annual phone-in program, Putin answered a listener's question about the contract by commenting, "But it [the contract breach] certainly suggests that the reliability of our partners who are part of a military-political alliance, in this case within the framework of NATO, are losing part of their sovereignty, and by this, bringing up questions of reliability. And we will certainly take this into account in the course of further cooperation in the sphere of military-technical cooperation" (Kremlin.ru, April 16).
One certain aspect of strained Russian-Western relations over the past year is that Russia will seek no further "big ticket" military items from NATO members, no matter how alluring, closing off a potentially lucrative new market for Western arms exports. While Russia's Mistral contracts had raised the most concern among NATO members, in late 2009, when the deal was first being discussed, the Russian Navy was considering naval purchases from other NATO members, in particular possibly acquiring Howaldtswerke-Deutsche Werft AG (HDW)–built Type-212 German submarines, equipped with advanced fuel cell propulsion systems (Izvestiia, November 25, 2009).
Russia repeatedly maintained that the two Mistrals would be assigned to Russia's Pacific Fleet. However, a number of Western analysts predicted that because of Vysotskii's comments and after NATO surged warships into the Black Sea after the Crimean annexation, one if not both of the Mistrals would eventually end up joining the Black Sea Fleet. It is, therefore, illuminating to review comments made by Russian naval officers after Russia's 2008 Black Sea clash with Georgia, when former commander of the Black Sea Fleet, Admiral Eduard Baltin, called the Black Sea a "mousetrap," commenting, "You can enter here, but if confrontation occurs it is very difficult to get out. An enemy here would be exposed not only to warships, but also aviation and coastal defense systems" (URA-Inform, August 30, 2008). Accordingly, it would seem that all the cancellation of the Mistral contract has done is blunt Russia's amphibious capabilities in its Pacific Fleet, where submarines have traditionally predominated anyway.