Freedom Day and Belarus's Ongoing Quest for Identity
Publication: Eurasia Daily Monitor Volume: 13 Issue: 62
By: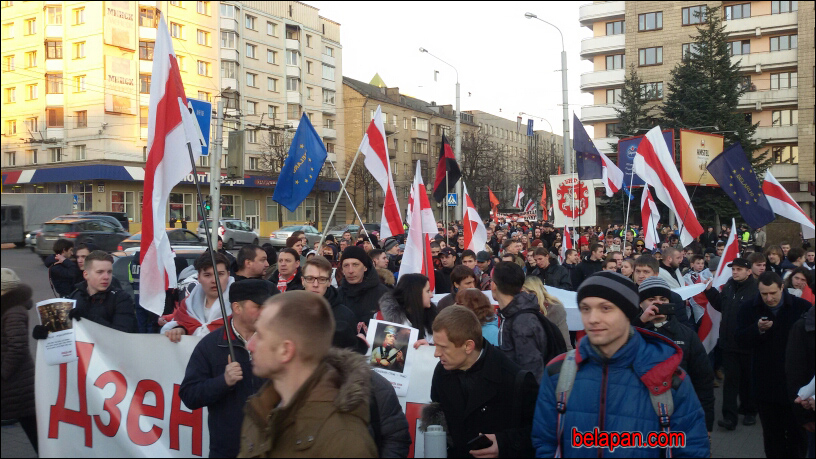 On March 25, opposition-minded Belarusians celebrated Freedom Day (Dzen Voli). On that day, in 1918, the Belarusian People's Republic (BPR) was proclaimed in Minsk, under German military occupation. The quasi-state lasted barely eight months, when, on December 10, 1918, the Red Army recaptured Minsk. The Belarusian opposition has always claimed that the BPR laid the foundation for Belarusian statehood and that without it there would have been no Soviet Belarus (Byelorussian Soviet Socialist Republic—BSSR). The latter, they argue, was Moscow's response to a call for self-determination first embodied in the formation of the BPR. This year, about 1,500 people participated in the Freedom Day rally, which was permitted by the authorities (Charter 97, March 25; Svaboda.org, March 28).
Two aspects of the event are noteworthy: the fight for establishing historical facts, and the significance of the BPR for Belarusian identity. Concerning historical facts, Belarus's official standpoint on the BPR currently is that it was "an important but controversial" hallmark of Belarusian history (Svaboda.org, March 28). Thus, its significance is no longer rejected out of hand, as it used to be, but it is not promoted either. Pro-government analysts, however, still try to deny its importance. Thus, Aleksei Dziermant of the Citadel group claims that the BPR was actually an exercise in collaborationism that was elevated to a higher stage during World War II (Dziermant, March 27). Dziermant invokes a 2009 article by Vadim Gigin, now the dean of the Philosophy and Social Science School of the Belarusian State University and a TV anchor, which cast doubt on the BPR–BSSR lineage thesis (Belaruskaya Dumka, December 2009).
The role of the BPR in shaping Belarusian identity is arguably a more significant issue than just establishing historical facts, however. First, a relationship between national mythology and facts has always been ambiguous, and this ambiguity is by no means endemic to Belarus. Second, Belarusian identity is still feeble. Even the Belarusian Popular Front, the country's oldest opposition party and one most dedicated to the idea that Belarusians' cultural essence is unique and has nothing to do with that of Russia, recently referred to a "not fully formed national consciousness" of the Belarusians. The group made this statement in its appeal to the government to not facilitate "the mass acceptance of economic migrants from a different civilizational milieu" (Tut.by, March 19). Third, the number of options for nationally conscious Belarusians in the area of historical memory is fairly limited, so it is hardly surprising that the BPR and the Grand Duchy of Lithuania are persistently invoked in an attempt to boost that memory and, consequently, Belarusians' sense of their unique historical path. The official reading of history only makes a desire for such additional references unavoidable. After all, according to the official ideology, Belarusian statehood began with the BSSR, created by the Bolsheviks in 1919, and the Belarusians' greatest achievement was the victory in the Great Patriotic War (the Russian name for World War II). Moreover, the Bialoviezh agreement, which did away with the Soviet Union, is treated as a grave mistake. This is hardly a winning strategy, if the government's aim is to foster allegiance to a nation by invoking not so much its own unique experiences as those inseparable from other national communities—Russians in the first place, who are culturally close to Belarusians anyway and are, therefore, destined to play the role of the meaningful other.
In the words of Yury Drakakhrust of Radio Liberty, the sustainability of a resulting construct of national identity raises doubts. So what was the basis for the resounding "no" to Vladimir Putin's 2002 suggestion that Belarus stop pulling its own and everybody's leg and each of its six regions simply join Russia one by one? Given the limitations imposed by the official ideology, the only response was President Alyaksandr Lukashenka's famous dictum that Belarusians are "Russians of better quality." To wit, Russians sold out to their oligarchs and sharks of global capitalism, whereas Belarusians remained loyal to fairness, soulfulness and equality, the argument goes. This reasoning, which Drakakhrust exposed in an article he wrote in 2008 (Neprikosnovennyi Zapas, 2008), is not in itself particularly convincing.
It is, therefore, noteworthy that under a new geopolitical situation shaped by the war in Ukraine and economic decline in Belarus, Freedom Day has stopped being a divisive line between the government and the opposition. Minsk now needs to boost national identity; and guardedly but persistently it is changing tack both at home and abroad. In his recent talk with Polish Foreign Minister Witold Waszczykowski, President Lukashenka clearly expressed his major foreign policy credo of rejecting all zero-sum approaches to dealing with East and West. "If the partners with whom we are conducting a dialogue," said Lukashenka, "are going to insist that we choose whom we side with—either East or West, that is, either Russia or the European Union—if they continue to face us with that choice, this is not for us. I think more than anybody else, Poland is interested in Belarus remaining not only an independent state but also a stable one. I think that one more unstable [neighbor], in addition to Ukraine, is of no use to Poland" (Tut.by, March 23). Incidentally, on March 1, Poland opened four visa processing centers in Minsk, Brest, Grodno and Gomel. Four more visa centers—in Pinsk, Baranovichi, Lida and Mogilev—will open soon (Naviny.by, February 25).
Undoubtedly, Poland's dramatic shift in its erstwhile confrontational approach to the "Lukashenka regime" proves that "the last dictator of Europe" is no "loser," despite what Guido Westerwelle, Karl Bildt, Radosław Sikorski and Karel Schwarzenberg had argued in their December 2010 article, "Lukashenka the Loser" (New York Times, December 24, 2010).