FROM SCHROEDER TO STOIBER?
Publication: Eurasia Daily Monitor Volume: 4 Issue: 132
By: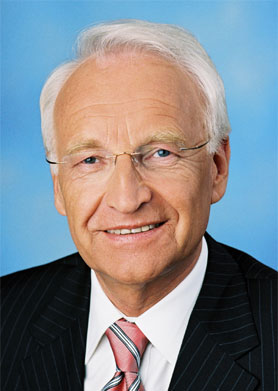 Russian President Vladimir Putin received Edmund Stoiber, the head of Bavaria's government and chairman of Germany's conservative Christian-Social Union (CSU, Bavarian wing of Germany's governing Christian-Democrat/Christian Social Union), on July 5 for a four-hour meeting in Moscow. During this meeting, Stoiber endorsed Russia's goal of defeating the U.S.-proposed anti-missile defense system and elbow its way into a "joint" NATO-Russia system.
As CDU/CSU candidate for chancellor in the 2002 elections, Stoiber narrowly lost to the Social-Democrat Gerhard Schroeder, who broke allied solidarity and embarked on a special relationship with the Kremlin. Unexpectedly, Stoiber seems to follow that example.
Emerging from the meeting with Putin, Stoiber told the media emphatically that only two solutions are possible on anti-missile defense in Europe — the U.S. plan or the Russian plan — and that he supports the latter. This either-or approach would seem to exclude the U.S.-suggested political compromises that could combine parts of both plans.
Thus Stoiber ruled out the planned stationing of anti-missile defense elements in Poland and the Czech Republic, arguing that it would not cover all of Europe, would perturb U.S.-Russian relations, and is in any case unacceptable to Russia. He evidently had not asked the U.S., Polish, or Czech governments for their opinion before dismissing these governments' project.
Stoiber endorsed Putin's proposal, as outlined by the Russian president at the recent G-8 summit in Heiligendamm and with some additions that Putin unveiled to Stoiber during their meeting. The anti-missile defense system would be placed under joint NATO-Russia command, using Azerbaijan's Russian-operated Gabala radar and a new radar under construction in southern Russia, as well as information exchange centers in Brussels and Moscow to be jointly manned by NATO and Russia. The arrangements would be negotiated in the NATO-Russia Council by the United States, NATO, and Russia — apparently, a three-way process. Such a development would launch a "strategy of total cooperation" between NATO and Russia. One element in this consensus would rule out stationing anti-missile defense systems in countries of the former Warsaw Pact.
"The position of Germany, of its government, in any case my [Bavarian] government's and my party's position, is entirely clear: We are in favor of the second solution." However, Stoiber is not known to have been authorized by the German government or by the CSU to speak on their behalf, and the Bavarian government is not authorized to conduct foreign policy.
Apart from the missile defense issue, Stoiber called for the creation of a European Union-Russia Free Trade Zone — apparently leaving out Ukraine, although the latter seeks an arrangement of this type with the EU.
Departing for a fleeting moment from the Schroeder model, Stoiber told the media that Putin should strengthen the Russian parliament and promote political pluralism. The former chancellor would not venture such recommendations even pro forma to Putin, whom he has described as an "impeccable democrat." Unlike Schroeder, there is no suggestion of private interest influencing Stoiber's position. Yet Stoiber, too, claimed on this visit that Russia is Germany's "strategic partner." "Schroeder could not have said it better" (Sueddeutsche Zeitung, July 6).
Stoiber promised to inform Chancellor Angela Merkel about his discussions with Putin and implied that he would remain engaged in this issue. Apparently, Stoiber seeks to ascend to international status as a mediator of sorts, following his scheduled retirement in September 2007 after fourteen years in office. This lame-duck status notwithstanding, Putin resorted to extreme forms of flattery. He gave Stoiber a long session in the Kremlin, "detailed" information about Putin's July 2 discussion with U.S. President George W. Bush at Kennebunkport, a parade of the Kremlin Guard cavalry company organized especially for Stoiber — an unprecedented favor — and a private dinner for the Stoibers at Putin's residence outside Moscow.
Putin coyly remarked that his secret services could not figure out why Stoiber was retiring. However, it is common knowledge that the Bavarian leader is losing his rivalry with Merkel within the main governing party and is sometimes playing spoiler against her. Apparently, Putin hopes to play on such rivalries, both within the CDU/CSU and between the latter and its junior coalition partner, the Social Democrats, where Schroeder-era holdovers retain a strong influence on foreign policy. Meanwhile, Schroeder himself, devoid of credibility and ridiculed in the mainstream German media, has turned from a public relations asset to the Kremlin into a liability. Apparently, Putin is reaching out to a conservative quarter as well for a sympathetic hearing to the Kremlin's policies.
(Spiegel.online, Stern.de, Focus.de, Bayern-heute, Interfax, Itar-Tass, July 5; Sueddeutsche Zeitung, Frankfurter Allgemeine Zeitung, July 6; see EDM, July 6)