Future of the SCO Under Question After Tashkent Summit
Publication: Eurasia Daily Monitor Volume: 13 Issue: 117
By: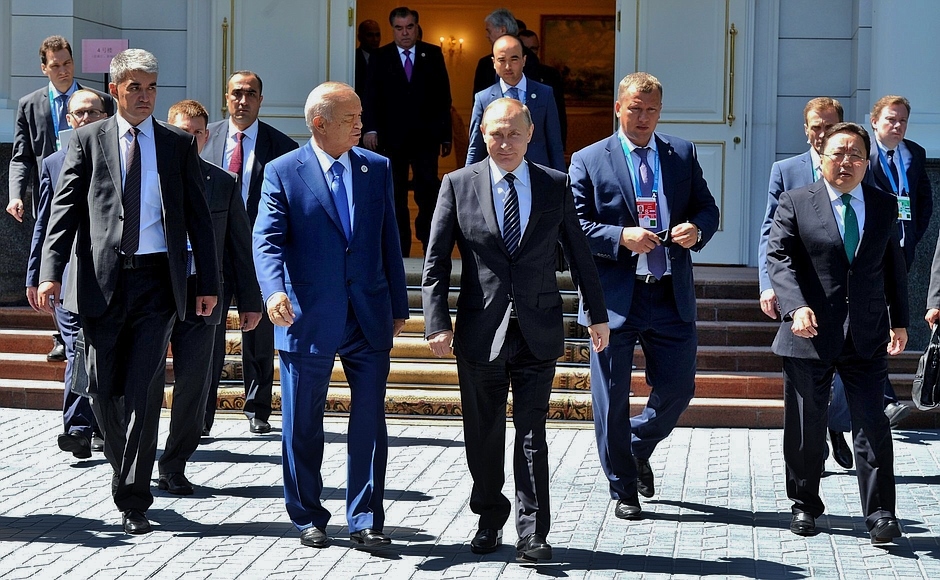 The fifteenth meeting of the heads of state of the Shanghai Cooperation Organization (SCO) took place on June 23–24, in Tashkent, Uzbekistan. Participation in these annual meetings has been growing over the past several years and was even bigger this time as negotiations for admitting new countries were underway. Aside from the main meeting agenda, numerous bilateral and trilateral meetings took place on the sidelines. For Uzbekistan, the Tashkent Summit will be remembered because of the following three events: the adoption of the memorandum on the terms for accession of India and Pakistan to the SCO, the upgrade of Uzbekistan-China relations to "comprehensive strategic relations," and the appearance of Chinese President Xi Jinping before Uzbekistan's parliament, the first foreign head of state to do so.
Assuming that India and Pakistan implement their terms of accession to the SCO in the near future, the current members will soon no longer be meeting in the original and rather intimate circle that had gone unchanged for 15 years. Only time will reveal the real implications of adding Pakistan, India and one day possibly Iran to this organization. Will it open new horizons for cooperation in energy, transportation and counterterrorism, as stated by India's Prime Minister Narendra Modi in his address (The Tribune, June 24)? Or will enlargement make the organization more cumbersome, dysfunctional and defunct, as alluded by Uzbekistani President Islam Karimov in last year's meeting in Ufa, Russia, as well as by Kazakhstani President Nursultan Nazarbayev at this year's meeting (RIA Novosti, July 10, 2015; June 23, 2016)? The concerns of the Central Asians are valid given that India and Pakistan's combined population is 20 times larger than the five Central Asian countries (Turkmenistan is not a member) combined. Furthermore, India and Pakistan have unique bilateral complexities that might dominate the SCO's agenda in the future, downgrading other issues of importance to the Central Asian members.
Russia was the biggest promoter of India and Pakistan's membership in the SCO, and now Moscow is seeking to bring Iran on board as well (BBC—Russian service, June 24). However, China has already expressed concerns about admitting the latter (Tasnim, May 25), and Uzbekistan is also reluctant. Russia's attempts to expand the organization makes one wonder about its real intentions. Is Russia seeking to unite major Asian powers under the SCO in order to turn this regional body into a counterweight to the West? If so, Central Asians might be concerned that their voices inside the organization will be muffled and eventually fully disappear. Possibly, Russia is trying to repeat its previous approach to the now-defunct Central Asian Union (later renamed the Central Asian Economic Community—CAEC): initiated in 1994 by Kazakhstan and Uzbekistan, Russia forced its way into the organization and disbanded it by turning it into the expanded and Moscow-led Eurasian Economic Union, launched in 2015 (Cacianalyst.org, January 7, 2015). A strong Central Asian regional organization that works for the benefits of Central Asians and strengthens their relations might well be contrary to Russia's vision of the region its "sphere of privileged interest."
The second notable event of the Tashkent Summit was the upgrading of China-Uzbekistan relations to a "comprehensive strategic partnership." Beijing has initiated similar upgrades with a number of countries Former Chinese prime minister Wen Jiabao defined "comprehensive" as meaning that "…the cooperation should be all-dimensional, wide-ranging and multi-layered. It covers economic, scientific, technological, political and cultural fields, contains both bilateral and multilateral levels, and is conducted by both governments and non-governmental groups. By 'strategic,' it means that the cooperation should be long-term and stable…" (Chinamission.be, May 5, 2004).
Examining the other countries with which China recently upgraded partnerships to "comprehensive" indicates Beijing's focus is on its Silk Road Economic Belt initiative, China's bold transportation infrastructure project from China to Europe. In Poland and Serbia, which President Xi visited before arriving in Tashkent, he upgraded China's relations to the same "comprehensive strategic" partnership, identifying those countries' particular roles in the initiative: Serbia as a land-sea express passage and Poland as a hub (Xinhua Net, June 17).
China was ready to upgrade its partnership with Uzbekistan because a major infrastructure hurdle in Uzbekistan, partially funded by China, was recently resolved with the completion and launch of the Angren–Pap railway. President Xi participated in its opening ceremony. For President Karimov, the railroad is an unparalleled project in the history of independent Uzbekistan due to its geographic location and engineering complexities. The Angren–Pap railroad is the last connection that was needed to create Uzbekistan's single national railroad network. For Xi, the railroad is an important link in the Silk Road Economic Belt initiative.
Meanwhile, for Uzbekistan's parliamentarians, this was the first time that a foreign president had ever addressed their body. In an interview with the media, Svetlana Ortiqova, the senate's deputy chair, stated that Uzbekistan treats all countries equally and was not giving special preference to China by allowing Xi to address the legislature in Tashkent. However, she added that Uzbekistan can learn from the National People's Congress' (Chinese parliament) practice of protecting regional and national interests. Though, she did not elaborate on what exactly that meant or how it could be applied to Uzbekistan. At the same time, Ortiqova noted that Karimov respected China for not lecturing him about human rights (BBC—Uzbek service, June 20).
The expansion of the SCO and the future of the organization dominated the Tashkent Summit agenda and clearly highlighted differences in the members' views: Kazakhstan, Uzbekistan and China are wary of further enlargement, while Russia supports this expansion for its own unstated—but perhaps suspect—reasons. China demonstrated steady progress in the Silk Road Economic Belt initiative by upgrading its relations with several participating countries as well as supporting important infrastructure projects there. President Xi's speech before Uzbekistan's young parliament as the first foreign president to do so will go down in the history of the institution. The Tashkent Summit was replete with such historical "firsts" and will possibly be remembered as a turning point for the SCO. But the question is whether that turning point will result in a more effective and expanded organization of Eurasian countries, or whether it will ultimately fail as yet another dysfunctional regional organization due to some of its members' separate, internal agendas.