Future of Ukraine's Gas Transit System Linked with Ukraine-EU Association Agreement
Publication: Eurasia Daily Monitor Volume: 10 Issue: 129
By: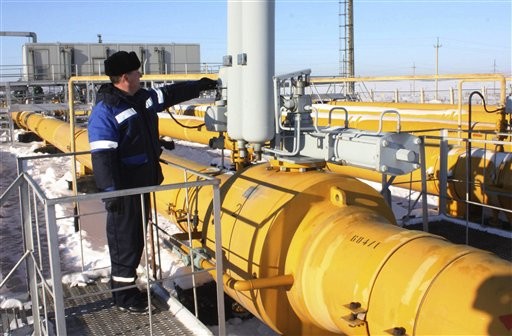 Ukraine stands on the threshold of finalizing the Association Agreement with the European Union, possibly signing it at the Vilnius summit in November. If signed, the agreement would open the way for European comprehensive support to the modernization of Ukraine's gas transit system, which carries at least 60 percent of total Russian gas supplies to Europe. For its part, Moscow presses to wrest control of Ukraine's gas transit system before the Ukraine-EU Association Agreement is signed.
Taking over that transit system is a long-standing Kremlin objective, leveraging Gazprom's supply monopoly in Ukraine. That monopoly is now slowly eroding, but the extortionate pricing mechanism (introduced when Gazprom's supply monopoly was total) continues wielding strong leverage on Ukraine. In parallel, Moscow threatens to shift gas transit flows from Ukraine's pipelines into bypass projects such as South Stream.
The Kremlin wants Ukraine to place the transit system under Gazprom's control in return for Russian gas price cuts and transit flow guarantees. At this point, the Ukrainian government resists a deal along such lines. Yielding under duress or blandishment would doom the signing of the Ukraine-EU Association Agreement. For now, Moscow puts duress at the forefront.
Gazprom has stopped the customary practice of pre-paying Ukraine for the transit of Russian gas to EU territory. Gazprom disbursed the last pre-payment in the amount of $1 billion at the end of June (from a total of $3.5 billion since the beginning of 2012). Gazprom rules out any reconsideration of the matter until January 1, 2015 at the earliest (Interfax, July 9; Kommersant-Ukraina, July 10).
Furthermore, Gazprom's CEO Alexei Miller announced in dire tones that Gazprom would "never again, under any circumstances" use Ukraine's gas storage system in the process of delivering Russian gas to Europe via Ukraine (Kommersant-Ukraina, July 1, 4; Nezavisimaya Gazeta, July 1, 10).
Naftohaz Ukrainy, the state-owned gas importer and transit operator, had been using Gazprom's pre-paid transit fees in order to keep up with payments to the same Gazprom for gas supplied to Ukraine. The pre-paid transit fees were, in practice, reverting to Gazprom. By consenting to such pre-payment, Gazprom slightly mitigated the impact of price extortion on Ukraine while tacitly acknowledging by the same token the reality of extortion. The sale price of Russian gas to Ukraine has averaged $410 to $430 per one thousand cubic meters in 2012 and 2013, thus far (Interfax-Ukraine, Ukrinform, July 3, 9).
Under the 2009 inter-governmental agreement, the price would have exceeded $500 per one thousand cubic meters (almost double the price charged by Gazprom in Germany in 2012–2013). Under the 2010 agreement, the Kremlin granted Ukraine a discount of $100 per one thousand cubic meters, in return for long-term use of the Sevastopol base by Russia's Black Sea Fleet. Combining exorbitant price levels with relatively insignificant price relief devices, Gazprom retained Ukraine as the biggest paying customer for Russian gas; albeit a captive customer, with Naftohaz constantly on the verge of bankruptcy and exposed to Russian takeover.
Gazprom is now turning up the pressure by cancelling pre-payments for Ukraine's transit service, refusing storage service, pushing Ukraine to foot the bill for an extra 5 billion cubic meters (bcm) of stored gas ahead of the heating season, and warning of a replay of the 2006 and 2009 crisis scenarios when it blamed Ukraine for the disruption of gas supplies to Europe.
In the background, Moscow proposes deep price discounts on gas supplies to Ukraine, as well as capital investments to modernize Ukraine's gas transport system. All this is conditional on Gazprom being allowed to operate Ukraine's transit system through a bilateral consortium. Ukraine wants a trilateral, Ukrainian-Russian-European consortium for modernizing the gas transport system; but no European participant can yet be identified. In recent months, Moscow has also hinted that Ukraine could qualify for gas price discounts by joining the Russian-led Customs Union.
Moscow insists that it would proceed with construction of South Stream, bypassing Ukraine, regardless of Kyiv's decisions on a bilateral gas transport consortium. Moscow may well be bluffing on South Stream altogether, or perhaps intending to build only one string instead of four. One string could allow diverting 15 bcm annually away from Ukraine's gas transit system, which already operates below capacity.
Ukrainian government officials are understandably worried about South Stream. According to Deputy Prime Minister Yuriy Boyko (responsible for the energy sector), Ukraine is disappointed to see European companies working with Gazprom on South Stream. Being a party to the European Energy Community, Ukraine is "dissatisfied with the European Commission's ambiguous position" on South Stream, declared Boyko in the Ukrainian parliament (UNIAN, July 5).
Such signals deserve serious consideration in Brussels, particularly with South Stream threatening the EU's own Third Energy Package legislation. Perceived ambiguity toward South Stream in Brussels might cause some Ukrainian interest groups and their political representatives to lose confidence in a European solution to the problems of Ukraine's gas transit system.