Gas Lobby Takes Control of Ukraine's Security Service
Publication: Eurasia Daily Monitor Volume: 7 Issue: 53
By: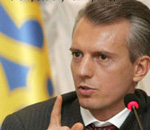 On March 11, the Ukrainian parliament appointed Prime Minister, Nikolai Azarov, and a new Security Service (SBU) Chairman, Valery Khoroshkovsky. As Ukrayinska Pravda (February 24) warned: "An additional bonus for the Liovochkin-Firtash group could be the appointment of Khoroshkovsky as the head of the SBU or interior minister, for which they are actively lobbying." The Head of the Presidential Administration, Serhiy Liovochkin, has close ties to the gas lobby, formed while he served as a senior adviser to President Leonid Kuchma. Another representative, Yuriy Boyko, was appointed Minister of Fuel and Energy in the Azarov government.
An extensive Ukrayinska Pravda investigation (July 30, 2008) was entitled "Khoroshkovsky as a mask for Firtash?" Dmytro Firtash owns 45 percent of the opaque gas intermediary RosUkrEnergo (RUE), with 5 percent owned by another Ukrainian, Ivan Fursin, and 50 percent by Gazprom. RUE was established in 2004 by Kuchma and the then Russian President Vladimir Putin.
RUE was removed from the Ukrainian-Russian gas trade by the 2009 gas contract signed between Prime Ministers Yulia Tymoshenko and Putin. From 2004 to 2008, RUE had the support of not only the gas lobby in the Party of Regions, but also President Viktor Yushchenko whose brother, Our Ukraine deputy, Petro, is a gas trader.
Yushchenko intervened in the summer of 2005 to halt the arrest of Boyko for abuse of office when he headed Naftohaz. The arrest was ordered by the then-SBU Chairman, Oleksandr Turchynov, the head of Tymoshenko's 2010 election campaign. The 2006 gas contract that reconfirmed RUE's role was signed by the head of Our Ukraine, Yuriy Yekhanurov, a Yushchenko loyalist during the latter's term as Prime Minister.
Khoroshkovsky's appointment is controversial for three reasons:
First, it cements the gas lobby's control of the Ukrainian president's domestic and foreign policies.
Second, Khoroshkovsky is a billionaire and his appointment makes a mockery of the separation of business and politics. The Head of the Parliamentary Committee on National Security and Defense and former Defense Minister, Anatoliy Grytsenko, said that Yanukovych's government appointments showed that he was disinterested in separating business and politics (Radio Svoboda, March 11).
It is doubtful, Grytsenko believes, that these billionaires would first and foremost defend state interests and undertake reforms. Ukrayinska Pravda (March 12, 13) ran two lengthy articles on the large number of oligarchs appointed to the Azarov government, presidential administration and security forces. Azarov responded to journalists' questions on Khoroshkovsky by saying, "The state of his wallet should not be the basis for accusations leveled against him" (www.pravda.com.ua, March 11).
On March 4, 2009, First Deputy SBU Chairman Khoroshkovsky ordered an Alpha Spetsnaz unit to raid Naftohaz, in an operation that was widely condemned as directed against the Tymoshenko government. Khoroshkovsky was acting on behalf of Firtash, incensed that 11 billion cubic meters (bcm) of gas in storage, worth $2 billion, that RUE claimed belonged to it, had been expropriated by Naftohaz and Gazprom.
Firtash is seeking shares in the revived proposal for a gas consortium as compensation for the gas (EDM, February 14). The consortium was first unveiled in 2002 by Kuchma and Putin.
Yushchenko, who has always been a critic of the 2009 gas contract, gave his support to the 2009 SBU raid. Parliament was incensed: 391 voted to establish an investigative commission and Grytsenko demanded Yushchenko replace Khoroshkovsky. First Deputy Prime Minister, Turchynov said, "We will not tolerate corrupt practices in the energy sector. The days of shadowy intermediaries are over" (www.pravda.com.ua, March 6, 2009).
Khoroshkovsky's appointment ignored his rejection by a majority vote in parliament's committee on national security and defense. Grytsenko said that the head of a law enforcement organ could not be a leading businessman, with media resources, as this was an obvious conflict of interest (www.grytsenko.com.ua, March 11). Grytsenko told parliament that the SBU chairman should be a "person who has a view of its perspective and development, who professionally understands the sphere and which does not lead to conflict in ethical and corporate standards."
In addition to RUE, Khoroshkovsky and Firtash are business partners in Ukraine's most viewed television channel, Inter. Khoroshkovsky is President of Evraz Holdings, and the head of the oversight board of the Ukrainian Independent TV-Corporation that owns Inter. Firtash owns 61 percent of the media corporation, according to Ukrayinska Pravda (July 30, 2008).
In the first half of the 2010 election campaign, Inter had given former parliamentary speaker, Arseniy Yatseniuk, wide visibility as a candidate. He was then seen as Tymoshenko's main rival for the "Orange" vote and Inter's coverage aimed to undermine Tymoshenko's election.
Grytsenko had earlier condemned Yushchenko's appointment of Khoroshkovsky as SBU First Deputy Chairman in January 2009. His appointment was widely seen as Yushchenko using the SBU against Tymoshenko who had removed Khoroshkovsky as head of the Customs Service where he had served in 2007-2009. Grytsenko has long been critical of the continued "politicization" of the SBU, whose practice of interfering in domestic politics under Kuchma did not end under Yushchenko. This practice could continue under Yanukovych, but with different nuances.
On the same day that he was appointed, Khoroshkovsky told journalists that the SBU would cut back on its work in the secret Soviet archives (www.pravda.com.ua, March 11). That same day, President Yanukovych issued decree 312 to remove Volodymyr Viartovych as the Director of the SBU's Department of Archives (www.president.gov.ua, March 11). One of the first steps Yanukovych took when the archive was transferred to him was to remove the large 1933 famine (holodomor) section, established by his predecessor.
A court rejected a private complaint filed against the Donetsk newspaper, Rodnoe Pryazovie, for publishing an article on November 25, 2009 claiming that holodomor was not "genocide" against Ukrainians (www.pravda.com.ua, March 12). The complaint was based on an October 2006 law on the famine lobbied by Yushchenko, backed by the unveiling of SBU archives and voted through by Our Ukraine, the Yulia Tymoshenko bloc and Socialist Party.
The Party of Regions and Communist Party did not vote for the 2006 law and their critical views of Yushchenko's holodomor campaign as "genocide" is now official policy, as both factions are members of the ruling coalition underpinning the Azarov government. In August 2009, a letter from Russian President Dmitry Medvedev to Yushchenko strongly condemned Yushchenko's international and domestic campaign to portray the holodomor as "genocide."
Khoroshkovsky's, Boyko's, and Levochkin's appointments testify to the fact that Yanukovych has sanctioned the gas lobby and RUE is back in business, signaling a possible resurgence in corruption.