Moscow Exploits TV Invasion Hoax to Isolate Georgia
Publication: Eurasia Daily Monitor Volume: 7 Issue: 53
By: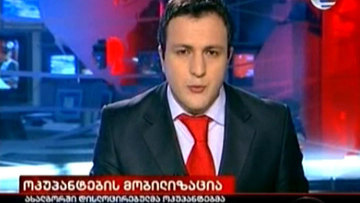 On March 13, the pro-government, Imedi TV broadcasted what appeared to be a documentary report about a new Russian invasion that led to President Mikheil Saakashvili's assassination. The program caused widespread public panic despite the Imedi anchor's announcement (immediately after reporting Saakashvili's death) that the events took place in the future –on June 7, 2010– the opening day of the soccer World Cup in South Africa (Kommersant, March 15).
The narrative of the Imedi program accused the Georgian opposition of organizing street protests in Tbilisi to protest against alleged fraud in local elections scheduled for May 30. Unknown gunmen opened fire on opposition demonstrators in Tbilisi, causing casualties. The enraged opposition called on the international community to intervene, to oust the "Saakashvili tyranny." The incident in Tbilisi was then followed by an ambush in the South Ossetian capital, Tskhinvali, that killed the separatist leader, Eduard Kokoiti. Moscow allegedly announced it had proof of Georgian security services' involvement in the "terrorist attack." Pro-Russian opposition figures led by the former parliamentary speaker, Nino Burdzhanadze, traveled to Tskhinvali and accused Saakashvili of killing Kokoiti. Russian and Georgian armed forces were mobilized. A hastily organized pro-Russian "people's government" led by Burdzhanadze declared the "Saakashvili regime" illegal. President Dmitry Medvedev allegedly announced: "Since the Saakashvili regime began open terrorism against South Ossetia, this international criminal must be stopped. I have ordered a military operation, and call on the Georgian people not to resist the troops that bring them freedom." Russian tanks, advancing from their forward base in the Akhalgori region of South Ossetia, entered Tbilisi. Several Georgian army battalions were reported to have switched sides. Saakashvili was reported as killed. The West did nothing, but issued halfhearted protests (www.apsny.ge, March 17).
EU officials and Western ambassadors in Tbilisi denounced the Imedi hoax as an unwelcome provocation that does not help to build stability in the region (RIA Novosti, March 16). The Georgian authorities denounced Imedi for provoking a panic. However, Saakashvili announced that the narrative was not unrealistic and "our enemy may be preparing something similar" (Kommersant, March 15). The Russian foreign ministry accused Saakashvili of approving the Imedi broadcast, and being paranoid as well as raising tension, "undermining security and stability in the region." Russian officials declared that Georgia is now internationally isolated (www.mid.ru, March 15).
Burdzhanadze, who was portrayed as pro-Russian, reacted angrily and accused Saakashvili of masterminding the deception to undermine his political opponents. Burdzhanadze visited Moscow this month to meet with Russian Prime Minister, Vladimir Putin, and other officials. Burdzhanadze announced that Georgia is isolated internationally, and Putin is better than Saakashvili, because he told her the brief Russian-Georgian war in August 2008 "was a tragedy for both nations." According to Burdzhanadze, Saakashvili is creating conditions for a new war and only dialog with Moscow may prevent it, but no one will talk with the present regime (RIA Novosti, March 15). Burdzhanadze has adamantly denied that she is pro-Russian, but her public statements seem to be fully in line with those coming from Moscow.
Moscow and Tbilisi have been constantly exchanging accusations. The Chief of Russian military intelligence (GRU), Lieutenant-General Alexander Shlyakhturov, supported by the foreign ministry, accused Georgia of preparing a new war (ITAR-TASS, November 5, 2009). The First Deputy Defense Minister and Chief of the General Staff, Army-General Nikolai Makarov, has announced that "Georgia's military might is constantly growing" and is already greater than in August 2008 (Interfax, November 11, 2009). The Georgian Defense Minister Bacho Akhalania, confirmed: "Today our armed forces are better ready to defend the country than a year ago, and will be even stronger in six more months" (Civil Georgia, November 14, 2009). The Russian interior ministry has accused Georgia of training terrorist groups to destabilize the situation in the North Caucasus (RIA Novosti, January 15). The Federal Security Service (FSB) has accused Georgian special services of organizing bombings of railroads, electric power lines, and gas and oil pipelines in Dagestan (ITAR-TASS, February 3).
Snow avalanches in winter, mudslides in the spring, or rain in the summer are elements which separate South Ossetia from Russia. The Akhalgori region is only 50 kilometers of relatively good road from Tbilisi, while a very bad dirt track hastily built by the Russian military connects it to Tskhinvali. After Russian forces seized full control of Abkhazia and South Ossetia, plans were announced to drastically improve the transportation infrastructure, connecting these separatist regions with the North Caucasus; but the great mountains are a formidable barrier. High-level corruption in Abkhazia, Russia, and South Ossetia are an additional hazard, and from August 2008 to January 2010 little has been done to improve the roads or to repair the overall infrastructural collapse in Abkhazia or South Ossetia. New plans have been announced to spend 15 billion rubles ($500 million) to renovate the Soviet-built Roki tunnel that links South Ossetia to Russia and turn this connection, officially known as the "Transcaucasian highway," into an "all-seasons road." However, that work is not planned to begin until 2011 (RIA Novosti, January 10).
This precarious situation may partially explain Russian as well as South Ossetian paranoia – constant accusations that the Georgians are "preparing a new aggression." In Abkhazia, the situation is more stable, but in South Ossetia, for at least six months each year, the Russian military consider themselves to be cornered. It would seem prudent from the perspective of Russian military and political planners not to sit passively waiting for the Georgians to choose the time and weather conditions to launch an attack, but to take the initiative and mobilize air, land and sea forces in advance; deploy and prepare to fight at a time and place of Russian convenience. In the current environment, with a pro-Russian government in Ukraine, the price of oil has reached over $80 a barrel, Saakashvili is seemingly isolated and the West is –in many some people's opinion– apparently impotent. When everything is ready, including propaganda ploys to explain to the world why Russia was compelled to use force, a series of provocations may ignite a war that could allow Russian forces to break out of the seclusion of the South Ossetian and Abkhazian enclaves to dominate once again the entire former Soviet South Caucasus.