Gazprom-Austrian OMV Agreement: A Political Blow To Nabucco
Publication: Eurasia Daily Monitor Volume: 8 Issue: 36
By: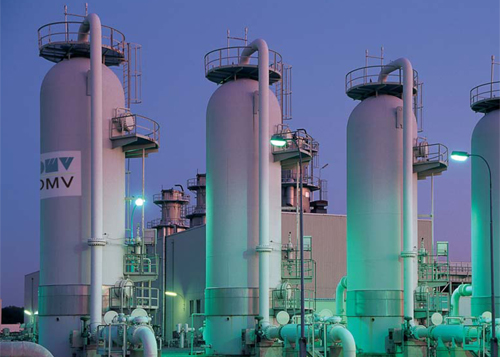 After selling a large block of shares in Hungarian MOL to the Kremlin-connected Surgutneftegaz, Austrian OMV CEO Wolfgang Ruttenstorfer's final gift to European energy security is an agreement with Gazprom that interferes with the EU-backed Nabucco project. On February 21 in Moscow, Gazprom CEO Aleksei Miller announced that Gazprom and OMV had, three weeks earlier (February 1), officially registered a joint venture to build and operate the Austrian section of Gazprom's planned South Stream pipeline. OMV's spokesmen confirmed Miller's announcement (Interfax, RIA Novosti, Austria Presse Agentur, February 21).
OMV is also a stakeholder in the Nabucco project (indeed, it was the initiator a decade ago for Iranian gas) and it often speaks on behalf of the Nabucco consortium. Unlike other Nabucco participant countries, which also signed up for South Stream (only to lose confidence in it afterward), OMV plays a lead role in Nabucco, while at the same time pursuing its own business interests with Gazprom. Thus, OMV's dual role in Nabucco and South Stream can raise potential issues of conflict of interest. The Austrian government via the holding OIAG is a major stakeholder in OMV.
Registered in Vienna as Austria South Stream, the joint venture of Gazprom and OMV envisages building the 50 kilometer pipeline on Austrian territory. The 50-50 joint venture has a management board of four, including two Gazprom and two OMV executives. Of these, Gazprom's Vice-President, Aleksandr Medvedev, and OMV Gas & Power division chief, Werner Auli, have the highest public profile. A feasibility study for this section is to be drawn up during this year's first quarter. The Austria South Stream's incorporation grows out of an Austrian-Russian inter-governmental agreement and a Gazprom-OMV cooperation agreement, both signed in April 2010 (Wirtschaftsblatt, Die Presse, February 21).
South Stream's planned Austrian route practically duplicates Nabucco's planned route, from Hungary to the Nabucco terminus at Baumgarten near Vienna. Measuring as it does only 50 kilometers, this section looks affordable for the cash-strapped Gazprom to co-finance. Baumgarten is the location of gas storage sites and the gas distribution center (Central European Gas Hub), initially designated as the distribution center for the Nabucco project. The Gazprom-OMV agreement raises at least theoretically the possibility that the South Stream pipeline could outrun and overtake Nabucco in Austria, with Gazprom reaching Baumgarten ahead of the EU-backed project.
Given Gazprom's failure to identify gas and investment resources for South Stream overall, its Austrian move continues the political and public-relations hype on behalf of this project as a Nabucco-stopper. At this level, the move reflects Gazprom's tactics of preemptive occupancy and denial-of-access, designed to impede rival projects (Russian oil companies also use this tactic). This is the South Stream project's main role in the Nabucco-participant countries. The proposed pipeline section in Austria is likewise designed to discourage investment in the Nabucco project, making it seem trailing behind the Russian project and facing redundancy. The possibility of Gazprom partially controlling the Baumgarten distribution center and sales platform can also undermine Nabucco's strategic rationale.
Gazprom's move in Austria forms part of its general mobilization of business and political allies in Europe to stop the Nabucco project. Thus, it proposes stakes in South Stream to Electricite de France and apparently Wintershall, for added political weight in the EU. Some of Gazprom's allies are lobbying for South Stream outright. Others call for "level-playing-field" treatment of gas projects by the European Commission and European lending institutions, so as to equalize the status of Nabucco, other EU Southern Corridor projects, and Gazprom's South Stream, irrespective of European energy security policies (EDM, February 17).
Moscow is also multiplying offers of gas supplies and/or transit to other countries via South Stream. The project is one with variable geometry, calculated to play off the potential transit and customer countries against each other. Toward this end, Moscow is offering to lay a transit pipeline section in Slovenia (STA, Wirtschaftsblatt, February 16). This proposal is bound to raise questions about Gazprom's actual intentions regarding pipeline routes in Hungary and even Austria.
Gazprom's efforts are essentially political, reacting to the Nabucco project's recent advances, as seen during the European Commission's top-level visits to Azerbaijan and Turkmenistan. The latter country's public endorsement of a trans-Caspian pipeline for massive volumes of Turkmen gas, earmarked for Nabucco and other European Southern Corridor projects, must have unnerved Gazprom (EDM, January 19, 20). On the other hand, recent reports about Nabucco project cost overruns (or underestimations) seem to embolden Gazprom's efforts at undermining the project. Meanwhile, the European Commission and the Nabucco consortium seek a final investment decision in the first half of the current year for the transportation project. The Shah Deniz gas producers' consortium in Azerbaijan is also approaching a final investment decision in Phase Two of the extraction project. Gazprom apparently regards this moment as Nabucco's make-or-break, and is acting to precipitate the latter.