Gazprom Required to De-Monopolize Access to German OPAL and NEL Pipelines
Publication: Eurasia Daily Monitor Volume: 9 Issue: 56
By: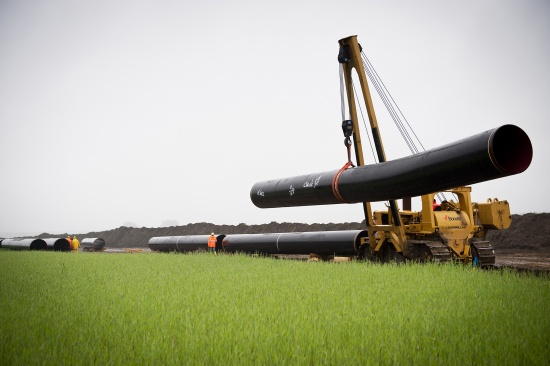 The European Commission has ruled that the Gazprom-led consortium, Nord Stream, must allow other gas suppliers to share the capacities of that consortium's pipelines on German territory (Kommersant, March 15; Interfax, March 19). This requirement, known as third-party access, is based on the EU's competition law and EU energy market legislation (natural gas and electricity). It is designed to mitigate the effects of vertically integrated monopoly arrangements, forcing a monopoly supplier to grant access to its own infrastructure for third-party competitors in a given market.
The objects of the Commission's decision are the OPAL and NEL gas pipelines in Germany. These lines connect the Nord Stream offshore pipeline (transporting Gazprom's gas on the Baltic seabed) with Germany's interior and farther afield in Europe. In effect, the Commission has denied the requests for OPAL and NEL to be exempted from third-party access.
OPAL (Ostsee Pipeline Anbindungs Leitung, or Baltic Connector Pipeline) starts from the maritime Nord Stream's landfall point, at Lubmin near Greifswald on the Baltic coast. It runs 470 kilometers southward to the German-Czech border, enters for a short distance into Czech territory, and turns westward into Germany again. Owned 80 percent by the Gazprom-Wintershall joint venture Wingas (as OPAL's operator), and 20 percent by E.ON Ruhrgas, OPAL was completed and connected with the offshore Nord Stream pipeline in 2011, at a cost of €1 billion ($1.3 billion). OPAL has an annual capacity of 35 billion cubic meters (bcm), all dedicated to Gazprom's gas (until the European Commission's decision).
NEL (Norddeutsche Erdgas Leitung, or North German Natural Gas Pipeline) runs also from Lubmin, westward to Hamburg and toward the border with the Netherlands. NEL runs for 440 kilometers, with an annual capacity of 20 billion cubic meters, and is connected with the Rehden gas storage site (Germany's largest). It is due to be completed and connected with the offshore Nord Steam in 2012-2013, at a cost of another €1 billion. NEL's owners are Wingas again with 70 percent (and NEL operator), E.ON Ruhrgas with 10 percent and Nederlands Gasunie (a late entrant) with 20 percent of the shares.
OPAL and NEL exemplify the implantation of Gazprom-led, vertically integrated monopoly arrangements in Germany, where Gazprom acts as the supplier and co-owner of the transmission infrastructure at the same time. A similar example is Wingas, a parity venture of Wintershall and Gazprom, with jointly owned distribution pipelines in Germany and extending into neighboring countries. Wintershall has long been a trailblazer of such arrangements for Gazprom. Their joint venture Wingas also operates the Rehden storage site, with a capacity of 4.2 bcm, situated in Germany's north-west, whence Gazprom also targets the Dutch market.
In 2009, German regulatory authorities had granted OPAL exemptions from third-party access and from transit-fee regulations for a period of 22 years of operation. NEL had applied for similar privileged treatment, with the outcome uncertain, although Moscow seemed to feel confident of success. The European Commission, however, has now disallowed those anti-competitive exemptions. As a consequence, OPAL and NEL would have to make available from 35 percent to 50 percent of pipeline capacities for other gas suppliers – potential competitors to Gazprom.
The combined capacities of OPAL and NEL add up to 55 bcm annually, coinciding with the combined capacities of the Baltic offshore pipelines, Nord Stream One and Two, at 27.5 bcm of Russian gas annually each. Nord Stream One is operational since 2011 (though well below capacity), Nord Stream Two is planned to become operational in 2013 (though far from certain). If the Commission's decision is enforced, Gazprom could then use 65 percent of NEL's capacity and 50 percent of OPAL's capacity for Gazprom's own gas. With Gazprom and its Nord Stream consortium partners limited to using only parts of OPAL's and NEL's capacities, it follows that Gazprom would have to reduce its gas deliveries through the Nord Stream pipeline(s) correspondingly.
Whether Gazprom has the gas volumes available to deliver 55 bcm annually through Nord Stream One and Two is doubtful, particularly since the mothballing of the Shtokman offshore gas extraction project. Nord Stream forms a major element in Gazprom's strategy to build surplus export pipeline capacities, so as to play various transit and consumer countries against each other. This strategy pre-dates the 2009-11 economic crisis in Europe and Russia. If Gazprom and its partners are serious about building Nord Stream Two, it would signify a return to that strategy in the post-crisis period.
Moscow presents Nord Stream (as it does South Stream) as a competitive threat to Ukraine's gas transit system. Threatening to re-direct export volumes from Ukrainian transit into Nord Stream (as it successfully threatened Belarus, and might not be above acting similarly in Poland with the Yamal pipeline), Moscow seeks to intimidate transit countries into ceding control of their pipelines to Gazprom. If, however, Gazprom must downsize exports via Nord Stream to the level of pipeline capacities available to Gazprom in the OPAL and NEL pipelines, this would mitigate Gazprom's threats to redirect major transit volumes away from Ukraine.
The threat to Ukraine rests mainly on the South Stream project, however. Gazprom has recruited a new chairman of South Stream's board of directors. He is Henning Voscherau, former mayor of Hamburg, Social-Democrat politician and brother of Eggert Voscherau, board chairman of BASF, the parent company of Wintershall, Gazprom's partner in Wingas (Interfax, March 20).