Gazprom Takes Over Wintershall's Core German Business
Publication: Eurasia Daily Monitor Volume: 11 Issue: 10
By: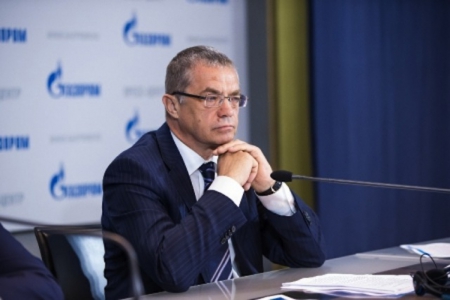 On January 13, Gazprom Vice-President and Gazprom Export CEO Aleksandr Medvedev dropped by an annual meeting of Wintershall's staff, at company headquarters in Kassel. It was, in this case, the guest who did the welcoming: Medvedev welcomed WINGAS, the Wintershall-Gazprom joint venture, to "become a part of Gazprom's family" (Gazprom press release, January 14).
Wintershall has conducted most of its core business in Germany through the WINGAS joint venture with Gazprom. The shareholding was 50 percent plus one share with Wintershall and 50 percent minus one share with Gazprom; more recently cited as 50.02 percent with Wintershall and 49.98 percent with Gazprom. The Russian company is now turning WINGAS into a fully-owned subsidiary of Gazprom; and with this, it takes Wintershall's crown jewels in Germany.
For losing WINGAS ("in return" would be an exaggeration), Wintershall receives 25 percent of the shares in two blocs of Achimovsk, a Siberian medium-sized gas field, where Gazprom is in control as the license holder. Capping two years of negotiation, the two companies signed the final "swap" agreement on December 23, 2013 in Moscow.
Wintershall is the natural gas arm and fully-owned subsidiary of BASF, the world's largest chemical concern. Wintershall is a big natural gas trader and major infrastructure operator in Germany and beyond. But it lacks independent access to such natural gas reserves as would be commensurate with the great scale of Wintershall's gas trade and infrastructure projects. In both of these aspects, Wintershall could only sustain its core business interests through the WINGAS joint venture with Gazprom—in effect, piggybacking on the Russian company. This one-sided dependence also helps explain Wintershall's close alignment with Gazprom's policies and projects in Europe.
WINGAS supplies industrial companies, municipal utilities, and power plants with natural gas, mostly of Russian provenance. It also holds stakes in major pipelines and storage sites for gas. It marketed 40 billion cubic meters (bcm) in 2012, according to the latest annual figure made public by the company (Wintershall press release, January 13). It holds a steady 20-percent market share in Germany and it also delivers natural gas to the Netherlands, Belgium, Denmark, Austria and the Czech Republic. The top management at WINGAS consisted of two Germans and two Russians, prior to Gazprom's full takeover (wingas.com, accessed January 15).
From Gazprom's perspective, sharing control over WINGAS with Wintershall has apparently outlived its usefulness. Gazprom is calling its chips in, buying Wintershall out (and on the cheap in Achimovsk). The German side had to accept this. "BASF/Wintershall and Gazprom have agreed that the gas trading and the storage business, hitherto jointly conducted, will be transferred in full to Gazprom. Wintershall will exit the gas trading and storage business" (wingas.com, accessed January 15). "Wintershall will completely transfer the currently jointly operated natural gas trading and storage business to its long-term partner Gazprom… As a result of this, WINGAS will henceforth become a 100-percent subsidiary of Gazprom" (BASF press release, December 23, 2013). And according to the jointly held WINGAS itself, "our shareholders BASF/Wintershall and Gazprom have agreed [that] the hitherto jointly operated natural gas trade and storage business, including WINGAS, will be entirely transferred to our shareholder Gazprom (wingas.com, accessed January 15).
Along with WINGAS, two other gas-trading companies are passing from joint, 50-50 Wintershall-Gazprom ownership into 100-percent ownership of Gazprom. Those are WIEE in Berlin and WIEH in Zug (Switzerland), trading mostly with natural gas of Russian provenance. The Berlin house buys and sells natural gas in Germany. The Swiss-based house acts as an intermediary for Gazprom in supplying natural gas to certain countries in Central and Southeastern Europe.
Furthermore, Gazprom now acquires 50 percent ownership in Wintershall's Netherlands-based exploration and production company, Wintershall Noordzee, fully owned by Wintershall until now. This company owns/operates oil and gas exploration projects in the North Sea's British, Dutch, and Danish sectors (Wintershall and Gazprom press releases, December 23, 24, 2013; naturalgaseurope, January 12, 2014).
The information made public by the companies involved does not mention monetary value of the various assets that are changing ownership. Whether monetary transactions are involved in some of these cases, if at all, seems far from clear. The companies present these asset transfers and ownership changes as amounting to one "swap," whereby Gazprom takes over WINGAS and other Wintershall assets in Germany and beyond, "in return" for which Wintershall receives a minority stake in Russia's Achimovsk gas project.
Wintershall receives 25 percent plus one share in Achimovsk's blocks 4A and 5A. Gazprom apparently retains control through its fully owned subsidiary, Gazprom Dobycha Urengoy, the license-holder ("Nedropol'zovalel") of Achimovsk. This is a Siberian medium-sized gas field, mostly located in the wide Urengoy perimeter. Blocks 4A and 5A together hold 274 billion cubic meters of natural gas and 74 million tons of condensate. The German company's announcement says that those numbers are "according to the development plan confirmed by the Russian mining authority" (a slight hedge there) (BASF press release, December 23, 2013).
Achimovsk, alongside the Yuzhno-Russkoye field in the same basin, had been offered to Wintershall and E.ON, respectively, since 2003. Production had started as a "pilot" operation at one Achimovsk block since 2008. The start of commercial production at both blocks is now planned for 2016. Achimovsk is presented as Russia's offer in a "swap of assets of equivalent value" with Wintershall (see accompanying article).