GAZPROM'S EUROPEAN EXPANSION DILEMMA
Publication: Eurasia Daily Monitor Volume: 5 Issue: 149
By: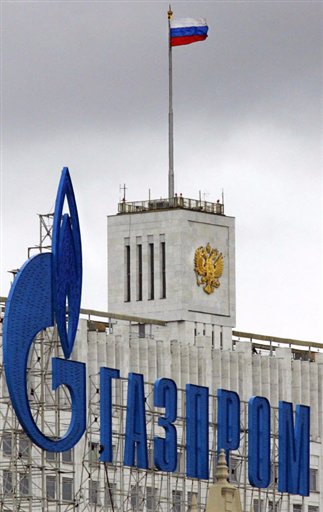 Gazprom's web in Europe continued to expand when the Russian state-owned gas monopoly announced that it would begin supplying gas to Ireland through its subsidiary Gazprom Marketing and Trading. Precise terms of the deal, however, have not been revealed. (Moscow Times, July 5).
Gazprom plans to supply about 10-15 percent of Ireland's gas in the first five years of operations in the country. Ireland is the 23rd European country where Gazprom will sell its gas to consumers.
The Gazprom juggernaut is an impressive one. During Vladimir Putin's presidency it managed to be listed on the London stock exchange and rapidly rose to become the third largest company in the world, according to market capitalization.
Alexei Miller, the CEO of Gazprom, and his team of executives have been able, with the political support of the Kremlin, to acquire numerous gas distribution companies throughout the EU. They have also purchased a 50 percent interest in the strategic gas hub in Baumgarten, Austria.
The downside of these expensive acquisitions for Russia is that European countries have begun diversifying suppliers. Energy analysts such as Nikos Tasfos of PFC Energy, a Washington-based energy consultancy, are predicting that Gazprom's share of the European market will not increase by 2020 and that it might decrease.
Much criticism has been leveled at the EU for not having a common energy policy, which hinders its ability to negotiate with Gazprom as a bloc of importers. The EU cannot, however, have a united stance when it comes to energy dependence on Russia. Many EU countries are more dependent today on North Africa (Algeria and Egypt) and Qatar for liquefied natural gas (LNG) than on Russia. Non-Russian LNG is carving an important niche for itself in European markets. Spain, for example, is not importing any Russian gas, and it gets 60 percent of its imports (the limit currently allowed by Spanish law) from Algeria.
There simply cannot be a common EU-wide policy toward Russian gas imports as long as dependence on Russian energy is so widely varied.
The brief January 2006 cutoff of Russian gas transiting through Ukraine forced many EU countries to sign delivery contracts with North African and Norwegian producers. The net result, according to Tasfos, indicates that the Russian share of European imported gas will remain at roughly 25 percent or less by 2020.
The second potential problem faced by Gazprom's heavy investments in the EU market will be its ability to supply the rising Russian domestic demand for gas, while meeting its long-term export contracts. This requires the company to engage in a number of juggling acts.
Russian planners have consistently underestimated the rapid growth of gas consumption within Russia and the EU's newly found ability to find alternative sources. A 2005 study prepared by Gazprom's Research Institute for the Economics of the Gas Industry, NIIGazekonomika, revealed in a 2005 report that domestic consumption of natural gas was increasing at a faster pace than projected in Russia's Energy Strategy, the official guidelines for the energy sector adopted in May 2003.
NIIGazekonomika found that earlier projections of Russian domestic consumption of gas were based on unreliable Soviet era data and were found to be off the mark by tens of billions of cubic meters (bcm). Domestic consumption, they claimed, was rapidly growing due to a number of factors: (1) The low price of gas for domestic consumers, which has been encouraging consumption; (2) The energy intensive nature of Russian industry; (3) Gazprom's monopoly of the Russian pipeline system; by trying to maintain this monopoly, Gazprom has discriminated against independent producers of gas by limiting their access to the system (this applies mostly to oil companies, which are forced to flair off billions of cubic meters of associated gas); (4) Gazprom's reluctance to investment in new gas fields that would replace the four currently producing fields, all of which are facing severe depletion rates; and (5) Russia's pressing need to rely on the sale of relatively small quantities of Central Asian gas to Europe (10 bcm) in order to meet domestic needs and new export commitments. This quantity is bound to increase dramatically in the next few years.
On July 7 the Russian Daily Kommersant reported that Russian Deputy Prime Minister Igor Sechin had ordered Gazprom and the Federal Antimonopoly Service to expedite independent Russian gas producers' access to Gazprom's gas pipeline system.
Sechin, widely regarded as the head of the siloviki or power clan in Russia, is also the chairman of the board of Rosneft, Russia's largest oil company. Rosneft produces some 6.6 bcm of associated gas. Other independent gas producers (Novatek produces 15 bcm, Lukoil and Surgutneftegas seven bcm each, and TNK-BP 4.9 bcm) account for a combined total of 14-16 percent of all Russian gas production. All have faced obstacles from Gazprom in selling their gas, and many are flaring it off.
These companies are currently being offered $46 per 1,000 cubic meters by Gazprom for their gas, while the price on the Russian market is $71 per 1,000. At the same time, Gazprom sells gas for an average price of $400 per 1,000 cubic meters in Europe.
Adding to the current uncertainty, Russian President Dmitry Medvedev's trip to Central Asian gas producing countries last month did not result in any firm commitments, only vague agreements in principle from the leaders of those countries to come to Russia's rescue. Those countries have discovered new markets in China and India and are complicating Moscow's ambitious plans in Europe.