PRIME MINISTER DOMINATES ECONOMIC, FOREIGN AND SECURITY POLICY
Publication: Eurasia Daily Monitor Volume: 5 Issue: 150
By: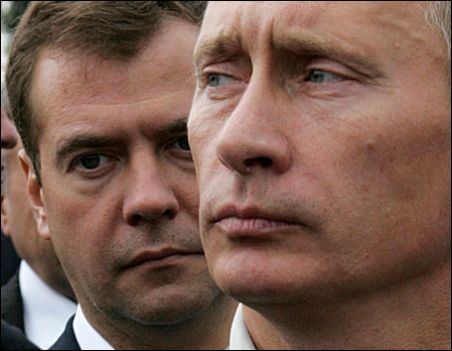 The recent controversy surrounding the coal and steel producer Mechel has sparked speculation about a rift between President Dmitry Medvedev and Prime Minister Vladimir Putin. In a meeting with metals tycoons in Nizhny Novgorod on July 24, Putin accused Mechel of selling coking coal, one of the materials used in steelmaking, to domestic customers at double the price it was selling it for abroad and said that the Federal Anti-Monopoly Service and perhaps even the Investigative Committee at the Prosecutor General's Office should look into Mechel's pricing policies. He also threatened to "send a doctor" to the company's owner, Igor Zyuzin, who failed to attend the meeting because he had been hospitalized the previous day. The comments sent Russia's stock markets, and particularly Mechel share prices, plunging (see EDM, July 29).
On July 28 Medvedev's aide Arkady Dvorkovich, apparently seeking to calm the markets, held a press conference at which he praised Mechel for cooperating with the Federal Anti-Monopoly Service and said that he hoped "these events" would be "a lesson for everybody, not just for Mechel, but for every company; and we will all act in a civilized way." Yet within hours, Putin struck again, declaring that Mechel had evaded taxes by selling its products to offshore companies it controlled in Switzerland. Later that day, the Investigative Committee at the Prosecutor General's Office said that it was considering bringing criminal charges against the company, in addition to the charges of price-fixing being investigated by the Federal Anti-Monopoly Service (Moscow Times, July 29).
On July 31 Medvedev made comments widely interpreted as a response to Putin, telling a conference for small and mid-sized businesses in the Smolensk Oblast city of Gagarin that "law enforcement agencies and government authorities need to stop causing nightmares for business." "We need to create a normal investment climate in our country," Medvedev said, adding, apparently to emphasize his call to stop pressuring business, "You can consider that the signal has been given" (Financial Times, AFP, July 31). Also on July 31, the Financial Times quoted Igor Yurgens, who heads the Institute of Contemporary Development, a think-tank that advises Medvedev, as criticizing Putin more directly than did the Russian president. "It is not correct to destroy your own stock market," Yurgens told the newspaper. "It's just not the right thing. There are 150 ways of resolving problems with Zyuzin without resorting to such comments."
Following the Mechel incident, an apparently unapologetic Putin spoke out about foreign policy and security issues in a manner that would appear to encroach on the constitutional prerogatives of the Russian president. Following a trip to Cuba by two long-time Putin allies and representatives of the "siloviki" hardliners, Deputy Prime Minister Igor Sechin and Security Council Secretary Nikolai Patrushev, Putin declared during a cabinet meeting: "We need to reestablish positions on Cuba and in other countries" (Interfax, August 4). Putin also told his cabinet on August 4 that while "serious blows" had been dealt to terrorist leaders and networks, a "very serious" terrorist threat remained and "tens of billions" of rubles would be provided for the federal anti-terrorism program (RIA-Novosti, August 4).
Just several days earlier, a foreign ministry official who asked to remain anonymous had told a group of journalists, "In the role of prime minister, Vladimir Putin may be even more influential in the area of foreign policy, since he is engaged in real matters, about what Russia will be in five to 10 years. He is more involved in that than the president" (Vremya novostei, July 30).
Putin's attack on Mechel was "a demonstration of who is engaged in 'real matters' in Russia today," Kirill Rogov wrote in Novaya gazeta. "And in Putinite Russia, the one engaged in 'real matters' is undoubtedly he who can give instructions about where and at what price you should sell your products, which company the control organs should concern themselves with, who should merge with whom and who should separate from whom. And, finally, who should be sick and who should not. [It is] he who can bring down the [share-price] quotation of a company 40 percent over two days. Because the market knows who decides whether this or that company will exist … and how it will exist" (Novaya gazeta, July 4).
Noting that Russia's stock markets had lost $65 billion after Putin's attack on Mechel, the commentator Yulia Latynina said, "Might comes in two forms: [political] power and money. And this $65 billion that disappeared from the Russian [stock market's] capitalization didn't go anywhere–it was converted into Putin's power, it increased the might of the prime minister. Because if we had any doubt before this story about which of them was chief, Putin or Medvedev, you have to agree that after Medvedev says that health inspectors should not 'cause nightmares' for small business while Putin drops the capitalization of the market by $65 billion with just one word, then just as there is value-added a la Marx, there is power-added [for Putin]" (Ekho Moskvy, August 2).