GAZPROM'S SEGP PROJECT, ROSUKRENERGO CONFLICT WITH EU PRIORITIES IN HUNGARY
Publication: Eurasia Daily Monitor Volume: 3 Issue: 128
By: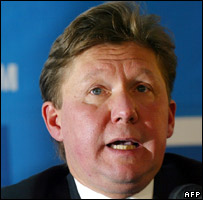 One day before U.S. President George W. Bush's recent visit to Hungary, that country's Economics Minister Janos Koka and Gazprom chairman Alexei Miller signed on June 21 non-binding agreement that could open the way for Gazprom's expansion via Hungary deeper into European Union territory. Hungarian Prime Minister Ferenc Gyurcsany had set the stage for this agreement — contrary to U.S. recommendations and EU goals — in discussions with Russian President Vladimir Putin and the Gazprom management during Putin's March visit to Hungary. Gazprom and Hungary's state oil and gas company Mol signed a preliminary agreement shortly afterward.
The two agreements reflects Gazprom's plan for a South European Gas Pipeline (SEGP), counterpart to the controversial North European Gas Pipeline (NEGP, under construction from Russia to Germany via the Baltic seabed). Both projects aim to capture European gas markets preemptively, locking out competitors and maximizing long-term European dependence on Russia. Circumventing Ukraine is an incidental goal of both projects. SEGP is specifically intended to prevent Caspian gas from reaching Europe. Moscow planners regard Hungary's geographic location as key to the SEGP project.
The SEGP would extend the Blue Stream pipeline from Turkey, westward via Bulgaria and Romania to the designated hub country, Hungary, and from there into Slovenia or Croatia, potentially terminating in northeastern Italy. The existing Blue Stream pipeline, a Russian-Italian venture of Gazprom and ENI, runs from Russia across the seabed of the Black Sea to Turkey. The line currently operates at only a fraction of its first-stage capacity because Turkey's gas requirements had been overestimated and its market is oversubscribed. Blue Stream was originally intended to carry 16 billion cubic meters of Russian gas per year to Turkey, with a potential second-stage capacity of 32 billion cubic meters annually that would target European countries.
Gazprom now proposes prolonging the Blue Stream pipeline through the same countries that have just joined the EU-planned Nabucco pipeline from Turkey to Austria for Caspian gas (see EDM, June 30). According to most experts, Gazprom's project could kill this EU high-priority project because they target the same markets. These cannot absorb gas volumes of such magnitude from both of these planned pipelines. Moreover, Gazprom would characteristically impose such terms as to lock consumers in and competing suppliers out. Gazprom has its gas export volumes lined up, unlike the Nabucco consortium thus far; and any real prospect of implementing the Russian-Hungarian agreement would discourage investment in the Nabucco project.
The assertion that there is plenty of room in Europe overall for both Gazprom's and Nabucco gas is not germane, since they both target these specific countries. As part of its tactics, Gazprom even proposes to supply part of Nabucco's gas volumes — a move that would defeat the EU's goal to diversify the suppliers to these countries.
EU member Hungary's recently reelected, Socialist-led government plays on both sides, negotiating with Gazprom while joining the EU-backed Nabucco project. Both agreements are nonbinding at this stage. Moscow offers to turn Hungary into a regional hub for transport and further distribution of gas, whereas Nabucco would terminate in Austria as its hub country. Moreover, Gazprom offers "guaranteed energy security" for Hungary if the latter consents to "joint" construction of additional transit pipeline and storage capacities in the country and long-term supply contracts. Some Hungarian officials profess satisfaction with such "guarantees."
The Russian-Hungarian agreements create, as first step, a joint company of Gazprom and Hungary's Mol for a feasibility study on expanding Russian gas transit pipeline capacity via Hungary and building storage sites, in order to target markets farther west from Hungary. Building Gazprom's SEGP and expanding Hungary's transit and storage capacity would take five years and cost some €5 billion or $6.5 billion, according to preliminary estimates.
At present, the German gas champion E.ON Ruhrgas is offering its distribution assets in Hungary to Gazprom, as part of the quid-pro-quo for the German company's 25% stake in Gazprom's Siberian Yuzhno-Russky gas field, which is the upstream source for German government-backed NEGP. E.ON Ruhrgas had acquired parts of Mol's gas transport, storage, and distribution systems in Hungary as recently as 2005, when a German handover of those Hungarian assets to Gazprom could hardly have expected. If consummated, such a handover would increase Hungary's long-term dependence on Gazprom and strengthen Gazprom's hand against the EU-backed Nabucco project. This situation exemplifies how governments and companies in EU countries ignore the EU's stated diversification and anti-monopoly goals, in effect nipping any common EU energy policy in the bud and joining forces with Moscow in that process.
During the tenure of this Hungarian government, suspect entities and figures associated with Gazprom, such as RosUkrEnergo's immediate predecessor EuralTransGas (2002-2004) and the FBI-most-wanted Semyon Mohilevich, established their base of operations in Hungary. At this moment, Dmytro Firtash, whom Gazprom officially (and unverifiably) identifies as a major stockholder in the notorious RosUkrEnergo, intends to take part in Gazprom's projects in Hungary through the Firtash-controlled Emfesz company. Moreover, according to Firtash, Emfesz sells 3 billion cubic meters of gas this year to Hungary (Ukrainian News Agency, citing Firtash's interview in Vedomosti [Moscow], June 27). These developments raise the question whether Hungary is opening its door to RosUkrEnergo as part of dealing with Gazprom.
In the short term, a start toward implementation of the Russian-Hungarian agreement linked to SEGP would help Gazprom preempt markets and increase its share in several countries, before the Nabucco pipeline comes on stream. In that case, Gazprom would win yet another race for markets and political influence in Europe.
Gazprom chairman Miller and Mol chief Zsolt Hernadi are scheduled to hold the next round of negotiations in July.
(www.portfolio.hu; Dow Jones, June 26; New Anatolian, June 29; Newsweek International, July 3; see EDM, March 6, 13, 21)