General Makarov Makes Incendiary Remarks in Finland
Publication: Eurasia Daily Monitor Volume: 9 Issue: 136
By: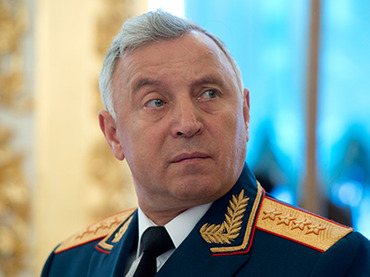 Speaking in Helsinki on June 5, Russia's Chief of the General Staff General Nikolai Makarov made several incendiary remarks about Finland. Since such speeches are only made with official guidance, these outbursts must be assumed to reflect official Russian policy. Makarov warned Finland against cooperating with the North Atlantic Treaty Organization (NATO) as such cooperation represents a threat to Russian security. Instead, he argued, it should have a tighter bilateral defense relationship with Russia. Makarov also blasted Finnish "revanchists" for allegedly supporting Georgian attempts to retake South Ossetia and Abkhazia. He even likened Finnish defense activities near the border to those "unfriendly" and "aggressive" actions by Georgia on its own territory and charged that they do not accord with "our goals of developing bilateral cooperation." Thus he attacked Finland's right to conduct military exercises on its own territory near Russia's borders. These exercises include earlier exercises in northern Norway in 2012 and the Baltic Sea exercises of 2010. Makarov also criticized efforts by the Nordic countries, including Finland, to expand their mutual defense cooperation (Helsingin Sanomat, International Edition, June 6, 18).
Although barely covered in the Russian press, Makarov's remarks certainly reverberated around the Baltic States as well as Finland, and their implications are sobering. As the Finnish paper Helsingin Sanomat pointed out, they reverse Russia's previous position that it was up to Finland to decide whether or not to join NATO (Helsingin Sanomat, June 8). In addition, precisely because these remarks were presumably officially cleared, they probably reflect the Russian government's official posture. Indeed, on June 23, President Vladimir Putin told Finnish President Sauli Niinisto that if Finland were to join NATO it would lose its sovereignty (EUTimes.org, June 23).
The fact that Makarov felt he could say such things in Helsinki shows, first of all, that 20 years after the fall of Communism, Moscow still cannot accept that its neighbors are fully sovereign and independent states, entitled to their own defense and security policies. Abundant evidence to this effect exists in official comments, and these do not only pertain to Finland but to the entire Central Eastern European and former Soviet space. A second, related point is that Moscow believes these states should properly subordinate their policies to those of Russia; if they do not, they are logically enemies of Russia and must be warned if not punished for their misdeeds. In other words, the Russian government still cannot fully accept the post-Cold War settlement of 1989-1991 and remains a revisionist power in Eurasia. Putin's June 23 remarks implicitly corroborated these points.
Third, Makarov's statement illustrates that Moscow still thinks of Finland as being within its sphere of influence and thus a state whose actual sovereignty and defense independence should be correspondingly diminished. Fourth, the general's remarks also go beyond the traditional Russian belief that foreign forces in the Baltic must constitute a threat to St. Petersburg, and Russia generally. Finnish reporting of Makarov's speech cited Russian experts who echoed this traditional threat assessment (Helsingin Sanomat, June 8). But beyond that perception, Makarov's speech also indicates that Russia regards any manifestation of European integration –whether it occurs in the Baltic, the Balkans or the former Soviet Union – as intrinsically threatening to itself even in the absence of signs of offensive threat in such processes.
Fifth, the deafening silence from Russia about Makarov's speech also carries negative implications. Since 2008-2009, there has been a very sizable defense buildup of men and weapons in the Western Military District of Russia, the command that faces all the Baltic littoral states, including Poland and Finland. This buildup (which also comprises Kaliningrad) has triggered serious concern in the chancelleries of the Baltic littoral governments about Russian intentions and capabilities. Moreover, the perennial Russian threats of preemptive and nuclear missile strikes on regional governments only heighten this alarm (see EDM July 6, 2007; November 28, 2011; The Daily Star, January 20). On the other hand, Moscow's diplomats regularly complain whenever they see signs of a NATO buildup in the region even when one is not present.
Finally, given that Makarov's remarks were official, they represent another manifestation of the current Russian regime's habitual response to any unwelcome development on its peripheries. Estonian Defense Minister Urmas Reinsalu not only reassured observers that the Baltic region – precisely because of its integration into the EU and NATO – is now secure, he observed that Russian leaders are still in thrall to Cold War perception and unwilling to accept the status quo in the Baltic, seeing security there as something that must be constantly challenged (Interfax, June 18; Baltic News Service, June 12-18).
Similarly, Estonian press reports noted that although business relations with Russia had become more pragmatic, military experts warn that the Russian buildup in the region is continuing. Therefore, remarks like those delivered by Gen. Makarov justify the case for more defense spending and tighter defense integration with NATO (Eesti Paeveleht, June 7). Finnish Parliamentarians like Jussi Niinisto, Chairman of the Parliament's Defense Committee observed that Finland's ties to NATO will strengthen, and if budget cuts continue in defense, Helsinki might join NATO as a member (Kavkazcenter.org reporting from Helsinki June 6). Indeed, thanks to Makarov, public support for Finnish membership in NATO has now grown (Nordicintel.com, June 26).
Makarov's remarks in Helsinki, if they were indeed meant to pressure Finland against moving closer to the North Atlantic Alliance, appear to have backfired. Yet, Russia's attitude toward the foreign and security policies of its closest western neighbors illustrates that the Baltic region cannot yet be considered beyond security threats.