Georgia and the United States: De-Alignment Through Regime Change? (Part One)
Publication: Eurasia Daily Monitor Volume: 10 Issue: 49
By: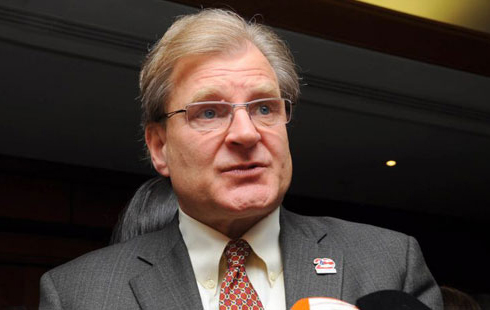 The United States had strongly influenced Georgia's politics during Mikheil Saakashvili's presidency. This influence is waning since the regime change that has empowered Prime Minister Bidzina Ivanishvili. The October 2012 parliamentary elections have effected this still-incomplete regime change, pending a constitutional transition period until the October 2013 presidential election. Worse for both countries, the resulting decline in US influence may reflect a self-inflicted decline in US relevance to Georgia.
The regime change seems to have ushered in a creeping de-alignment of Georgia from the United States. Unlike Saakashvili's government, the new government is not inherently, if at all, pro-American; it is de-emphasizing the goal to join the North Atlantic Treaty Organization (NATO); it is, for the most part, culturally post-Soviet (less English-speaking, less Western-educated); and it prioritizes "normalizing" relations with Russia in ways that could come at the cost of Georgia's Western orientation. A Georgian leadership closely connected with the United States has been replaced by a leader with no previous US links, but rather with previous close links in Russia and continuing business interests there (see EDM, March 13, 2012; July 24, 2012).
The Barack Obama administration's policy facilitated Georgia's regime change. In so doing, Washington capitalized on the US influence that Saakashvili's government had enthusiastically helped to build and cement. Under that government, the United States had become de facto a referee of Georgia's internal political processes. The US took that role seriously and sometimes gravely, both on the ground in Georgia and at the level of Washington politics. US officials were setting "tests" of democratic behavior for Georgia. US organizations sponsored influential polls of Georgian voters. And the US continuously presented value judgments and mentoring on Georgian politics and legislation, with significant impact at pre-election and election time, down to the recent parliamentary elections.
Not only the government, but all serious Georgian contenders for political power had come to regard the United States as an external source of legitimacy and instance of appeal. The US Embassy in Tbilisi was expected and often asked to assess controversial political events or legislation. Opposition parties regularly took their anti-government complaints (be they motivated by values or tactics) to the same embassy. Congressional documents from Washington were minutely parsed in Tbilisi. The word of the US carried unique weight, was being sought out and interpreted (sometimes over-interpreted), and Georgian electoral contenders were factoring the US in various ways into their domestic political strategies (see EDM, April 4, 2012).
When Bidzina Ivanishvili emerged from his reclusion into the political arena, he had to play that general game to a certain extent. He and other politicians from his Georgian Dream party had ignored the United States until launching their power bid, and have no previous record of support for Georgia's Euro-Atlantic aspirations. Given the unique US influence in Georgia's politics, however, Ivanishvili felt compelled to move from indifference to active lobbying of the US (see EDM, April 4, 2012). He also co-opted small groups with pro-Western credentials into the Georgian Dream's six-party coalition.
Ivanishvili's legion of Washington lobbyists, however, did not influence the Obama administration's policy. The administration had already decided on its own to use Georgia's elections as an opportunity to ease Saakashvili out of power and active politics. At the same time, it encouraged the entry of a strong opposition into parliament to balance Saakashvili's United National Movement (UNM) with Ivanishvili's Georgian Dream (see EDM, June 11, 12, 2012).
At the public level, US officials properly displayed impartiality toward Georgia's political forces during the electoral campaign. In private conversations, however, US officials were hinting at the desired outcomes of Georgia's back-to-back elections: parliamentary in October 2012 and presidential in October 2013. Cumulatively, the desired outcome was a decent exit of Saakashvili from the political stage, and the election of a relatively balanced parliament with something like 60 percent for UNM and 40 percent for Georgian Dream.
An outcome along those lines would elegantly remove Saakashvili as a perceived irritant and risk factor to the administration's "reset" of relations with Russia (a perception coinciding with that of some Western European capitals). Such an outcome would, in the US officials' view, also favor continuity of Georgia's successful reforms by a UNM parliamentary majority and government, while at the same time installing a strong parliamentary opposition to provide "checks and balances" for Georgia's political system. US democracy promoters had long wished for a strong opposition as a value in and of itself, despite its demonstrated vices in Georgia, and long held the government responsible for the absence of a viable opposition.
Such calculations turned out to be too clever by half. On one hand, Saakashvili seems already on his way out from any meaningful decision-making role, and appears to have no significant political options after the expiry of his presidential term by October 2013. At the same time the US has failed to support the continuity of a pro-reform, pro-Western parliamentary majority and government in Georgia. The United States enjoys far less influence on the new government's decisions, compared with US influence on the previous government. And the US goal of an "orderly transition of power" in Georgia—as declared during the electoral campaign, and easily interpreted as a euphemism for regime change—is also manifestly failing amid the new government's repressive measures against the former UNM government, in Tbilisi and throughout the countryside.