Georgia Bids Farewell to Soviet Arms
Publication: Eurasia Daily Monitor Volume: 18 Issue: 92
By: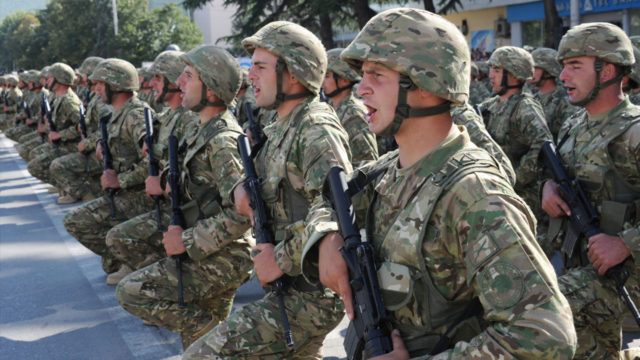 Georgia's Defense Minister Juansher Burtchuladze reported to parliament on May 13 that his country would start producing American M4 assault rifles and unmanned aerial vehicles (UAVs) in 2022. According to his statement, negotiations are underway with South African, Polish and Israeli companies on joint production of unmanned aerial vehicles, with the first drones produced early next year (EkhoKavkaza, May 13).
Shortly after the announcement, on May 19, the ministry of defense and an undisclosed Israeli company signed a memorandum on the joint production of M4 rifles. The Georgian military production enterprise Delta will manufacture the American weapons (MoD Facebook, May 19). Delta is the military research center under the ministry of defense, which used to produce light armaments for the Georgian-made "Didgori" armored personnel carriers (MoD.gov.ge, October 8, 2020).
By the end of this year, Georgia will also receive a modernized air defense system from the Israeli company Rafael. According to the defense minister, Georgia already has French air traffic surveillance radar systems, a mobile command post and Mistral-3 missiles (Apsny.ge, May 13). After years of attempts to eliminate its Soviet and Russian-made weapons, Georgia is now intensively re-equipping its army exclusively with American and other Western-produced weapons.
It is noteworthy that Georgia is an exception among the former republics of the USSR, as it almost did not receive its share of weapons from the former Soviet army. The country mainly inherited scrap metal in the form of obsolete weapons and Georgia's military experienced a shortage of high-quality weapons. For a long time, Western countries refrained from supplying weapons to Georgia so as not to irritate Russia. Although intensive rearmament is associated with Georgia's aspirations to join NATO, Tbilisi does not have the financial potential without assistance from NATO allies to help modernize its arsenal.
After the terrorist attacks on September 11, 2001, as part of its anti-terrorism campaign, the US started its Train and Equip Program (GTEP) for the Georgian army (MoD.gov.ge). It was the first tangible program of military assistance but Washington hesitated to re-equip Georgia with American weapons. Although several Georgian military units were trained according to American standards, the Georgian military was armed again with Kalashnikov rifles and Soviet-made grenade launchers instead of American weapons.
The only US contribution to Georgia at the time was ten old and obsolete military transport helicopters, UH-1 Iroquois, of which only six could fly and four were transferred for spare parts. However, at Moscow's request (as Georgia was still part of the CIS and the region was still considered Russia's "backyard"), Georgia received these helicopters without machine guns and on the condition that they would not be used to restore the territorial integrity of the country or for any military attack.
Since that time, Georgia has become a US strategic partner, especially after the Rose Revolution in 2003. American-Georgian relations, including in the military sphere, became much closer. The unofficial ban on the transfer of American weapons to Georgia has been gradually abolished. For the first time, American light weapons appeared in the Georgian army on the eve of the August 2008 Georgian-Russian war. On the initiative of the authorities, headed by pro-American President Mikheil Saakashvili, the first large batch of American M4 assault rifles was delivered to Tbilisi. However, as the war started shortly thereafter, the Georgian army did not have time to use them against the invading Russian forces.
In the last few years, the rearmament of Georgia with Western, mainly American, weapons has become routine. The main military units—the defense forces, the police forces and border guards—are now armed exclusively with American rifles. Given the country's modest military budget, it often receives military equipment as a gift from the US. The most recent such military assistance arrived in Georgia in February 2021. Within the framework of $18 million of US support for Georgia, the country received 300 M2 heavy machine guns, M249 light machine guns and MK19 grenade machine guns (Amerikiskhma.com, February 28).
It is so important for Georgia to equip its army with American weapons that, despite its economic difficulties, it tries to allocate funds for their purchase. Georgia's long-time desire to acquire American anti-tank weapons finally became a reality in 2018 when the country was able, for the first time, to buy US Javelin anti-tank systems for $75 million (410 Javelin missiles and 72 launch units) (Amerikiskhma.com, June 20, 2018). Tbilisi plans to continue purchasing these weapons. Also, in 2018, Georgia signed a preliminary agreement on purchasing Stinger man-portable air-defense systems from the US (Amerikiskhma.com, June 20, 2018).
With the help of Western partners, especially the US, Georgia was able to modernize its army and achieve a level of training of its military personnel comparable to that of NATO countries. The Georgian military has gained enormous experience in Afghanistan during 17 years of participation in NATO missions, where about 22,000 Georgian soldiers took part in NATO operations (RadioTavisupleba.ge,  April 16). However, Georgia still needs a lot of work to equip itself with high-quality weapons and completely free itself from Soviet-Russian scrap metal.