Georgia Detains Five Alleged Supporters of the Chatayev Terrorist Group
Publication: Eurasia Daily Monitor Volume: 15 Issue: 15
By: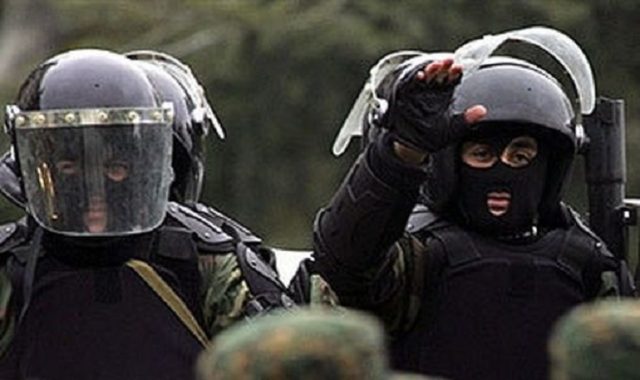 On January 27, residents of Georgia's northeastern village of Duisi, in Pankisi gorge, largely populated by Kists, a 40,000-strong ethnic minority related to the Chechen people, demanded that Georgia's State Security Service (SSS) and the Chief Prosecutor meet with them to discuss details of a special operation that occurred there on December 26, 2017 (Civil Georgia, January 27).
During last month's Duisi operation, Georgian authorities detained five alleged supporters of the suspected terrorist group led by Akhmed Chatayev. In the course of the operation, one of the alleged supporters, 18-year-old Temirlan Machalikashvili, was shot in the head and hospitalized. Machalikashvili succumbed to his injury on January 10, after unsuccessful efforts to save his life, including plans for special medical treatment abroad (Civil Georgia, January 11).
The local elders of Duisi questioned the necessity of conducting the counter-terrorism operation with "humiliating methods," as apprehensions occurred during nighttime in the homes of the suspects' respective families. And in particular, Duisi's elders asked "whether it was necessary to open fire [on Machalikashvili]" (Civil Georgia, January 27). Machalikashvili's father and his lawyer publicly requested that an investigation share information about the specifics of the operation, and they categorically demanded the resignation of the SSS's head, Vakhtang Gomelauri. Machalikashvili's father focused on the authorities' contention that his son intended to use force against them, and he also denied his son had any connection to the alleged supporters of Chatayev (Accent.com,ge, January 26).
The SSS claims Machalikashvili was about to detonate a hand grenade, which led the officers to open fire—a statement challenged by Machalikashvili's attorney (1tv.ge, January 11). A protest rally with similar sharp demands was held by the Pankisi Union of Elders already on December 27 (Maestro TV, December 27, 2017), again reiterating their calls for an objective investigation on January 3. The Pankisi Union's Elizbar Margoshvili stressed then that Machalikashvili and others had "absolutely no connection" to Chatayev's case, retracting his earlier statements to the contrary (Civil Georgia, January 3).
According to the SSS, Zurab Gornakashvili, Ruslan Aldamov, Ramaz Margoshvili, Badur Chophanashvili and Temirlan Machalikashvili were arrested that night on charges of assisting the group of militants led by Chatayev, who fought against Georgian security forces on November 21–22 in Tbilisi (Civil Georgia, December 5, 2017; see EDM, November 29, 2017). Chatayev, an Islamic State commander responsible for the deadly bombing at the Istanbul Airport in 2016, was killed in Tbilisi along with two of his accomplices—Ibragim Adashev and Aslambek Soltakhmadov—first identified by the SSS in December. Another member of the group, previously named as "S. D." or "S. Dudaev," was later identified as Shoaip Borziev, a Russian citizen of Chechen origin (Civil Georgia, December 26, 2017).
Importantly, the group of five apprehended on December 26, was charged with assisting Chatayev—whose identity was also not immediately confirmed by the SSS at the time—and his accomplices in illegally crossing the Georgia-Turkey border in the Kirnati-Maradidi section in the Adjara region. The detainees also allegedly helped Chatayev's group to buy weapons and rent the apartment in Tbilisi that would eventually become the site of the two-day-long counter-terrorism operation in November. One special forces officer died and four more were wounded during this incident last fall.
On January 23, yet another alleged accomplice, Anatoli Berdzenishvili, was detained by the SSS counter-terrorism department and charged with funding and otherwise materially supporting terrorist activity: Berdzenishvili is accused of having traveled to Turkey to meet the Chatayev group and assist in their plans to enter Georgia (1tv.ge, January 23). Berdzenishvili denies any connection to terrorist activities, confirming only that he is acquainted with Machalikashvili's father (Netgazeti.ge, January 23).
Some opposition members, such as United National Movement's Nika Rurua, question the inconsistencies in the SSS's account of the events—especially Machalikashvili's status as an alleged accomplice (News.ge, January 11). Indeed, questions remain with regard to how such a large group of alleged terrorists—officially confirmed to comprise of at least nine members, including the detained—could enter and operate undisclosed on Georgian territory for an extended period of time. According to the SSS, Chatayev's group intended to organize and execute terrorist attacks in Turkey and Georgia (Civil Georgia, December 26, 2017), in particular targeting the Russian Embassy in Georgia and possibly the Children's Eurovision Song Contest.
According to the SSS, the recent operation in Duisi was conducted with the cooperation of their counterparts from the United States. After the November operation in Tbilisi, the SSS was able to examine Chatayev's personal computer and other technical gadgets, obtaining audio recordings that disclosed the plans noted above (Netgazeti.ge, December 26, 2017). Thus, on the one hand, the operations in Duisi and Tbilisi allowed the Georgian authorities to neutralize one large cell of terrorists operating inside the country. But on the other hand, these counter-terrorism operations inflicted substantial material damage as well as injuries and even the deaths of several law enforcement officers, while at the same time leaving significant open questions with regard to the possible misuse of force in relation to Machalikashvili. Clearly, Georgia remains both an active target and a useful operational space for terrorists affiliated with the Islamic State and possibly other terrorist organizations.