Georgia Elects Its Fourth President
Publication: Eurasia Daily Monitor Volume: 10 Issue: 194
By: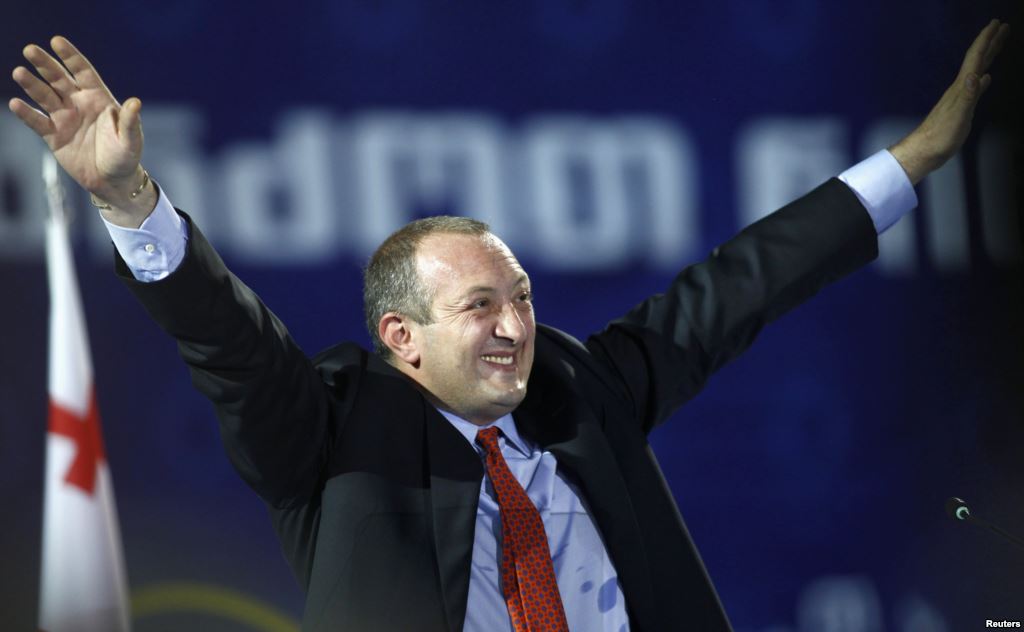 The Central Electoral Commission of Georgia has finalized the vote count after last Sunday's (October 27) presidential election (https://www.results.cec.gov.ge). The candidate of the ruling Georgian Dream (GD) coalition, Giorgi Margvelashvili, received 62.11 percent of votes cast; the leader of the opposition United National Movement (UNM) party of outgoing President Mikheil Saakashvili, David Bakradze received 21.73 percent of votes; and former speaker of the parliament Nino Burjanadze received just 10.18 percent of the vote.
The first important result of the elections is that Burjanadze, who was considered to be a "pro-Russian candidate," suffered a crushing defeat. She met with Vladimir Putin several times (https://www.civil.ge/eng/article.php?id=22052) and has lately criticized not only President Saakashvili, but also Prime Minister Bidzina Ivanishvili for his unwillingness to reach a "strategic compromise" with Russia. The latest events on the border of Georgia and occupied South Ossetia, where Russian border guards installed barbed wire fences, dividing Georgian villages (https://www.civil.ge/eng/category.php?id=87&gallery=97), severely undermined Burjanadze's credentials. Russia's actions signaled to Georgian voters that despite Ivanishvili's rhetoric regarding warmer relations with Moscow and the repeated meetings of Georgian and Russian diplomats, Moscow did not intend to renounce its policies of annexation or the creeping occupation of Georgian territories captured by Russian forces in August 2008.
"The defeat of Nino Burjanadze in the presidential elections has proven that Georgian voters will never again vote for compromise with the occupiers," a UNM member of the parliament, Nugzar Tsiklauri, told Jamestown in an interview on October 29.
David Bakradze's second-place finish in the presidential race means that UNM is turning into an influential opposition force. "They have a strong and solid team and they are still very influential in the regions, where there are many former associates of Saakashvili," the former chief of the Chancellery of Georgia, Petre Mamradze, noted. According to Mamradze, "The main intrigue of the [Sunday] elections was who would come in second" because, given the resources of the ruling GD coalition, the victory of Giorgi Margvelashvili was not in doubt (Author's interview, October 29).
Analyst Iosif Tsiskarishvili agrees: "Second place for Bakradze is a blessing for UNM because it creates a two-party system [in Georgia]. UNM and GD will [from now on] periodically swap positions just as Democrats and Republican do in the United States," he predicted (interview for the author from October 29).
The presidential elections answered two important questions: "What are the prospects for pro-Russian politicians in Georgia?" and "Who will become the primary opponent of the ruling coalition?" But still unclear is Saakashvili's political future. Addressing the nation in his farewell speech, the outgoing president said: "Personally I do not need a rest, but time has come when you have to rest from me" (https://www.civil.ge/eng/article.php?id=26633). At the same time, on election day, Saakashvili told journalists several times that he did not intend to leave politics forever. "According to the information I have, Western friends of Saakashvili advise him to leave Georgia and politics for a while because Bidzina Ivanishvili and his team are threatening him with arrest. I am not sure, however, that Saakashvili will leave the country and renounce his political activities," analyst Giorgi Nodia told Jamestown on October 29. The rector of the diplomatic academy Iosif Tsintsadze said that one "can speak only of the completion of one stage in Mikhail Saakashvili's political career, but not about the end of his epoch in Georgia" (Author's interview, October 29). Georgian Journalist and Saakashvili's associate during the Rose Revolution, Erosi Kitsmarishvili, agrees: "Saakashvili will remain one of the players on the Georgian political scene, but he will no longer be the sort of 'Superman' he used to be for all those years" (Author's interview, October 29).
UNM's leaders also do not see a future for their party without Saakashvili. "Mikheil Saakashvili remains the most influential Georgian politician, and it was no accident that he became head of our party at the last conference," parliamentarian David Darchiashvili noted in an October 29 interview with Jamestown.

Since the presidential elections concluded in the first round, it is known already that President Saakashvili will be unable to lead Georgia's delegation during the European Union summit in Vilnius scheduled for November 28–29, where Georgia and Moldova plan to initial Association Agreements with the EU (https://www.civil.ge/eng/article.php?id=26608). Writer and expert Mikheil Tavkhelidze believes, however, that Saakashvili should be given the honor of signing the document out of recognition of his government's almost decade of efforts toward European integration (Author's interview, October 29). Nonetheless, a source in the presidential administration told Jamestown that Saakashvili still might travel to Vilnius as a "guest of honor," though not as an official member of the Georgian delegation.
Despite brief rumors reported by several Georgian television stations close to the GD government that Saakashvili was leaving the country right after the election, Jamestown's sources in the presidential administration confirmed that he intends to reside in a two-bedroom apartment in the central part of Tbilisi. The outgoing leader plans to work on his presidential library project, which he established shortly before the elections. Financing for the Saakashvili presidential library came from sales of land that belonged to his family in the central part of the Georgian capital city (Author's interview, October 29).
Furthermore, in his role as chairman of UNM, Saakashvili plans to continue to oversee the party's affairs and hold meetings in the party's office. Even his political opponents admit that Saakashvili's sustained activism will benefit Georgian democracy. "All previous presidents of Georgia disappeared from politics along with their parties after they lost power. Saakashvili and UNM may break this tradition and as a result we will get the situation in Georgia that is normal in a democratic European country," a leading GD coalition member, parliamentarian and Soviet-era dissident, Levan Berdzenishvili, told Jamestown. "I do not know if there is serious evidence implicating Mikheil Saakashvili in criminal offenses. If yes, the court should decide, but for Georgia's image it will be better, if former presidents and prime ministers do not end up in prison, especially for political reasons," Berdzenishvili added (Author's interview, July 18).
The two most influential politicians in the country appear to agree with this statement. "I do not want the president of my country to end up in prison," Prime Minister Ivanishvili stated after his meeting with the foreign affairs ministers of Sweden and Poland. During their meeting, Carl Bildt and Radoslaw Sikorski pressed Georgia's prime minister to end the arrests of Saakashvili's associates and refrain from launching criminal proceedings against the former president without sufficient evidence (https://www.civil.ge/eng/article.php?id=26594). In response to a similar question posed to him, President-elect Margvelashvili stated at his first press conference that he would not push prosecutors to initiate criminal investigations against Mikheil Saakashvili. In fact, Margvelashvili vowed to exclude any persecution of citizens on political grounds (https://www.mk.ru/politics/caucasus/news/2013/10/28/937395-margvelashvili-obeschaet-ne-presledovat-saakashvili.html). But it still remains to be seen whether Georgian Dream's leaders adhere to these promises after the country's political "co-habitation" between a GD government and UNM presidency comes to an end.