Georgia-NATO: The Pause 'Deepens'
Publication: Eurasia Daily Monitor Volume: 19 Issue: 99
By: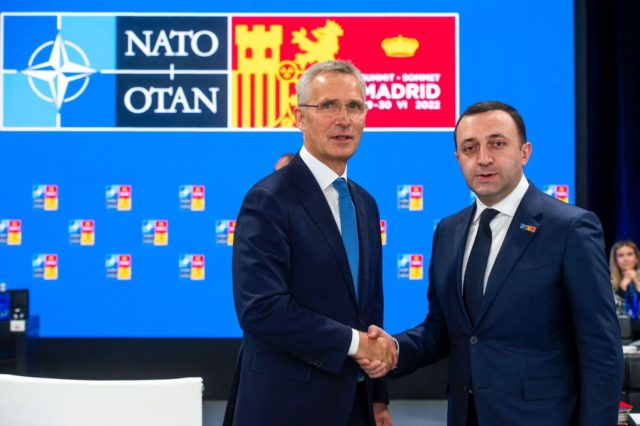 On June 28–30, Georgian Prime Minister Irakli Garibashvili took part in the ceremonial portions of the North Atlantic Treaty Organization (NATO) summit held in Madrid, Spain. In general, this latest gathering of Alliance leaders not only did not bring about anything new or substantial for Georgia, but it confirmed the steady weakening of the South Caucasus country's Euro-Atlantic integration process (1tv.ge, June 29).
At the summit, NATO released a new "Strategic Concept," which pledges to continue developing the bloc's partnership with Georgia and reaffirms the 2008 Bucharest Summit decision that the country will eventually become a member of the Alliance (Civil.ge, June 29). "We will continue to develop our partnerships with Bosnia and Herzegovina, Georgia and Ukraine to advance our common interest in Euro-Atlantic peace, stability and security," the Concept reads, while additionally emphasizing that "the security of countries aspiring to become members of the Alliance is intertwined with our [NATO's] own. We strongly support their independence, sovereignty and territorial integrity." The strategic planning document adds, "We will strengthen political dialogue and cooperation with those who aim to join the Alliance, help strengthen their resilience against malign interference, build their capabilities, and enhance our practical support to advance their Euro-Atlantic aspirations" (Nato.int, June 29). NATO Secretary General Jens Stoltenberg said the Concept is "the blueprint for the Alliance in a more dangerous and competitive world" (Civil.ge, June 30).
Member of parliament Salome Samadashvili, one of the leaders of the Droa political party and a former head of the Georgian diplomatic mission to the European Union in 2005–2013, said that the Madrid Summit "had not delivered a step forward for Georgia's NATO accession path. A step forward would be recognition of the progress made, granting MAP [Membership Action Plan] to Georgia, or some other tangible and measurable step forward." She further argued, "Instead, we saw that Georgia now is mentioned together with Moldova, a country that has a position of clear neutrality on NATO, and this leaves Georgia's position quite ambiguous" (Author's interview, July 1).
According to the former Georgian representative to Brussels, "The absence of any reference to [Georgia's] territorial integrity or reminder about the expected withdrawal of the Russian troops from the occupied territories can also be considered a missed opportunity," the parliamentarian observed. At the same time, Samadashvili asserted, "But considering that Prime Minister Garibashvili made a statement just a few days before the summit that effectively echoed a Russian propaganda line—that European integration cannot happen until Georgian regions are de-occupied (see EDM, June 27)—thus, virtually sabotaging the progress himself, we did not have high expectations." She added, "Two historical moments in recent months—the European and NATO summits—were both missed opportunities for Georgia," while claiming, "It seems that Georgian Dream [the ruling party headed by billionaire Bidzina Ivanishvili] is delivering well on Russia's expectations to stall any progress on [Georgia's] Euro-Atlantic integration path" (Author's interview, July 1).
According to security and political analyst Vakhtang Maisaia, the NATO Madrid Summit was of historic importance because of the adoption of the first new Strategic Concept since 2010. Crucially, the 2022 document provides for improving Alliance resilience at the regional level, and it explicitly identifies the Black Sea as a strategically important region for NATO (paragraph 45). Also of significance from Tbilisi's point of view, the new Concept recognizes, "The Russian Federation is the most significant and direct threat to Allies' security and to peace and stability in the Euro-Atlantic area. It [Russia] seeks to establish spheres of influence and direct control through coercion, subversion, aggression and annexation. It uses conventional, cyber and hybrid means against us and our partners" (paragraph 8) (Nato.int, June 29). "This is an important factor for Georgia's national security… And by declaring Russia as the threat to the Alliance, it becomes clear that Georgia and the Alliance are becoming allies and that NATO could provide concrete military assistance programs and realize concrete incentives to beef up Georgia's defense capabilities and security environment," Professor Maisaia stipulated (Author's interview, July 1).
However, the expert noted, "in the Declaration adopted at the conclusion of the summit, unfortunately no concrete initiatives or proposals were worked out for Georgia, and Georgia was lumped together in a low-profile "basket" that included Bosnia-Herzegovina and the Republic of Moldova and not with Ukraine, as it had been previously." Maisaia explained that "[t]his could be considered a downgrade to the intensity level of integration with the Alliance." Georgia is an aspirant country and wants to receive a MAP, which would be the next official step toward final membership in NATO (Author's interview, July 1).
Perhaps one of the reasons for the North Atlantic Alliance's weakening interest in Georgia, apart from the conclusion of NATO's military operation in Afghanistan (in which Georgia took an active part), was Tbilisi's relatively muted response to the Russian aggression against Ukraine. In a July 1 interview, David Avalishvili from the independent news agency Nation.ge reminded this author that after Russian forces launched their full-scale invasion of Ukraine, Georgia eschewed imposing national sanctions against Russia. Moreover, Prime Minister Garibashvili said that his country "will never again fight against the Russian Federation" (Kommersant, May 13). And finally, the Ukrainian authorities have repeatedly accused Tbilisi of providing direct assistance to Moscow, including allegedly supplying the aggressor with military equipment (Kommersant, April 5).
The expert also voiced concern that Russia's military success in Ukraine could dampen NATO's interest in the South Caucasus, where the 2020 Second Karabakh War had already established a new geopolitical balance with the participation of Russia and Turkey. "But on the other hand, after Russia blocked almost the entire coast of Ukraine, Georgia could theoretically become a NATO stronghold on the eastern shores of the Black Sea. Moreover, 'Black Sea security' was mentioned in the documents of several summits of the North Atlantic Alliance," Avalishvili pointed out (Author's interview, July 1).
Presently, Tbilisi is more concerned about salvaging its relationship with the European Union. The EU promised to grant Georgia the status of "Candidate" for membership if it managed to adopt necessary reforms by the end of 2022. But it is unlikely that the South Caucasus country will be able to successfully proceed with European integration in the political and economic spheres if it does not first obtain guarantees in the military and security space. Even though, Georgia does not share a border with the EU, it has a common border with one of the strongest NATO members—Turkey. Cultivating this relationship may, thus, be crucial on Georgia's long and difficult road toward Europe.