NATO Summit: New Strategic Concept Brings New Realism About Russia
Publication: Eurasia Daily Monitor Volume: 19 Issue: 100
By: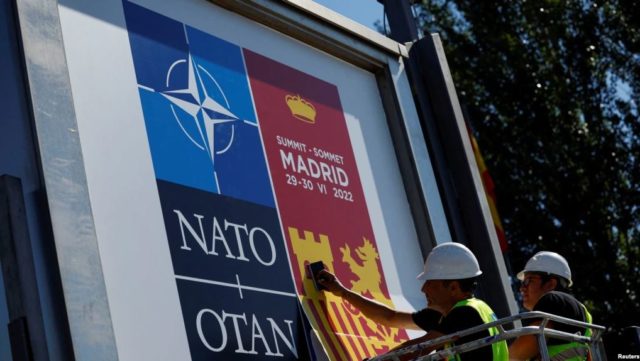 Heads of state and government of the North Atlantic Treaty Organization (NATO) convened on June 28–30, in Madrid, in the unprecedented circumstances of Russia's invasion of NATO's most important partner country, Ukraine, touching on the Alliance's own eastern front line. The military-political bloc adopted a new Strategic Concept at this summit, finally recognizing the Russian threat beyond Ukraine to NATO itself. In parallel, the summit approved a significant increase to NATO ground forces deployed to eight Central-East European countries, along with an expanded model of reinforcing that forward ground presence in crisis situations.
Frontline countries and several other Allies had urged those measures at least since 2008 and with stronger emphasis since 2014, the watershed moments of Russia's invasion of Georgia and first military intervention in Ukraine, respectively. It was not until this year, however, that Russia's full-scale war in Ukraine shocked some key Western governments into approving those larger force commitments on the eastern front line. Similarly, Russia's relentless "hybrid" (multidimensional) warfare targeting NATO's European core has forced political leaders at last to grasp the systemic Russian threat to the West.
Although the new Concept restates NATO's 360° approach to the Alliance's security, it is Russia and the gamut of threats emanating from it that hold the front and center of the 2022 Strategic Concept. This document replaces the Concept adopted at NATO's 2010 Lisbon summit, in the presence of Russia's then-president Dmitry Medvedev as a special guest. That Concept had stipulated that "the Euro-Atlantic area is at peace"; that "NATO-Russia cooperation is of strategic importance […] we want to see a true strategic partnership between NATO and Russia"; that "the security of Russia and NATO is intertwined"; and that NATO-Russia relations would remain "based on the [1997] NATO-Russia Founding Act," notwithstanding the misuse of said Act to impose deep constraints on NATO's troop presence in the Baltic States, Poland, Romania and other "new" NATO Allies. The 2010 Strategic Concept reflected the Barack Obama administration's foredoomed "reset" of relations with Russia, but also distinctly German contributions, such as the "intertwined" security of NATO and Russia (Nato.int, November 19, 2010).
In stark contrast, the 2022 Strategic Concept ascertains that "The Euro-Atlantic Area is not at peace. The Russian Federation has violated the norms and principles [of] a stable and predictable European security order." Consequently, "We cannot consider the Russian Federation to be our partner." On the contrary, the document goes on, "The Russian Federation is the most significant and direct threat to Allies' security and to peace and stability in the Euro-Atlantic area" (Nato.int, June 29, 2022).
Thus, Russia "seeks to establish spheres of influence and direct control through coercion, subversion, aggression and annexation. It uses conventional and hybrid means […] while employing coercive nuclear signalling. It aims to destabilize countries to our East and South." In those theaters, "Moscow's military buildup, including in the Baltic, Black, and Mediterranean sea regions, along with its military integration with Belarus, challenge our security and interests." Ultimately, Russia's "war of aggression against Ukraine has shattered peace and gravely altered our security environment… Moscow's behavior reflects a pattern of Russian aggressive actions against its neighbors and the wider transatlantic community" (Nato.int, June 29, 2022).
That cognizance was slow to reach for political leaders in many NATO countries. But it has grown into a baseline consensus now, reshaping NATO's definitions of purposes and tasks.
Under the new Concept, NATO's "key purpose and greatest responsibility is to ensure our collective defense… We will strengthen our Alliance based on our indivisible security" (italics added). And, "We will significantly strengthen deterrence and defense for all Allies, enhance our resilience against Russian coercion, and support our partners to counter malign interference and aggression" (Nato.int, June 29, 2022).
The reference to "our indivisible security," i.e. that of NATO Allies exclusively, is eye-catching. Implicitly it refutes Russia's claim to participation in a purportedly indivisible security space or system variously described as all-European, Eurasian (Lisbon to Vladivostok), or Euro-Atlantic (initially NATO-Russia, then Vancouver–Vladivostok). Indivisibility with Russia's inclusion would have resulted in Russian blocking powers, as the Organization for Security and Cooperation in Europe (OSCE) exemplifies. Specifically, Russia invokes the "indivisibility of security," claiming a right to block NATO's admission of new member countries (a Russian casus belli in Ukraine's case). Or it asserts an informally recognized right to impose limitations on NATO force levels in current member countries, as in the NATO-Russia Founding Act (a rare victory for the "indivisibility of security") or Russia's December 17, 2021, twin injunctions to the United States and NATO.
Enumerating NATO's traditional "three core tasks: deterrence and defense; crisis prevention and management; and cooperative security," the new Concept clearly singles out the first: "We understand the need to significantly strengthen our deterrence and defense," elaborating: "to defend every inch of Allied territory, preserve the sovereignty and territorial integrity of all Allies, and prevail against any aggressor." Finally, these commitments also apply to hybrid varieties of aggression: "Hybrid operations against Allies could reach the level of armed attack and could lead the North Atlantic Council to invoke Article 5 of the North Atlantic Treaty" (Nato.int, June 29, 2022).